Phil Ivey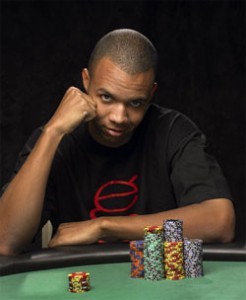 Name: Phil Ivey
Nickname: The Tiger Woods of Poker
Birth Date: February 1, 1976
Birth Place: Riverside, California, United States
Current Residence: Las Vegas with wife Luciaetta
Poker Room: Full Tilt Poker
Phil Ivey is a man who needs little introduction for all the poker fanatics out there. Often regarded as the best all-rounded professional poker player in the world, a reputation that is backed up by the thousands of fans he has and his constant game results. Being one of the most popular players in the game right now, he is idolized by the young and respected by the older generation.
He had asserted himself with an amazing achievement in both cash games and live events. Ivey is one of the few players who do well in tournaments and cash games, having consistently beaten the "Big Game" while reaping tournament success concurrently.
Being born in Riverside, California, with his family then moving to New Jersey when he was just three months old gave Phil the home where he grew up and learned the game of poker. The interest in the game was generated by his grandfather, at the tender age of eight, when his grandfather pulled out a deck of cards, a couple of pennies and taught Phil how to play a five card stud. Since then the deck of hands never left his hands and the love for gaming continued growing into adulthood.
Aged 16, Phil participated regularly in home poker games but soon got tired of winning of an easy win. Hoping for a larger challenge and holding a fake ID, at 18, he started visiting on to Atlantic City with the dream of becoming a professional gambler. Soon enough he became part of the inventory at the main casino in the City
Initially named, "Bringing It Home Jerome", Ivey had an initial roll of bad luck or shaked nerves and started out with some losses where his rent was overdue, the hot water and electricity being shut off. Eventually with a lot of practice and hours he started making the profit wins. Basing himself at the Tropicana Casino in Atlantic City, and due to a lot of hard work, Ivey became a winner and built himself a foundation as a successful poker career.
At the age of 20, Phil made the final move to the gambling city thus putting more hours into the game. Ivey, soon bonded with the likes of the successful Barry Greenstein, who introduced him later on to the "Big Game" in Las Vegas. Ivey, a man of humble nature but also ambition was very keen to learn further about the game of poker and the wealth it could offer.
Slowly, as he played, he built an impressive empire in both tournament and cash game play with $9.77 million dollars in tournament cashes. Such a success has classified him fifth on the all-time money list behind Jamie Gold, Joe Hachem, Phil Hellmuth Jr. and Daniel Negreanu. His online poker aliases are "Phil Ivey" – Full Tilt Poker and "joe buttons" – Ultimatebet. 2004 was definitely Phils' best year in poker.
High stakes action was always Ivey's interest. He is also known for betting large amounts of money in sports as high-stakes golf. Being an original member of "Team Full Tilt", Ivey also owns a sizable equity stake within the holding with Full Tilt worth about $1 billion dollars.
Being known as an "old-school" gambler, he follows a certain etiquette code that others don't. This transpired when Chip Reese died, and Ivey contacted Doyle Brunson saying he owed Reese a substantial sum of money, and insisted on paying it back to his heirs. Ivey's heart also shows in his direct involvement in numerous charities as when he donated $50,000 to Empowered 2 Excel, a Las Vegas based Christian Academy after winning his first WPT title in February of 2008. Ivey is also working on founding the "Budding Ivey Foundation" which will help several charity causes. Ivey is a Los Angeles Lakers and Houston Rockets fan and branding basketball jerseys at most times. His hobbies include video games, prop betting and golf. He participated in the inaugural World Series of Golf, where he classified third.
Phil Ivey's other achievements
In 2000, he won the Pot Limit event at WPT, in 2002 he won the S.H.O.E, 7-Card Stud Hi-Lo Split, and the $1500 7 Card stud event and in 2005 he won the Pot Limit Omaha event.
Won 3 WSOP bracelets in 2002, in Seven-Card Stud, Stud Hi-Lo and S.H.O.E. Tied with Phil Hellmuth and Ted Forrest.
1st place finish at the 2004 Championship at Turning Stone and 2005 Monte Carlo Millions.
He took his fifth WSOP bracelet in a Pot-Limit Omaha event in 2005.
In November 2005, won $1.6 million in back-to-back tournaments at Monte Carlo Millions and Full Tilt Poker. 1st place finish at the $120k No Limit Hold'em Full Tilt Poker Invitational for $600k the very same week. This also jetted him to two Poker After Dark wins in five appearances
Finishing 2nd at the 2006 EPT Barcelona Open for $470k.
In 2006, he almost made it to a total of seven, placing second in an Omaha Hi-Lo event and third in the $50,000 H.O.R.S.E. event, making an income of over $800,000.
In 2007, won over Phil Hellmuth for $536,000 in a Chinese poker side game at the EPT Grand Final. Took $120,000 on NBC's Poker After Dark from Phil Hellmuth, Tony G., Mike Matusow, Andy Bloch and Sam Farha
First place finish at the 2008 LA Poker Classic
Five WSOP bracelets before he turned 30 years of age
28 cashes, $6,214,708 in winnings, finishing 1st six times and 5 WSOP bracelets -2000 $2500 Pot Limit Omaha for $195k, 2002 $2500 Seven Card Stud Hi/Lo for $118k, 2002 $2000 S.H.O.E. for $108k, 2002 $1500 Seven Card Stud $132k and 2005 $5000 Pot Limit Omaha $635k.
26 life-time World Series of Poker cashes.
Continual success in World Poker Tour events with nine cashes in such events.
Cashing $1.596 million dollars at the WPT and having 7 final tables.
In $2,000 No-Limit Texas Hold'em, he finished fifth.
In $2,500 Pot-Limit Omaha, he was at the final table with poker master legends Amarillo Slim Preston, David "Devilfish" Ulliott, and Phil Hellmuth and still walked away with his first bracelet.
Consistent wins in the "Big Game," the $4,000/$8,000 table at the Bellagio – with Doyle Brunson, Chip Reese, Chau Giang, Jennifer Harman, Barry Greenstein and Ted Forrest.
Made nine final tables at the World Series of Poker. He's finished first five times
Regular wins at "The Big Game" at the Bellagio in Las Vegas
Top of his game at Seven-Card Stud
Third place finish at the season one Foxwoods event, second at season one Tunica, and third at the season one World Poker Tour Championship. In the third season, he classified 6th at Borgata, 3rd at Reno Hilton, and 3rd again at the WPT Championship.
Named a total class of his own, Ivey is an ever improving player who has been unmatched for his poker table talent making him one of the best tournament players in the world. Gearing an aggressive and very focused style in the game, he is quiet and shy in everyday life. He watches every move, pays attention to detail and absorbs every bit of information given out by the other players.
Phil Ivey is unmatched at the top with the other top cash game players worldwide. With constant online wins, he is known not to shy away from new challenges and is a threat feared at the poker table. He proves to be a true gambling inspiration portraying no fear and a limitless bankroll account. Having grown a certain respect amongst co-players, he is now reaping the results of his hard work. This is also due to Ivey stays focused on being just a guy who really enjoys his work, letting fame and fortune come as may, rather than seeking notoriety.
A gambler at heart, at the end of the day Ivey will bet on anything and everything. He shows a preference to playing cash games instead of tournaments but his goal in mind is that of achieving 30 World Series of Poker bracelets. At just 32 years old, Ivey has done very well for himself on the tournament poker scene and there is no reason why he won't achieve this.
Phil Ivey, proves to be a great tournament poker player who awes the watchers and yet is still humble by nature. In many interviews he states that he still needs a lot of work and this makes him such a great player who is constantly upping his game. "I'm not a prodigy," he says "I just work at what I do. And I'm always thinking about how I can get better at it."