Jamie Gold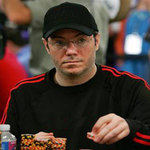 Name: Jamie Gold
Nickname: None
Birth Date: August 25th, 1969
Birth Place: Paramus, N.J, United States
Current Residence: Malibu, California, USA
Poker Room: None at the moment
Jamie Gold is an American television producer, a talent agent and poker player. Born in Kansas City, Missouri, Gold moved to Manhattan as a young child with his mother. He started out playing cards at home in a competitive environment. His mother and grandfather played poker as well as the latter was a gin rummy champion. Jamie' s interest in poker began when he was very young because his mother Jane was a keen poker player. After graduating at the University of New York he moved to California in 1991 to study entertainment law at UCLA. During that time, at the age of 16 he was an intern at the J. Michael Bloom & Associates Talent Agency in New York City and eventually found work as a talent agent in Los Angeles. At the tender age of 21, he was already the youngest franchised agent in the business and soon moved into management & production. He also co-founded an agency in 1994 and successively his own firm, JMG Management in 1996 having Jimmy Fallon and Lucy Liu as clients.
Eventually he switched careers from talent manager to working full-time as a television producer. Gold was playing live poker 40 hours a week at the Commerce, Bicycle and Hustler Casinos near L.A., but did not compete online at the time. He began working with former WSOP main event winners Johnny Chan and Chris Moneymaker on an upcoming television show. This is when Chan started mentoring Gold in poker and in 2005 Gold began regularly playing the poker tournaments.
In 2005 he got a seventh-place finish in the $100 No-Limit Hold'em event at Larry Flynt's Grand Slam of Poker IV at the Hustler Casino earning $54,225 and an eighth-place finish in the $500 No-Limit Hold'em event at the Ninth Annual National Championship of Poker at Hollywood Park Casino. In the next year, he had seven more money finishes in California tournaments. He compiled a solid record in tournament competition, using tips learned from poker legend and owner of 10 WSOP bracelets, Mr. Johnny Chan himself.
In 2006, he won first place and $60,000 at the Bicycle Casino's Stars and Stripes tournament. He also entered the World Series of Poker Main Event as a member of the Bodog.com celebrity team together with ER celebrity Mekhi Phifer, Allen Cunningham and Dean Cain from Lois and Clark. Chris Ferguson was the one to urge him to use his own perfected style as he progressed deep into the money. Gold's style was to pressure the players at the table especially when playing position. He was unstoppable that year and trashed his fellow celebrities, thus making it to the final table. Earlier on he had said he would prefer to finish second as he felt uncomfortable with the idea of being famous. Gold's WSOP win was marked by a fantastic ability to push his opponents into either calling his bets when he had an unbeatable hand or folding to him when he was weak. He took over the last four days of play, continually increasing his chip stack at the expense of several more seasoned players, and throwing the weight of the big stack around like it was second nature. He was unstoppable and became poker's World Champion making $12 million for first place finish. Also in 2006, he classified in fifth-place finish in the $300 No-Limit Hold'em event at the 2006 Winnin' o' the Green at the Bicycle Casino.
At that point he entered a two-year endorsement and production contract with Bodog.com, his WSOP 2006 sponsor. Gold agreed to recruit celebrities who were willing to play in the main event under the Bodog banner in exchange for a paid entry into the main event. The agreement was quite standard including buy-ins and promotional appearances as well as a $1 million television production deal. Gold was also to host his own table on Bodog.com, where he was to play frequently with Bodog.com players. But things went pear shape as Bodog Poker released Gold from the spokesman ship in January 2007. They said this was done due to closure of all offline marketing initiatives in the U.S., and them refocusing on growing their entertainment brand in Europe and Asia. This did not add up since Bodog still retained David Williams, Josh Arieh, and Evelyn Ng as Team Bodog members.
That year was not the best for Gold, as fellow poker player Crispin Leyser went on to file a lawsuit allegedly claiming half of Gold's winnings and this led to Harrah's blocked his full payment until the case was settled. Leyser claimed Gold agreed to pay him half the money for getting the celebrities to wear Bodog.com gear but Gold claimed that even though he agreed on a payout, the amount agreed on was never that high. Things deteriorated from then on as people started judging him and he only had average finishes in all the recent tournaments he has played in since then. Gold claimed it was all a misunderstanding and all was resolved once they talked it through. The details of the settlement were never released and in February 6, 2007, Leyser and Gold released a joint statement stating they had settled the matter outside of court. Now that finally the lawsuit is settled, Gold can focus on the poker circuit as before.
Gold was also said to have breached etiquette at the WSOP; such as flashing cards to a competitor during a hand. However, Gold was never penalized for any rules infringement although he was issued a warning for his tactics prior to his elimination when he participated in the 2007 WSOP. In fact, he was eliminated on the same day.
Gold is nowadays renowned for discovering new talent and developing the careers of up-and-coming artists such as Lucy Liu (Charlie's Angels), Jimmy Fallon (Saturday Night Live), James Gandolfini (The Sopranos), Felicity Huffman (Desperate Housewives) and Kristin Davis (Sex and the City). In addition to television production deals Gold appears frequently on televised poker shows including episodes of NBC's Poker After Dark and in season 3 and 4 of GSN's High Stakes Poker.
He has also participated in numerous poker tournaments that have been designed primarily to benefit charitable causes such as when he auctioned himself off or made special appearances. Gold has been involved with a wide variety of causes, including WSOP "Ante Up For Africa" and charity poker tournament. He has also mentioned in several recent interviews for his plans to create a charity poker tournament to benefit those affected with Lou Gehrig's disease. Gold currently concentrates on his activities as president of production for the entertainment company, Buzznation and primarily poker major tournaments.
Jamie Gold's other achievements
4 cashes and $ 12,041,228 in winnings
1 first place finish and 1 WSOP bracelet
35th at the 2007 WSOPE Event 3 for £27,150
Won $ 12 million and the World Championship title in the 2006 WSOP
Despite his fantastic win in 2006, his results after that were not great but we believe that after a win like that he does have more to offer. He keeps playing high-stakes cash games over the last several years and has placed in a slew of tournaments. In the meantime he has launched the careers of several high-profile film and television stars.
His strategy of game is unusual; he tells his opponents that he was weak or strong, sometimes truth and sometimes lying, thus managing to deceive his opponents most of the time. This table talk is both an asset but also a source of criticism as it is against WSOP rules.
Nevertheless, with 13 money tournament finishes, Jamie Gold's total live tournament winnings exceed a record $12,100,000.