Johnny Chan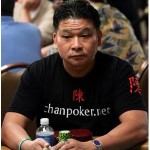 Name: Johnny Chan
Nickname: The Orient Express
Birth Date: Apr30, 1957
Birth Place: Guangzhou (Canton), China
Current Residence: Californis & LasVegas, USA
Poker Room: PokerStars
Chinese national, 陳強尼, better known as Johnny Chan was born in Guangzhou, China in 1957. At the age of 6, he moved with his family to Hong Kong and from there to Arizona when he was 10and finally to Houston, Texas in 1973. His parents owned a restaurant and it was assumed that Chan would continue running the family business. Chan didn't speak much English when he first came to the States and had to try and learn as he went along accustoming himself to the American culture. His pastime was bowling and that is where he discovered poker, which became his real passion. Something that started out as very basic nickel games with friends, quickly turned into much bigger money.
At the age of 16, he went to Las Vegas for the first time. He took $500 and sat down illegally at a poker table and turned it into $20,000. The next night, he lost the whole bankroll! Chan turned back, eventually went to college in Houston and studied hotel restaurant management in order to take over the family business.
At the age of 21he dropped out his University studies to become a professional player in Vegas. Hitting a lot of highs and lows in those early years, he went through periods with temporary jobs and even hawking his possessions. Still, he never lost his determination to make it big in the poker world. Even Doyle Brunson was quoted calling him a "hot-headed kid" with talent but "he didn't know when to keep his temper under control or know when to quit playing."
Chan found that his Asian ethnicity helped him reach his first successes. He arrived to Vegas during a time when there weren't many good Asian players around so people were underestimating him, assuming he wasn't a good player which worked to his advantage.
By the early 80's, Chan was focused, he gave smoking, started exercising, ate healthier, and his play benefited. In 981, Chan won against Bob Stupak in the American Cup poker tournament. Johnny Chan made it to the final table, after knocking out 13 of 16 players in a little more than 30 minutes. Due to this feat, Bob Stupak gave Chan the nickname, The Orient Express.
He won the championship event of the World Series of Poker twice consecutively, in 1987 and 1988. The footage of the 1988 final heads up match is featured in the movie Rounders, where Johnny Chan appears as himself during the win against Erik Seidel at the WSOP Main Event.
Then in 1989, he finished in 2nd place against Phil Hellmuth. Chan is the last player to win back-to-back WSOP Main Events, n accomplishment that is hard to achieve nowadays due to the increasing larger poker fields.
Chan's luck charm is holding an orange in front of him on the poker table, and after 2 WSOP titles achieved, other players also began to bring fruit to the table in hopes of increasing their luck. It turns out the only reason he placed an orange there was as an air freshener to fight off the strong smell of cigarettes at the poker table. Since then it became his lucky charm.
In 2002, Johnny was inducted into the Poker Hall of Fame . He also got his chance to prove his talent against Hellmuth at the $2,500 No-Limit Hold'em event of the WSOP with Chan winning his seventh bracelet.
Chan also featured in the 2004 and 2005 World Series of Poker Tournament of Champions events and the National Heads-Up Poker Championship in the same years. In 2005, Chan broke the record as the first player to win ten World Series of Poker titles, when defeating Phil Laak in a Texas hold 'em event. He now shares this record with Doyle Brunson and is close to reaching Phil Hellmuth, who holds 11 bracelets.
In 2005, he competed in the $400,000 Poker Superstars Invitational Tournament and finished in 2nd place to Gus Hansen. During the Poker Superstars II, in the same year, he defeated 22 of the best players and made it to the finals where he defeated Todd Brunson and won $400,000 first prize.
In 2008, Chan won $32,166 for his 329th place finish at the Main Event. Johnny is quite superstitious, if he loses a hand, he will ask for a deck change or if he loses with a certain dealer he will take it personally.
Johnny appeared several times during NBC's late-night show Poker After Dark and has the distinction of achieving the most victories to date with four wins in six appearances.
In 2005, Chan collaborated with Mark Karowe to release Play Poker Like Johnny Chan, a book on several different types of poker. After that he released: Million Dollar Hold'em: Winning Big in Limit Cash Games, which focuses on limit hold'em strategy.
Chan has been competing in the Poker Superstars Invitational Tournament in Las Vegas, mentored 2006 WSOP Champion Jamie Gold and even made a final table in a 2006 WSOP event. Chan never made it to the final table of the WPT, despite playing in numerous events.
In 2007, Chan launched an online poker room, ChanPoker.com but this closed down in August 2008. He also owns a fast-food franchise in the Las Vegas Stratosphere Hotel and is a consultant for various casinos and game makers.
Nowadays, he writes regular articles in the bi-monthly magazine Trader Monthly. He has also written for Card Player magazine and has appeared in the first season of the GSN series High Stakes Poker. Chan's ultimate goal is to open up a casino of his own. He is married with six children.
Johnny Chan's other achievements
• 30 cashes and almost $ 4,000,000 in winnings
• 10 WSOP bracelets and 10 first place finishes
• Up to 2008, he won $4,148,868 at the World Series of Poker.
• 4th in the 2008 WSOP Event 28 Pot Limit Omaha
• 1st at the 2005 WSOP Event 25
• 1st at the 2003 WSOP Event 24 Pot Limit Omaha
• 1st at the 2003 WSOP Event 15 No Limit
• 2nd at the 1989 WSOP Event 14 No Limit Texas
• 1st at the 1987 WSOP Main Event
• 3rd at the 1987 WSOP Event 2
• 1st at the 1988 WSOP Main Event
• 1st at the 1985 WSOP Event 2 Limit Hold'em
Recognized as one of poker's first super stars, Johnny Chan has tossed around thousands and thousands of dollars in poker games. In the process, he has accumulated more than $5 million dollars in tournament winnings in addition to the cash games money income.
He is considered to be one of the most well-rounded poker players in the game with tournament wins not only in Texas Hold'em events, but also in Omaha and Draw poker. In the late 1980s and early 1990s, Johnny was the best No-Limit Hold'em tournament player in the world. Since then, he has used his tournament success as a vehicle to get himself involved in a myriad of different business ventures.
Chan has definitely proven to everyone he has the drive to do anything he puts his mind to.