Doyle Brunson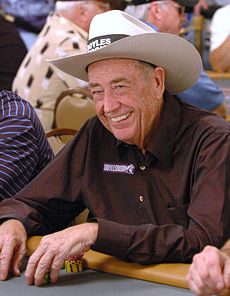 Name: Doyle Brunson
Nickname: Texas Dolly
Birth Date: August 10,1933
Birth Place: Texas, USA
Current Residence: Las Vegas, Nevada
Poker Room: Doyle's Room
Doyle Brunson is a major poker legend, renowned to have invented Texas Hold'em. This master has opened a path and a game paving the way for a sport now played by world leaders and top executives, but was previously frowned upon to be played by just criminals and low-lifes. He is considered a patriarch amongst modern poker lovers giving poker its modern-culture spotlight. Brunson has in fact, won a top record ten World Series of Poker events, including the two back-to-back world championships. He was the first of the high stakes poker players in Las Vegas introducing his "power poker" to the world and was the highlight of the infamous poker sharks band, the Texas Rounders, who played high-stakes poker in the 1950s and '60s. Nowadays 75 years of age, he is a best-selling author and still a king in the eyes of poker players and professionals.
Brunson was born in Longworth, Texas, being the eldest of three siblings. Starting out young as an athlete and joined the All-State Texas basketball team. The Minneapolis Lakers were initially keen on Brunson, but a knee injury and a later leg accident shattered his dreams of becoming a basketball pro. The latter started playing a bit of card games after being injured and went on to obtain a bachelor's and master's degree. He started working as a business machines salesman but, after a first win, he realized more could be made so he left the company and became a professional poker player.
Rules were not enforced back then and the games were usually run by criminals and organized crime members. This led to Brunson being robbed and beaten up on a couple of occasions but he could never report this as Poker was not socially acceptable given to the organizers' reputations. In 1960, Brunson met his future wife Louise, and took it on himself to convince her to marry a professional gambler. Later on into the marriage, Brunson was diagnosed with a cancerous tumour with little or no hope. Following a risky operation, the cancer was killed and he went on to have 3 kids.
Starting off with illegal games, he then progressed and traveled around Texas, Oklahoma and Louisiana for a stake in the bigger games. Doyle went on to meet his mentor Johnny Moss and started winning big and getting a reputation as unbeatable high-stakes poker players for the next 6 years. During this time he met fellow players Sailor Roberts and Amarillo Slim. Later on, he settled in Vegas where poker was legal. With his skill at reading faces, he progressed very fast in the game with people of all ages gathering up in awe to watch him play.
He won his first World Series of Poker title in 1976 and a second win in 1977. During those wins he took both championship games with a full house – tens full of deuces.
In 1978, he wrote a guide to poker called SuperSystem, later on followed by a book of poker memoirs: SuperSystem 2. SuperSystem, subtitled "How I made one million dollars playing poker" is widely considered to be one of the most intelligent books about poker. Super/System gave a new meaning to poker and acted as an insight on professionals such as Brunson. Pros like Bobby Baldwin, Mike Caro, David Sklansky, Chip Reese and Joey Hawthorne also contributed. Brunson made a big change in the world of poker when he published this poker guide as it acted as a complete guide to Texas Hold'em and other poker games. Also called the bible of poker, it is a top-selling poker book of all time, and still sells 14,000 copies a month. Brunson also published an autobiography focusing on online poker, and the tales of the greatest pros.
Doyle won his ninth gold bracelet in a mixed games event in 2003, and in 2004 he ended 53rd (in a field of 2,576) in the No Limit Texas hold 'em Championship event. He won the Legends of Poker World Poker Tour event in 2004, cashing a $1.1 million prize, and classified fourth in the WPT's first championship event. On July 1, 2005, Brunson won at the 2005 WSOP, and tied a record with Johnny Chan who had won his a week before. This got him 1 bracelet behind Phil Hellmuth, who earned his 11th bracelet at the WSOP on June 11, 2007.
In January 2006, he was voted Brunson the 1st most influential force in the world of poker by BLUFF magazine. Still a daily poker player, Brunson is a spokesperson and blogger for the online poker site DoylesRoom.com, and also writes a poker column in the London Telegraph. Nowadays, Brunson still plays in the biggest poker games in the world, including a $4000/$8000 limit mixed poker game in "Bobby's Room" at the Bellagio and in many of the biggest poker tournaments around the world.
Interesting fact – Brunson's nickname, "Texas Dolly", originated from a mistake done by Jimmy Snyder. Snyder had to call out Brunson as "Texas Doyle", but miss pronounced the first name as Dolly. The name was a hit with the crowd and history was made.
Doyle Brunson's other achievements
10 WSOP bracelets – a record he shares with Johnny Chan
31 WSOP money finishes
1 WPT title, 3 + 1 final tables and 5 money finishes
Author of the SuperSystem – often called the poker bible
Gathered $5 million in tournament winnings
Won his first two World Series of Poker events with a 10-2 hand
In 2004, won another million-dollar World Poker Tour event in Los Angeles
As of 2008, his total live tournament winnings went over $5,300,000
He has totaled $2,808,945 in earnings at the WSOP
He owns and promotes his own online gaming site, DoylesRoom.com. It made headlines in 2006 when the U.S. Securities and Exchange Commission announced it was investigating the whole operation
The Doyle Brunson North American Championship, named after him is the main event of the Five Diamond World Poker Classic at the Bellagio. Doyle is often seen playing in the biggest cash games there. The championship is the second largest tournament by entry fee on the WPT with its $15,000 buy-in, second only to the $25,000 WPT Championship.
Coming up from humble beginnings, Brunson has turned out to be one of the poker veterans who shaped the game to what it is today. He definitely marked his name in poker history and has the honor of having two Texas hold'em hands named after him. One hand, a ten and a two of any suit, carries his name as he won the No Limit Hold 'Em event at the World Series of Poker two years in a row with them in 1976 and 1977 finishing of with a full house.
As Doyle says, it's not always what you're dealt, but how you play the cards…. Starting out as a No-Limit specialist, he is still a better player than most, catching the crowd's attention of how he still makes it to the final tables every time. He recently told the History Channel, "to be a successful gambler you have to have a complete disregard for money." That together with a keen eye for what's happening in the eyes of the other guy. Nowadays, at 75, he continues to play and unlike other aged players, Doyle's sharpness and focus have not deteriorated with old age and he still succeeds to eliminate his competition day in and day out. The legendary poker pro still makes news, wins games and hopes to claim an 11th World Series of Poker bracelet. Doyle says he will only retire once he stops winning so we hope to see more of him. He still has the eye, the nerve and the skill that make him the most influential forces in poker today.