Amarillo Slim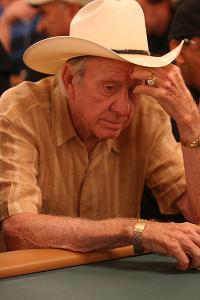 Name: Thomas Austin Preston, Jr
Nickname: Amarillo Slim
Birth Date: December 31, 1928
Birth Place: Johnson, Arkansas
Current Residence: Amarillo, Texas
Usually known as Amarillo Slim, Thomas Austin Preston Jr. is the world famous and most interesting poker player. Having started playing poker games at the age of 25, he has now being doing this for 50 years. Having contributed to the poker industry like no one else in history, he changed the media and public's perception of poker into a respected and legitimate game of skill. Before that, pokergames was seen as a gathering of useless gamblers, cheaters, liars and pimps.
He is known as a persistent gambler with an insider judge of character, a celebrity and a very entertaining and amusing storyteller. These stories are fruit of his memory of the very amusing anecdotes of his life as a poker professional and as a gambler. He has appeared regularly on television shows such as The Tonight Show, 60 Minutes, Good Morning America and several game shows, wanted because of his funny, memorable quotes and his good sense of humour.
Amarillo Slim is a winning poker player due to his sharp poker skills and poker strategies and reading body tell-offs. Not just an astounding poker player, he is known for his crazy gambling bets such as when he played golf with Evel Knievel using a carpenter's hammer or Ping-Pong with tennis champion Bobby Riggs using iron skillets, making $ 2 million out of Hustler publisher Larry Flynt, and beating American country music icon Willie Nelson $300,000 during a game of domino.
A man known for assessing his odds, he stated that poker is a game of people, and that it is not about the cards but the people he plays with. At the age of 79, he is a man that is immediately recognised in the casinos – wearing the signature Texas hat, ostrich boots with hearts, clubs, spades, diamonds with his name etched on them, emerald buttons on his Western shirt, and still holding his slim build features.
Slim lived in Texas and graduated out of high school to then join the military. Before becoming the well-known tournament player he is today, Preston was a rounder. He toured the United States searching for gambling action along with Doyle Brunson and Brian Roberts, they bonded and started to gamble together. This trio started out with all sorts of gambling and travelled from town to town trying to win big. They gambled on everything over and over again. In Doyle Brunson's book Super System 2, he states "We got to the point where we were gambling on just about every game there was — golf, tennis, basketball, pool, sports betting. Just about everything. As long as we thought we had some sort of edge, we'd bet. And we made money."
Later on, Slim recalls watching Johnny Moss with envy as he became the first and second winner at World Series of Poker. Seeing this, he decided to claim the position as the world's best poker player. In 1972 he won the WSOP event and has been a member of the Poker Hall of Fame since 1992. After the WSOP victory he started appearing on several talk shows, including The Tonight Show, and had a bit part in the 1974 Robert Altman movie California Split. In 1973, Preston co-authored Play Poker to Win. In 1980 Amarillo Slim hosted the Second Annual Poker Classic which went on to become the 2nd most prestigious poker tournament to date.
In 2003, Amarillo Slim published his biography called Amarillo Slim in a World Full of Fat People. He used an interesting reverse psychology to market the book getting thousands to purchase a copy. The book is a collection of poker playing tales with Larry Flynt, Lyndon Johnson, and Richard Nixon, among others. Together with the poker exploits, Slim gives vivid descriptions of his proposition betting. He considers himself as willing to bet on absolutely anything and saw himself as the greatest gambler who ever lived.
Slim is also popular for his tumultuous life outside gambling. In August 2003, Preston was arraigned to court on 3 charges of indecency with a 12-year-old granddaughter. The charges were reduced to misdemeanor assault in plea and in February, 2004, he pled no contest to reduced charges, receiving a $4,000 fine and two years deferred adjudication. Since then Preston has had numerous other encounters with the law, both as a convicted misdemeanor and as a robbery victim. In 2006, he was approached on a street by a would-be robber. He drove away but wasn't injured when the gunman firing three bullets at his car. In 2007, Slim was robbed at gunpoint in his own home and 2 years later he was beaten and robbed in a field while attempting to collect a gambling debt.
In April 2007, Preston started his website and released an E-Book All In: An E-guide To No Limit Texas Hold'em, by Amarillo Slim Preston. To-date, he has won over $590,000 in tournament play and sports a total of four WSOP bracelets with the most recent WSOP win in 1990.
Since 2004 Nicolas Cage has been working on Preston's autobiography for a movie with Cage to play Preston. Rumour has it that the movie will be released in 2009, adapted from this book.
Preston is divorced, has three children, his best friend was casino owner Benny Binion, who passed away in 1989. He doesn't play as many tournaments as he used to and now spends most days with his family at home, a3000 acre ranch located outside Amarillo.
Amarillo Slim's other achievements
Won the World Series of Poker gold bracelets four times. In 1972 and in 1974, he won the No Limit Hold 'Em, and in 1985 and 1990 for the Pot Limit Omaha. He has five bracelets, probably because WSOP gave him two bracelets in a single year.
In 2000, he finished second to Phil Ivey in the Pot Limit Omaha event missing the 5th bracelet by one spot.
He holds his own tournament in Sun City South Africa and in Adelaide Australia.
He established the Super Bowl of Poker until 1990, the 2nd biggest event after WSOP.
He is in our halls of Fame. He is in the Poker Hall of fame (1992), the Legends of Nevada, the Seniors Hall of Fame, and the Horseshoes' Hall of Fame.
Over the years, Amarillo Slim has become a poker celebrity. He is a professional gambler, now famous for his poker skills and proposition bets. Famously quoted for saying that he makes suckers out of champions, Slim is a flamboyant Texan world-class poker player. The image of legends as Slim and Doyle Brunson conjures up hats, boots and poker cards making them both legends in the poker world.
After the assault charges, Amarillo started withdrawing from the limelight, as some players were offended and started judging him after the many law clashes and accusations he gathered up. Now shying away from live tournaments, he might be found at Doyle's Room, together with his friend Doyle Brunson. Slim is remembered as one of the greatest profiles in history of poker.
He has proven himself to be an excellent pioneer contributor to the world of poker, especially through his book, Amarillo Slim in a World Full of Fat People, a primary source to many priceless tips on gambling. One of the most recognizable and accomplished players in the game of poker and known as one of the instigator of the modern game, Amarillo Slim is known for being a great gambler extraordinaire with that extra personality!