Johnny Moss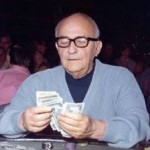 Name: Johnny Moss
Nickname: The Grand Old Man of Poker
Living Date: May 14, 1907 – December 16, 1997
Birth Place: Marshall, Texas, USA
Johnny Moss is well known as long-time gambler and professional poker player. He grew up in Dallas, Texas and as a teenager worked at a local gambling parlour. He learned how to gamble at a young age and others helped him how to cheat in games. His job there was to make sure games carried on smoothly without any cheating. This is when he learned how to cheat at cards himself and picked up the poker strategy tips that he used later on during his poker career. Back then, Johnny was one of the original road gamblers as he travelled from towns to cities around Texas and the Southwest. He played high stakes poker during backroom games as this was a time when gambling was illegal in the States. The life of professional gamblers had to be on the road rather than in one place to keep away from the police officers, mobsters, criminals and Texas Rangers who were constantly following them. His career started before the advent of major tournaments and legal casino poker rooms, so like most professionals of the time, he had to be a travelling gambler making a living on the road.
Early on in his poker days, Moss like many others carried a pistol. While playing in a backroom he observed a peephole in the ceiling through which the house was spying on the card players. Moss told them that if they didn't send the spy down and plug up the hole, he would be forced to open fire on them. The owners played dumb, thinking he was bluffing, forcing Moss to prove he was serious by firing a few rounds into the ceiling and actually wounding the man hiding within.
His life and career are surrounded by colourful anecdotes, some reality and some legend. For someone who lived and gambled into his 90s, there are thousands of Johnny Moss stories In 1949, before any WSOP was held, Moss participated in one of the most historical moments in the history of poker, a marathon game that lasted well over five months. Starting with Five-card Stud, the players were there every day, just taking only a break for a few hours to sleep. A notorious gambler, Nick "The Greek" Dandolos approached Benny Binion to agree and host this event in his casino. Moss was a favourite to win because he was 15 years younger than Nick. Rumours have it that Johnny Moss won over $4 million from Nick. They played in a "heads up" poker marathon and Nick the Greek uttered the famous poker quote ever: "Mr. Moss, I have to let you go."
After this enduring match, poker became popular, and eventually the first WSOP was organized. Moss won the 1970 WSOP and was actually voted the champion by his peers and only received a silver cup as his prize. He was one of the charter inductees to the Poker Hall of Fame in 1979, one of the charter members at Binion's Horseshoe Casino.
In those early days, poker players did not have today's resources, no strategy books on poker so Moss' only guide was overseeing local poker games that allowed him to develop much of the strategy and many of the insights that made him such a successful player.
He played at every WSOP from 1970 to the 1995 World Series and during his career he won 8 WSOP bracelets, placing him fourth overall behind Johnny Chan and Doyle Brunson 10 each and Phil Hellmuth's 11. During his career he won over $680,000 in tournament play.
Johnny Moss was a huge proposition gambler. He won millions of dollars betting on his personal bowling and golf matches. He once claimed that he lost over $8 million in four years of shooting dice. Unfortunately, he lost it all at various sports books and at the craps table.
Another interesting anecdote is when he played a heads-up golf match with a wealthy businessman. The guy was beating Moss during the first half of the match and Moss was down over a quarter of a million dollars. The mobsters who sponsored the event were in the gallery watching them play. They were furious since they'd bet on Johnny Moss and decided that if the businessman won, they'd kill him instead of paying the sum. Luckily for that guy, Moss birdied the last hole and won. As they walked off the golf course, the angered business man mentioned to Moss, "You are the luckiest man alive." Moss laughed knowing that his victory saved the man's life responded, "No sir, you are."
Johnny Moss lived in Las Vegas and regularly played at The Horseshoe where he had a lifelong friendship with WSOP founder Benny Binion up until his death in 1997. Towards the end of his life, Moss battled failing health and the many problems related to old age, but nothing was able to overcome his love for the game of poker. It was observed by all who knew him that a great change would take place each time he sat down at the table, a succession of the biggest events in poker history. Poker legend Doyle Brunson, always admired Moss' skills and mind, especially in his later years. He quoted, "I learned from Johnny Moss, who was the best poker player in the world at the time. So, if I had a mentor, it was Johnny Moss."
Johnny Moss's other achievements
• 23 cashes and $939,394 in winnings
• 8 WSOP bracelets and 9 First place finishes
• Has the starting hand A-T named in his honour
• Inducted into the Poker Hall of Fame
• 1st at the 1979 WSOP Event 10 Seven Card Stud
• 1st at the 1971 WSOP Event 4
• 1st at the 1981 WSOP Event 7
• 1st at the 1971 WSOP Main Event
• 2nd at the 1974 WSOP Event 1
• 3rd at the 1985 WSOP Event 11 Seven-Card Stud
• Holds a tie with Stu Ungar for the most WSOP Main Event Titles won
It is said that if the WSOP had commenced ten years earlier, Johnny Moss could have easily won five or six more World Championships. He even has a starting poker hand named after him 'the Ace-Ten'. There are few characters in the history of poker that have done more for the game than the great Johnny Moss. Winning three of the first five WSOP Main Events and achieving eight WSOP bracelets, Moss was a force to be reckoned with on the felt. Moss was born as a true rounder and bred in the old school when players carried pistols in their waistband and things like endorsements and websites were things of the future.
Although Moss enjoyed the bulk of his success at the poker table, this was not the only arena in which he was both feared and respected. He claimed to have won millions on golf courses and in bowling alleys. Despite his many triumphs, like most people, he was not without his failings, losing more than $8 million betting on dice and sports. He eventually gave up these vices as well as his cigarette addiction and enjoyed an overall better quality of life during his last years.
Many argue that Johnny Moss was the best poker player of all time and during the end of the 80 s and 90's there were only few players who could compete with Johnny Moss, thus the name "the best player of all time" as one of the greatest poker players period.