Phil Hellmuth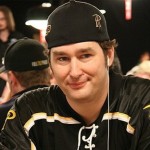 Name: Phil Hellmuth Jr.
Nickname: The Poker Brat
Birth Date: July 16, 1964
Birth Place: Madison, Wisconsin, USA
Current Residence: Palo Alto, California, USA
Poker Room: Ultimate Bet
Phil Hellmuth Jr. was born in Madison, Wisconsin, and grew up to attend the University of Wisconsin for three years. After this, he dropped out and started playing poker full time.
His exceptional WSOP mile over the past 19 years all started in 1988, when he placed fifth in a Seven-Card Stud High-Low tournament.He is best known for his win at just 24 years of age at the Main Event of the WSOP by defeating the two-time defending champion Johnny Chan. Back then, this made him the youngest player to win such a main event.
In 1993, he set another record by winning 3 bracelets in a single year and also a 2nd place finish. Then he finished fourth in the $3,000 No Limit Hold'em WPT Event at the 3rd Annual 49′er Gold Rush Bonanza in 2002 and 3rd in the $10,000 No Limit Hold'em WPT Event at the World Poker Finals at Foxwoods in 2003. He finished in sixth place for $229,480 in a final table that included Phil Ivey. He also played in the World Poker Tour by The Book in 2004 finishing 3rd.
In May 2004 he partnered with Oasys Mobile for the release of Texas Hold'em by Phil Hellmuth. At the time it was one of the 10 most popular multi-player mobile phone games available. Then in 2005, Hellmuth won the first National Heads-Up Poker Championship after defeating Men Nguyen, Paul Phillips, Huck Seed, Lyle Berman and Antonio Esfandiari with the final against Chris Ferguson whom he defeated in two out of three games.
In 2006 he got his 10th World Series of Poker bracelet in the $1,000 No Limit Hold'em. This got him into a tie with fellow poker legends Doyle Brunson and Johnny Chan as one of only three poker players in history with 10 WSOP bracelets to their names. All of Hellmuth's bracelets are in Texas hold'em.
Also in spring 2006, Hellmuth acted as commentator on Bravo's Celebrity Poker Showdown. He finished 3rd at the WPT Bad Boys of Poker II in 2006. In 2007 he won the record-breaking 11th bracelet in the $1,500 No Limit Hold'em Event.
Hellmuth also holds the record for most WSOP cashes, he has 68, and most WSOP final tables, he went on 41 of them. He has won $6,019,630 during the WSOP.
In 2007, Hellmuth played in the PartyPoker.com Premier League Poker, a British tournament. He won four out of his six group matches and eventually finished third in the finals. He also took part in the 2008 National Heads-Up Poker Championship, but then lost to Tom "durrrr" Dwan.
He classified 3rd at the 2008 WPT L.A. The WPT are less of a lucky ground as Hellmuth has not classified first in such an event yet. He did however cash in 10 times and made three final tables. To date, Hellmuth has won $691,109 in WPT tournaments. As of 2009, his total live tournament winnings exceed $10,700,000. He is ranked third on the All Time Money List after Jamie Gold and Daniel Negreanu.
Hellmuth is the season 3 champion of Late Night Poker and makes regular appearances on episodes of Poker After Dark, both as a player and commentator. Hellmuth won his first Poker After Dark and won a net $100,000. He then returned two weeks later and claimed his second Poker After Dark title, winning another net of $100,000. He also appeared in the first and fourth seasons of GSN's cash game show High Stakes Poker.
Hellmuth has made several instructional poker videos, including his Ultimate White To Black Belt Course and Phil Hellmuth's Million Dollar Poker Secrets. He has written many articles for Cardplayer magazine and several poker books including Play Poker like the Pros, Bad Beats and Lucky Draws, The Greatest Poker Hands ever Played, and Poker Brat containing autobiographical works and poker advice.
Hellmuth is known for being an excellent poker player but maybe a bad loser as he makes disrespectful remarks about his opponents' skills, especially after taking bad losses. He is known for having been infuriated with veteran poker professional Sam Grizzle leading the event into fists and is famous for his antics at the poker table, poker brat behaviour and verbally abuse.
Phil is also a pioneer for playing a lot of hands and making small bets, all the time raising to keep opponents in the pot. It is a strategy that offers large fluctuations that works best in tournament rather than cash games. Other poker players have successfully adopted this style, such as Gus Hansen, Layne Flack and even Daniel Negreanu partially. His best game is the Tournament No-Limit Hold'em.
Hellmuth is a poker coach on Fox Sports Network's Best Damn Poker Show, sponsored by Ultimatebet.net. He is involved in charity poker tournaments and direct donations to organizations such as Habitat for humanity, Doctors without Borders, the TASER Foundation and the Heifer international.
Hellmuth lives with wife Katherine Sanborn and two sons, Phillip and Nicholas. His wife also played in the Ladies' Event of the 2005 World Series of Poker.
Phil Hellmuth Jr.'s other achievements
• 54 cashes and eleven 1st place finishes
• 11 WSOP bracelets and $6,416,432 in winnings
• Was inaugurated into the Poker Hall of Fame in 2007
• Holds the record for the most final table cashes at the WSOP
• Youngest ever winner of the WSOP Main Event 1989
• 3rd at the 2008 WSOP Event 51
• 1st at the 2007 WSOP Event 15
• 3rd at the 2006 WSOP Event 45
• 1st at the 2006 Event 34 No Limit Hold'em
• 2nd at the 2006 WSOP Event 9
• 3rd at the WPR Specials WPT poker by the book
• 3rd at the WPT Season 2 World Poker Finals
• 1st at the WSOP Event 32 No Limit Hold'em
• 4th at the WPR Season 1 Gold Rush
• 2nd at the 1993 WSOP Event 20 No Limit Deuce
• 1st at the 1989 WSOP Event 14 World Championship
• 2nd at the 1992 WSOP Event 8 Limit Hold'em
• 2nd at the 1994 WSOP Event 4 No –Limit
• 4th at the 1992 WSOP Event 18
Phil Hellmuth is synonymous with action, excitement and is one of the world's greatest players. This living legend has collected amazing records through the years, as one of only three players in history to win three gold bracelets within a single year and three consecutive WSOP wins in three consecutive days in 1993.
Whenever he wins a WSOP championship bracelet he gives it away to his parents, wife, sisters or to charity organisations but has always kept the first bracelet win.
He certainly deserves the title of the most successful players of the last twenty years. The name Hellmuth is the poker trademark of the game and his flabbergasting track record. In addition to having won over $7,000,000 in lifetime tournament earnings, Phil has multiple endorsement deals, books and merchandise marking him one of the best-known face in poker.
He really made a name for himself in the past few decades and his continued life's ambition is to be the greatest Poker player of all time, which we are sure he will also achieve.