Daniel Negreanu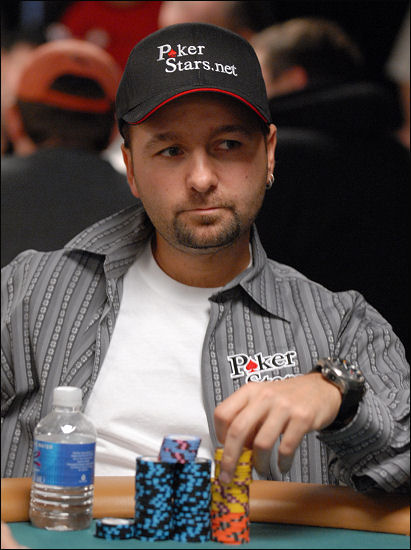 Name: Daniel Negreanu
Nickname: Kid Poker
Birth Date: July 26, 1974
Birth Place: Toronto, Canada
Current Residence: Las Vegas, Nevada with his wife Lori
Poker Room: PokerStars
Daniel Negreanu hails from Toronto, Ontario, Canada and is a professional poker player. His parents, Annie and Constantin left Romania in 1967 and started a new life in Toronto instead. At 15, he learned how to play poker but Daniel's initial dream was to become a professional snooker player. At 16, he was frequenting pool halls where he got into sports betting and playing cards leading him into dropping out of high school. He began his life as a rounder playing at the local charity casinos and looked for illegal games around the city. During this time he dated Evelyn Ng, another well-known professional poker player. When he started making a profit, he left for Las Vegas at the age of 21, lasted about seven months before returning home broke but determined to go back.
Building up a new funding account with games around Toronto, he ventured one last time into Vegas, still sure that he was destined to play poker, but now with more focus. His career took an upward turn in 1997 when he won two substantial events at the World Poker Finals at Foxwoods, which earned him $55,064 and made him the tournament's best all-around player. Negreanu followed this triumph by winning $169,460 at the $2,000 Pot Limit Hold'em event in the 1998 World Series of Poker making him the youngest WSOP bracelet winner in history, a title he held till 2004. This was only the start to a lot of success at the WSOP, which is still going on today. In 1999, he won the United States Poker Championship.
This is when Daniel gave in to some vices; excessive drinking, mismanaging money and too much time alone affected his game. Making some needed lifestyle changes, in 2001 he made the money in tournaments and finished 11th in the WSOP Main Event. After a 2nd place finish in the $5,000 Omaha Hi/Lo event in 2002, he returned the following year to claim his 2nd bracelet in the $2,000 S.H.O.E. event. In September, he won the Borgata Poker Open for an incredible $1,117,400 and followed it up just three months later with victory at the Five Diamond World Poker Classic, a win that earned Daniel another $1,770,218. Since then, there have also been several other WPT final table appearances, raking another $1,443,013 to his account.
Negreanu then followed to become one of the most successful poker tournament players. This involved winning two World Poker Tour events, another three WSOP bracelets, and appearing at 12 final tables. For a short period he worked as 'Poker Ambassador' for Wynn Las Vegas resort which meant he could play for any stakes in their poker room. In 2005 he decided to stop because this was restricting his ability to play for the higher stakes outside the casino. In the same year, he started his own online poker cardroom "skin" site, blog and a variety of poker forums on Full Contact Poker, where he still posts his thoughts and feelings about different things in life, politics and the poker world. Daniel also won $755,525 after finishing 1st in a WSOP Circuit event in 2005. In all, his total live earnings currently stand at over $10,000,000.
In 2006, the next year he was awarded the title "Favourite Poker Player" and was featured in the video game "Stacked with Daniel Negreanu.". Through a Full Contact Poker he selected proteges, which he tried to mould into a world-class live tournament poker players and paid their entry fee into four $10,000 buy-in events.
Signing in with PokerStars, in 2007, he joined Chris Moneymaker, Joe Hachem, Greg Raymer and many other professional poker players all members of Team PokerStars. Daniel has been a regular at the big game in Bobby's Room, in the Bellagio casino, Las Vegas, for several years. In 2008, he cashed several times and won a fourth bracelet in the $2,000 Limit Hold'em event for $204,863. A few months later, Daniel travelled to London for the World Series of Poker Europe and made the final table of the £10,000 Main Event, picking up $395,024 for a 5th place finish.
Negreanu is also an author, in May 2008 his Power Hold'em Strategy was released. With some similarities to Doyle Brunson book Super/System as it has contributions from several other poker players as Evelyn Ng, Erick Lindgren, Paul Wasicka, Todd Brunson and David Williams and explains the strategy of small ball poker. He has become a popular poker author, with millions of poker fans reading his books, articles and online blogs. He regularly appears on major televised poker shows, as both player and commentator and in 2007 released Hold'em Wisdom for All Players, which has sold out. He also writes regular blogs and articles for online and print publication and contributed to the strategy of Doyle Brunson's sequel Super/System 2.
Negreanu has played poker on various TV shows such as Late Night Poker, Poker After Dark, and High Stakes Poker, as well as serving as a commentator and stand-in host on Ultimate Poker Challenge. He also appeared in the third season of Poker Superstars Invitational Tournament. In November 2008, Negreanu won the fourth-annual British Columbia Poker Championships main event, topping his personal record of 690 players.
As of 2008, his total live tournament winnings exceed $11,200,000, second on the all time money list behind Jamie Gold, and also first among players who have not won the WSOP Main Event and leading money winner on the WPT circuit. Unlike other players, he is very outspoken about his poker results and regularly posts updates in the forums at the Full Contact Poker website. Most of his success is attributed to his ability to read opponents. When interviewed, Negreanu explained that the most important skill he holds is observing what hands his opponents play and how capable they are of playing them.
Daniel Negreanu's other achievements
Won his first WSOP bracelet at age 23
Known as one of the nicest players in poker
He has a collection of books – Hold'em Wisdom for All Players, More Hold'em Wisdom for All Players and Power Hold'em Strategy
Featured author in Doyle Brunson's Super/System 2
2 WPT titles
2 WSOP bracelets
Named the World Series of Poker player of the year in 2004 and World Poker Tour player of the year in 2005.
In January 2007, Negreanu appeared in the Fox Reality original series Rob and Amber: against the Odds.
Negreanu was named "Favourite Poker Player" at Card Player Magazine's Player of the Year Awards Gala in February 2006
Daniel has become a consistent winner at the $1,000-$2,000 level in a limited side-game schedule. Daniel have won the 2004 Card Player, Player of the Year award and the 2004 WSOP Player of the Year award.
Part of the WSOP Player Advisory Board
He was key in the introduction of a $50,000 H.O.R.S.E. event
Featured in the 2006 poker video game Stacked with Daniel Negreanu, providing tips and hints as to how to play effectively.
He has written over 100 articles for CardPlayer Magazine and tutored on the web as part of Poker School Online and personally given lessons to celebrities.
Daniel Negreanu is probably the best-liked player in poker who in the past decade, have achieved great live tournament result records. At the poker table he is applauded for his talent and for his positive image, holding a reputation of countless tournament victories. It comes to no surprise that PokerStars.com has chosen Negreanu to represent them as one of their high rank sponsored professionals. Being an all-time money leader at the WPT and WSOP circle, he is always a welcome opponent admired by others. He is passionate about maintaining the integrity of poker events, and believes that the game should be accessible to all poker enthusiasts.
Admitting to being an action junkie himself, Daniel is known to always seek new challenges and setting high goals for himself. He is a young, light-hearted, talented and friendly character who continues to play tournaments as he always has… sitting at the table wearing a comfy clothes and headphones, listening to music whilst focusing his game.
Extremely popular amongst fans, Kid Poker is a true powerhouse in the poker world.
Daniel Negranu also runs a poker training website. Learn about the Daniel Negranu Poker training.