Erick Lindgren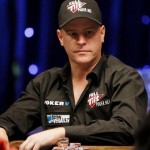 Name: Erick Lindgren
Nickname: E-Dog
Birth Date: August 11, 1976
Birth Place: Burney, California, USA
Current Residence: Las Vegas, Nevada, USA
Poker Room: Full Tilt Poker
Erick Lindgren was born and grew up in a mountain town of Burney, California. He was one of three boys and their father owned a tire shop. At a young age, Erick already showed a wildly competitive streak and passion in sports. He played and competed in basketball, football and baseball with a dream of playing in the NFL or NBA. Due to physical limitations, this was not possible, so he enrolled in classes at Butte Junior College, not far from his hometown and this led to him entering the first casino, the Colusa Indian Casino, close to campus. He played poker with some friends while growing up, but it was the Casino that opened his interest in learning Texas Hold'em. Then, Lindgren started working for the casino as a blackjack dealer where he started showing signs of intellect when it came to the nature of the game.
Schoolwork went into the background as making time competing at the casino took priority. He took part in the small-stakes casino games and eventually dropped out of college to play poker full time since money was already coming in. He did not want his parents to know at first as he knew they would disapprove.
Lindgren was improving his poker skills and at the age of 21, he took a job working as a proposition player at a San Pablo, California based casino. Together with this income, he was earning more to the side as he placed three computers in his apartment. This allowed him to compete in up to eight games at one go on the different poker sites. Sometimes he played for 30 consecutive hours and this online practice did wonders to boost his game even more.
Then Erick started concentrating on tournament play, and after playing full-time for nearly five years, he moved on to Las Vegas in 2002. That year catapulted him into a professional player as he won the main event of the Bellagio Five Diamond Poker Classic and won close to $230,000. Just 10 months later he won his first WPT and then the Poker Million III, where he won the million dollar top prize. Then in 2003 he won the World Poker Tour UltimateBet.com Poker Classic II in Palm Beach.
In 2004, he played against his friend Daniel Negreanu in heads-up play to win the PartyPoker.com Million III Limit Hold'em Cruise. His next aim was to win the WPT Player of the Year award in that same year. He increased his bankroll with multiple six-figure tournament cashes, including a first-place win at the Professional Poker Tour No-Limit Hold'em event at the L.A. Poker Classic.
Then in 2006, Lindgren classified third in the WPT No-Limit Hold'em Championship at the Borgata Winter Open and then also a first-place finish at the Five Star World Poker Classic. In June 2006, he outdid the other pros at the Full Tilt Poker's Pro Showdown at the Red Rock Casino for a $600,000 payday. He also finished second in the $5,000 Short-Handed No-Limit Hold'em event and cashed in four events at the 2006 WSOP, finishing second in Short Handed No-Limit Hold 'em to fellow Full Tilt Poker pro Jeff Madsen.
At the 2007 Aussie Millions, Erick won the Main Event and more than $795,000 in prize money. There were more tournaments throughout that year, such as two top-10 finishes on the WPT and an eighth-place finish in the WSOP's $1,500 No-Limit Hold 'em Shootout event. In June of 2008, Erick earned his first WSOP bracelet as he defeated Justin Bonomo during heads-up play in the 5,000 buy in mixed no-limit/limitTexas Holdem event. He worked his way through a starting field of 331 players to claim victory in the $5K Mixed Hold 'em event. That victory brought Erick's career tournament winnings to more than $7 million and moved him to 20th on the all-time money list.
Nowadays, Erick is sponsored by and plays online with Full Tilt. He lives in Las Vegas and still holds a tight friendship with poker peers Daniel Negreanu and Gavin Smith. He is still a sports fanatic and is known for throwing great parties and living the bachelor's life.
Erick Lindgren's other achievements
30 Cashes and over $4,000,000 in Total Winnings
1 WSOP bracelet and 4 First Place Finishes
1st at the 2008 WSOP, Event 4, Mixed Hold'em
3rd at the 2008 Event 45, World Championship H.O.R.S.E
4th at the 2008 WSOP, Event 18, No-Limit 2-7 Draw w/re buys
10th at the WPT Season 6, Bellagio Five Diamond World Poker Classic
2nd at the 2006 WSOP, Event 30, No Limit Hold'em – Short-handed 6/Table
5th at the WPR Season 3, L.A. Poker Classic
1st at the WPT Season 2 twice
Lindgren is well known in the poker world for his amazing and constant wins and now over $7.3 Million in Career Tournament Earnings. He holds a loose and aggressive style that is now his trademark. Holding onto 23 cashes as the WSOP, these account for $1,988,943 of those winnings.
Erick is seen as one of poker's original Young Guns, who started out when very young and turned adults while at playing the game at the tournament tables. He is a poker veteran, having played almost 10 years already as a professional player and one of the most recognizable names in the game.