Greg Raymer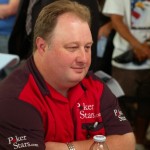 Name: Greg Raymer
Nickname: Fossilman
Birth Date: November 30, 1963
Birth Place: Minot, NorthDakota, United States
Current Residence: Stonington, Conn.
Poker Room: PokerStars
Greg Raymer grew up in North Dakota, when his father retired from the military, then the family moved to the state of Michigan. Greg had an interest in science and graduated in chemistry at the University of Missouri. He then travelled to the University of Minnesota to further his education with a master's in biochemistry and a law degree. During grad school he experimented with poker for the first time with his Uni friends. At this point he took on card counting, and made some easy money by playing blackjack in nearby Indian casinos.
He started working as a patent lawyer in Chicago and left the firm after three years as he disliked the litigation field. While in Chicago, Raymer went to the casinos in search of a beatable blackjack game. Finding none, he started out in poker, and enjoyed it so much he became a regular. He continued with small-stakes play for a while, until he built up confidence.
He then took a new job in San Diego as a biotechnology patent preparation and prosecution attorney. The newfound free time allowed him to further advance his poker game, and Raymer took his play to the bigger cash games and became a tournament regular at the Foxwoods Resort Casino.
He eventually gave up his job to play poker full time. His nickname 'FossilMan' originated from his early career days when he was adding to his bankroll by buying fossil card protectors and selling them at the table.
After winning in many tournaments across the country, Greg played at the WSOP for the first time in April 2001. This is when he almost made it to the final table of the $1,500 Omaha Hi-Lo Split event, finishing 12th for a small cash of $5,345. The following year, Raymer was spotted observing Robert Varkonyi as he claimed the WSOP Main Event and kept returning to Vegas every year from then on.
2004 saw his big cash break, after winning a $160 satellite on PokerStars.com, Raymer ended up in WSOP final. He made it to the final table with a significant chip advantage. His strategy was to move all-in, and his opponent Williams called it with Greg winning the event. After winning, Raymer headed back to his hotel room at the Bellagio and was attacked by two men, Raymer fought them off and the robbers ran away. Eventually, the men were caught six months later in California and went through robbery convictions.
At the time, the $5 million prize pool was the biggest in WSOP history, but unfortunately Raymer only saw part of that record-breaking haul; after having to pay off his backers and taxes. However, the whole experience did not discourage Raymer from professional poker. In fact, he quit his job in Connecticut and kept on a modest tournament schedule while also competing online.
This victory was a long shot as Raymer was an amateur and a newcomer on the felt, but he did receive the instant celebrity status in the booming poker scene. The success benefits followed as he got endorsement deals from companies such as PokerStars.com. Since then, Greg has achieved enormous success in other World Series events, including four final table appearances and cash finishes that have added well over $650,000 to his total career earnings.
The year after his big win, Raymer made his way back to the WSOP where he cashed in three events. Most notably, he earned a 25th-place finish in the $10,000 Main Event that scored him $304,680 and sixth place in the $1,500 No-Limit Hold'em event for $119,450. At the 2006 series, Raymer raked a 5th place result in the $5,000 No-Limit 2-7 Draw Lowball.
Greg was also a member of the five-man Team USA that triumphed at the 4th annual PokerStars Cup of Poker in 2007. He also won a major event in the PokerStars World Championship Of Online Poker and beat 771 players in the $320Pot Limit Omaha event, earning $168,362 and his first WCOOP bracelet. He also finished 2nd in the PokerStars Sunday Million on two occasions.
Raymer is involved in a lawsuit against World Poker Tour Enterprises. Together with Andy Bloch, Annie Duke, Phil Gordon, Howard Lederer, Joseph Hachem and Chris Ferguson, he is accusing the WPT of eliminating competition and using the pros' names and images to sell products without their consent or money compensation. The lawsuit had gone as far as triggering a heated public blog-off between Raymer and pro Daniel Negreanu, with the latter criticizing the seven players on the Internet. After a series of sizzling exchanges, the two finally called a truce and apologized to each other.
Raymer also had an issue with Mike "The Mouth" Matusow when in 2004, Matusow publicly belittled and berated Raymer at a WSOP table. These incidents might be the reason why Raymer holds a low profile and is not seen at many tournaments. He is usually seen hanging out with his wife, Cheryl, and daughter, Sophie, at their latest home in Raleigh, N.C. Greg's hobby is playing golf and advanced Sudoku-type puzzles, playing tennis and bowling on his Wii games console.
Greg Raymer's other achievements
• 11 cash wins
• 4th at the 2007 WSOP Event
• 6th at the 2007 7 Card Stud Event
• 5th at the 2006 SOP Event 38
• 1WSOP bracelet and 1st place finish
• Is the 2004 World Series of Poker Main Event Champion
• Has graduate degrees in biochemistry and law
Greg Raymer has always presented a quirky image during play, in legendary hologram sunglasses purchased in Disneyland and holding his hole cards with fossils that he carried around at poker tournaments. He considers poker to be an art form just like painting and holds a track record that includes one of the biggest ever live tournament cashes and a host of other final table appearances.
Raymer has definitely secured his place in the poker history books after the World Series of Poker Championship title and as a member of Team PokerStars Pro with a lucrative sponsorship. Even though he might not be the best or richest world-class gambler, Raymer is perfectly comfortable in his roving lifestyle as a professional poker player.