Howard Lederer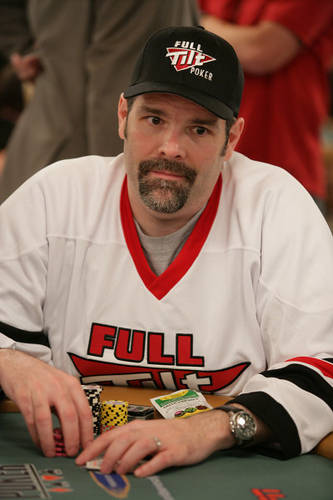 Name: Howard Lederer
Nickname: The Professor
Birth Date: October 30, 1964
Birth Place: Concord, N.H
Current Residence: Las Vegas, Nevada
Poker Room: Full Tilt Poker
Howard Lederer was raised in a family of academic people with an interest in games of chance. In fact, as a child, he started playing and was encouraged into card games by his parents as a way to spend time together. His father Richard, a well-known American author, teacher and linguist encouraged Howard's competitive nature and always provoked him into doing better.
As a teenager Howard focused on playing chess and after graduating high school he went to New York with the aim of specialising in chess. It is there that he was exposed to the underground world of gambling including poker and cards ended up becoming Howard's life-long passion.
In NY he discovered a backroom card game and started playing poker for two years, relentlessly 70 to 80 hours a week. At first, Howard was a consistent loser in his first few years and got the little money he had from running errands for other players. The fast pace caught up with him and he realized that he needed some rest so took a step backwards until he saw his results improve.
Howard spent time at the famous Mayfair Club in New York and along with a few of poker greats like Dan Harrington, Erik Seidel and Steve Zolotow, he developed an understanding into the poker game. This was at the same time that No-Limit Hold'em started making its mark New York. The Mayfair was a legendary bridge and backgammon club, home to the greatest games players in the world. Howard became part of a circle of world-class games players and this proved to be an invaluable learning environment. The daily game at the Mayfair was from 16.00 till 02.00 the next morning and after that they would move to another club.
They were all fascinated with the game and Howard continued to play and analyze with the ideas flowing freely elevating his playing efforts.. He also began tutoring his younger sister Annie on the game' s finer points and with his help and a lot of practice, she had learned all she could from the Professor and became an expert herself. Annie improved a lot and Howard encouraged her to go to Las Vegas and play in the WSOP tournaments.
Howard was at the Mayfair Club for most of the 1980s and then moved to Vegas in 1993 to play at the cash tables and buy-in No-Limit Hold'em tournaments. At this point, he started establishing himself as one of the major players in the game.
His game continued to improve and he went on to win his first of two Hall of Fame titles when he won the $2,500 No-Limit Deuce to Seven Draw event at the 1994 Hall of Fame Poker Classic. Then Howard earned his second title by defending his Deuce to Seven Draw title at the 1995 Hall of Fame Poker Classic. He concentrated on cash games until 2002, with the monthly WPT tournament events.
After five years of hard work, Howard won the first of his two gold bracelets in the $5,000 Limit Omaha Hi/Lo event at the 2000 WSOP. A year later, he won his second gold bracelet in the $5,000 Deuce to Seven event at the 2001 WSOP.
In November of 2002, he won his first WPT Championship title in at Foxwoods and 5 months later he won his second WPT Championship title in the $5,000 Limit Hold 'em event on The Poker Million cruise. Soon after he won the first of his three Bellagio titles in the $2,500 No-Limit Hold 'em event at the 2003 Bellagio Five-Star World Poker Classic. His second Bellagio win was in the $2,500 No-Limit Hold 'em event in April 2004. Just 13 days later he got his third Bellagio title in the $5,000 Pot-Limit Omaha event.
Nowadays, Howard lives in Las Vegas with his wife Suzie, son Matti, is a vegetarian and has three dogs. He provides commentary and analysis on FullTiltPoker.Net's Learn from the Pros and FSN's Poker Superstars Invitational Tournament. He also enjoys running other poker endeavours such as the Poker Fantasy Camp where people can play with and learn from the best in the game. He is an integral part of Full Tilt Poker and one of the most intelligent commentators working nowadays, thus the name 'The Professor'. Besides all this, he also keeps succeeding in tournaments.
Howard Lederer's other achievements
• 18 cashes and 2 first place finishes
• Placed 3rd at the 2008 WSOP event
• 2 WPT first place winnings
• Runs the Hoard Lederer Poker Fantasy Camp
• Won $9.3 million from businessman Andy Beal in 2004
With his best game being the Limit Hold'em, Howard has a love for the game of poker that is even stronger than that of other successful lifelong players. Over the years he became part of the inventory in the poker world, definitely earning the nickname "The Professor." He is a full member of Team Full Tilt, part of the Corporation that played Texas banker Andy Beal for the highest stakes in poker history, and a poker authority on the strategy of the game.
He is known for his calm and calculating manner at the poker table and is one of the most respected players in Internet forums. Having been voted best player and most underrated player, Howard has represented poker admirably, and is well-positioned to take advantage of the business of poker.
His sister Annie went on to become a pro herself, winning more cash than any other woman in the history of the WSOP. She has also knocked Howard out of three WSOP events, including the $10,000 final table. In 1994, Howard and Annie made poker history as the first brother and sister duo to make the same final table at the WSOP.