Annie Duke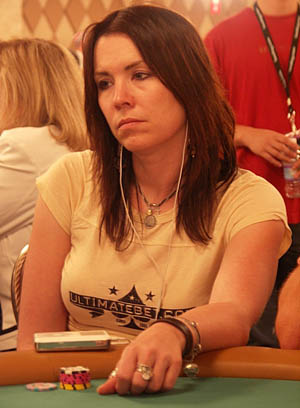 Name: Annie Duke
Nicknames: The Duchess of Poker/ Annie Legend / The Duke
Birth Date: September 13, 1965
Birth Place: Concord, New Hampshire, USA
Current Residence: Stonington, Conn. USA
Poker Room: UltimateBet
Born Annie Lederer, sister to the poker pro Howard Lederer, Annie grew up in a competitive family with the love for cards running in their blood. They were a family who saw playing together as a positive family time. At 18, Annie matriculated at Columbia University and left for the big city. She completed a major in English and Psychology at Columbia University and planned to become a teacher like her parents. Instead, she enrolled as a graduate student in Pennsylvania for Cognitive Psychology.
In 1991, she proposed to a close friend, Ben Duke and left her studies for Montana. They lived in almost poverty and with the support of her brother, she took up professional poker. She began to play poker in local pokers rooms to pay off the mortgage on their first home. Her brother was already a successful professional and he both coached her and helped them financially.
In 1994, her brother suggested that she try entering the World Series of Poker in Las Vegas. She did and ended up classifying 13th in her first tournament, knocking out even her brother. She went on winning 70K in her first month of competition and moved with her husband to Las Vegas to start playing poker professionally. In the 2000 World Series of Poker main event, she almost made it to the final table, getting to the 10th place, while eight months pregnant with her third child.
In 2004 she won $2 million at the inaugural World Series of Poker (WSOP) Tournament of Champions – a 10-player, winner-take-all invitational event. She beat out 234 players in the process and won her first WSOP bracelet. She was one of three women together with Kathy Liebert and Cyndy Violette to win an open event in that WSOP. In September 2004 Duke won $2,000,000 in the inaugural World Series of Poker Tournament of Champions, a 10-player, winner-take-all invitational event. At the time, this victory was the highest cash win paid in a single event to a female poker player. That record was broken by Annette Obrestad during the 2007 World Series of Poker Europe Main Event. In August of the same year, Duke won over 8 of the worlds' greatest poker legends and won $2 million in the No-Limit Texas Hold'em winner-take-all, invitation-only WSOP Tournament of Champions hosted by ESPN and Harrah's Entertainment.
She and Ben were divorced that same year and ironically enough, she won $500 wager through pro Steve Zolotow, who had bet her that her marriage would last less than five years. In early 2004, Duke was well known through the media after tutoring actor Ben Affleck, who then went on to win the 2004 California State Poker Championship.
In 2005 she moved to the Hollywood Hills with boyfriend, actor and producer Joe Reitman. In the Main Event of the 2006 World Series of Poker, she finished in 88th place, out of 8,773 entrants. She was one of two women left in the field when she was eliminated.
As well as competing, Duke writes and speaks about poker while promoting poker-related organizations. She has been a spokesperson for UltimateBet since 2000 and has written many articles for the online poker website. She acts as a consultant for the online poker site UltimateBet.com ensuring that their rules of poker and tournament structure match those you would find in the famous poker rooms of Las Vegas. Besides Ben Affleck, she has coached Matt Damon on his poker game.
Annie has written an autobiographical book entitled "Annie Duke: How I Raised, Folded, Bluffed, Flirted, Cursed, and Won Millions at The World Series of Poker." This highlights the obstacles in Annie's personal life, with her path to achieve her first WSOP bracelet. Duke has released a series of DVD's, such as "Annie Duke's Advanced Texas Hold'em Secrets: How to Beat the Big Boys" and "Masters of Poker: Annie Duke's Conquering Online Poker". She also has a production company Ten Dimes Productions.
Annie made an impressive number of T.V appearance. In 2006, she became the first poker personality to appear on The Colbert Report. During the show, she talked about her book and the situation for a woman in a male-dominated event. In 2006, GSN premiered a television special titled Annie Duke Takes on the World, which features Duke playing against amateur poker players. She has also made appearances on the Ultimate Blackjack Tour playing Elimination Blackjack. Also, in 2006, she appeared on NBC's 1 vs. 100 and correctly answered every question through their many aired shows.
Annie Duke has appeared on NBC's Poker After Dark three times. In 2008, Duke appeared on the show Deal Or No Deal to support a contestant. Together with Phil Hellmuth Jr., Duke is a coach on Fox Sports Network's Best Damn Poker Show, sponsored by the poker site Ultimatebet.net. She is currently appearing in the Donald Trump reality television show Celebrity Apprentice. Each celebrity raises money for a charity of his or her choice and Annie's choice was Refugees International.
Recently, Duke endorsed The ESPN Poker Club product line which offers poker lovers premium authentic quality poker products. The line, which was launched in May 2005, includes poker chip sets, tabletops, tables and other poker accessories.
Annie Duke's other achievements
• 11 cash wins
• One of the most recognised women in the game
• Winner of the WSOP bracelet and also of the 2004 Tournament of Champions
• Career tournament winnings in excess of $3.63 million
• Is appearing in Celebrity Apprentice 2, attempting to win money for charity from real estate expert Donald Trump
• More than $3.1 million in tournament earnings
• As o 2008, her total live tournament winnings exceeded the$ 3,600,000 mark.
• She holds the women's record for most "in the money" finishes at the WSOP
• She has won more than three million dollars in tournament play
Annie Duke is one of the most famous names in the tournament circuit. She is now arguably the most famous woman in poker but has stopped being a full-time poker player. She is happily married, has four children and works for ieLogic, a company that produces software for online real time casino gaming. Annie was never shy to admit her children come before any tournament.
She remains strongly connected to her brother Howard and even defended him in a heated statement with spokesman Daniel Negreanu. Duke and Lederer also coordinated in promoting a line of poker video games, where they were represented as virtual characters.
Annie refuses to play in women's only tournaments, saying "Poker is one of the only sports where a woman can compete on a totally equal footing with a man, so I don't understand why there's a ladies only tournament". She doesn't consider being a woman to have any sort of affect on her games. Over the past 10 years, Annie established herself as one of the best poker players in the world and holds a reputation over her vast poker skills and knowledge.