Mike Matusow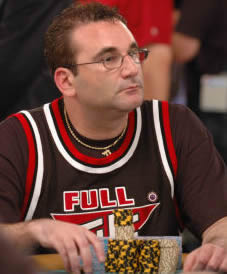 Name: Mike Matusow
Nickname: The Mouth
Birth Date: April 30, 1968
Birth Place: Los Angeles, California, USA
Current Residence: Las Vegas, Nevada
Poker Room: Full Tilt Poker
Back when he was young, Matusow was often the target of bullying while growing up in Los Angeles, California and Las Vegas, Nevada. Mike was never afraid of voicing his opinions, and stood up to the biggest and toughest kids in his neighbourhood, sometimes ending up battered and bruised but never defeated. He had many interests building race cars, shooting pool, or bowling. He managed to graduate through high school with the aim of becoming a mechanic. He ended up working for his family in a furniture store and through the years he found an ever growing interest in gambling.
At the age of 18 while in Las Vegas Maxim Casino, he played video poker incessantly for hours until he suffered repetitive strains in both his arms and shoulders. This developed into a small obsession of Matusow as he started stealing money from his mom's wallet to keep on playing. Eventually he ended up in Gamblers Anonymous meetings! This obsession ended up being for the good as it gave him training for the future success in poker.
Later on Mike Matusow became a dealer at Sam's Town Casino, and this helped his game as he observed carefully and picked up tips from the players. He used his time at the table to study the players and their techniques. Soon, his game improved and he entered a small local poker tournament, which he promptly won. This is when Steve Samaroff, a professional poker player took Mike under his wing. During this time, Matusow started playing games like Texas Hold'em and Omaha Hi/Lo and quit his job to try his luck at the table himself.
His first cash was a big one at the 1997 WSOP: playing in a $2,000 Limit Omaha Hi/Lo tournament, finishing second to Scotty Nguyen and cashing over $81,000. The next year Nguyen and Mike met again at the 1998 WSOP when Mike paid one-third of Nguyen's $10,000 buy-in to the Main Event and Nguyen won the whole event ($1 million) with Mike making a good fortune ( $333,000).
But this is not how Matusow wanted to make money, so he continued playing. Two years later, Mike won his first WSOP bracelet playing the $3,500 buy-in No-Limit Hold 'em tournament. In 2001, Mike made his first appearance at the WSOP Main Event final table, finishing the tournament in sixth place. One year later, Mike won his second WSOP bracelet playing the $5,000 buy-in Omaha 8/Better tournament.
But partying took over Mike, and led to the toughest period in his personal and professional life when, in late 2004, he was sentenced to six months in the Clark County jail on a cocaine drug charge. Isolated from his friends and family, Mike just focused on his dream of playing poker upon his release.
True to his dreams, three months after his jail release, in July 2005, Mike, became the second person to ever reach the WSOP Main Event final table twice in a starting field of 600 or more players and winning $1 Million for his ninth-place finish. Inspired by his win and with more stamina to prove it, he scored the biggest victory of his career a few months later when he out-played a field of 110 of the world's best players to win the 2005 Tournament of Champions and another $1 Million.
His most recent victory came in the 2008 WSOP where he won the $5,000 No-Limit Hold'em 2-7 Draw w/Rebuys tournament winning $537,862.
Nowadays, Mike Matusow plays online poker at places like Full Tilt Poker and PokerStars as well as his live tournament appearances. Up to now, he has earned well over $6.8 million dollars in tournament play and is continually working on his game.
Mike Matusow's other achievements
• In 2000, he won the Pot Limit event at WPT, in 2002 he won the S.H.O.E, 7-Card Stud Hi-Lo Split, and the $1500 7 Card stud event and in 2005 he won the Pot Limit Omaha event.
• 2005 WSOP Tournament of Champions winner
• 3 WSOP bracelets
• 26 cashes and almost$ 4,000,000 in winnings
• 3 first place finishes and 3 WSOP bracelets
• Placed 5th at the 2008 WSOP Event 37
• Placed 6th at the WPT Borgata Poker open
Mike Matusow has definitely carved out a name for himself. Up to this day, he is widely considered to be one of the best Omaha 8/Better players in the world and certainly remains one of the most successful players at the poker table. Despite being considered the best Omaha poker player in the world and one of the best Texas Hold'em players, he continues to improve on his skilful poker game.
His career has gathered up a lot of controversy throughout the years as he was in jail in 2004 and 2005 after being caught with cocaine and has struggled with drug problems and depression. He is still working on getting his life together but has been clean for over two years now.
Matusow is also disliked by many due to his coarse and sometimes rude personality. He is well known for teasing and mocking his opponents, never holding back from his emotional outbursts and rudeness. On one event he even berated Greg Raymer during the 2004 WSOP Main Event. His controversial persona has landed Matusow on numerous TV shows like High Stakes Poker and Poker After Dark and his best known television appearance on the WPT Bad Boys of Poker II show where he finished second to Tony G.
Matusow is both widely hated and loved in the poker world. Some find his loud antics and blow-ups hilarious while others actually refuse to speak to him. The nickname 'The Mouth' was given to him for his brash and bully talk at the poker tables. Every category needs a bad boy, in this case one whose talent with the cards doesn't go discounted…