PokerStars Marketing Code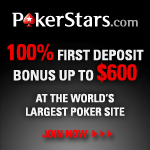 Before you create your account at PokerStars it is very important that you find a marketing code that will give you the best possible bonus at PokerStars. If you enter the PokerStars marketing code PSP11903 you will get the regular 100% bonus up to $600 and you will also get access to some very restricted freerolls at PokerStars.com. We will explain all about these freerolls in a bit but first we will walk you through how the poker bonus system works at PokerStars.com along with all the other great promotions that PokerStars has to offer. As you may already know PokerStars is by far the biggest online poker room out there and they are really offering some really great promotions.
How to claim the $600 bonus at Pokerstars
Once you have created your account at PokerStars using the marketing code PSP11903 you are ready to make a deposit to become a real money player to take part of the action at PokerStars. When you make your first deposit at PokerStars you will be asked to enter a bonus code. In the field for the bonus code you will need to enter Stars600 in order to claim your free $600 bonus at PokerStars. When your deposit has been accepted your will get the $50 bonus instantly credited to your pending bonus account where it will be held until you reach the clearing requirements for the bonus.
How to clear the signup bonus at PokerStars.com
Once you see the bonus is your pending bonus account (which should be instantly after you have made your first deposit) you can start playing at the real money cash games tables or in tournaments and SnG's and earn PokerStars player points that will count towards clearing your free PokerStars bonus. The bonus at PokerStars is one of the easiest bonuses on the market to clear. All you need to do in order to clear this bonus is to earn 10 frequent player points for every bonus dollar in your account. This means that if you have $50 in your pending bonus account you will have to earn 500 frequent player points in order to clear the bonus.
How to earn frequent player points at PokerStars
Every time that you play for real money at PokerStars you will be earning frequent player points. At the cash game tables you will be able to earn up to 3 FPP's per hand based on what limits your are playing.
This is the information on how to earn FPP's at cash game tables that can be found at the PokerStars.com website.
First Frequent Player Point (FPP) is awarded for playing a hand in which the rake reaches:

$0.40 for fixed limit poker games with stakes $1/$2 and lower

$0.40 for NL/PL poker games with blinds $1/$2 and lower

$0.40 for '1-on-1' poker games (this applies only to '1-on-1' tables, not to regular tables which have only two players seated)

$1.00 for all other games

Second FPP is awarded for playing a hand in which the rake reaches:

$2.00 for all 6-max tables (this doesn't apply for games being played 6- handed at 10/9/8 player tables – just at 6-max tables)

$3.00 for all other tables

Third FPP is awarded for playing a hand in which the rake reaches $5.00.
When playing in Sit and Go's and in Multi Table Tournaments the FPP system is very straight forward. For every $1 that you pay in tournament fees you will be awarded with 5 FPP's that will count towards clearing your first deposit bonus. So if you for example participate in a SNG with a $50+4 buy in you will be earning 20 FPP's from participating in that tournament. As you can see you will be able to clear the whole $50 bonus quite fast if you are playing in tournament and SNG's.
From the day that you made your first deposit you have 60 days to earn the 500 FPP's needed to clear the bonus. Should you fail to earn these points the bonus will not be credited to your account. Once you have reached the 500 points though the bonus will instantly be released to your real money account and will be available for withdrawal.
Restricted Freerolls at Pokerstars
As we told you earlier you will be able to take part in restricted freerolls when creating your account using the PokerStars.com marketing code PSP11903. These freerolls will only be open to a very limited amount of players at PokerStars so you can be sure that they will have a lot of value. These freerolls have a higher prize pools than the regular PokerStars freerolls and since they are restricted you will not have to compete against as many players as in a freeroll that is open to all players. We will keep you informed about the upcoming freerolls at PokerStars that you can participate in on our freeroll page so make sure to bookmark that one and check back often so that you don't miss any of the freerolls.