Chris Ferguson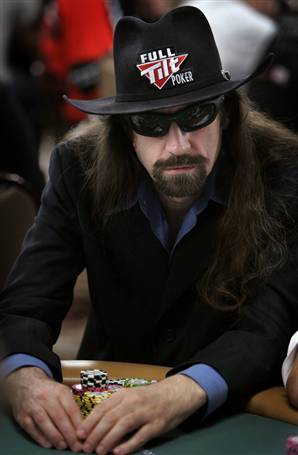 Name: Chris Ferguson
Nickname: Jesus
Birth Date: April 11, 1963
Birth Place: Los Angeles, California, United States
Current Residence: Pacific Palisades, California
Poker Room: Full Tilt Poker
Christopher Philip Ferguson is a well-known professional poker player who already holds five World Series of Poker bracelets under his belt. He attended UCLA where he earned a Ph.D. in computer science with the focus on virtual network algorithms. His parents both have doctoral degrees in mathematics and his father teaches game theory and theoretical probability. The inclination to mathematics shines in Ferguson's playing style as it is highly calculated, with knowledge of game theory and developing simulations that improve the understanding of the game play.
Ferguson started playing poker at the age of 10 and later, in college continued playing poker in chat rooms. This is when he adopted the trademark wide-brimmed hat and sunglasses look, in an aim to disguise the fact that he was just a college student.
After searching for venues to play at, he started playing with other serious players and his skills improved a lot.
In 1994, he started participating in tournaments in California and in 1995, he signed up for his first World Series of Poker event.
In the No-Limit Hold'em championship main event at the 2000 World Series of Poker, Chris won over T.J. Cloutier winning $1.5 million prize which made him the world Champion. To date, Chris holds five WSOP titles, two of them from 2003. Those titles are 2000 Seven-Card Stud, 2001 Omaha Hi-Lo, 2003 Mixed Games, 2003 Omaha Hi-Lo, and the main event in 2000. Furthermore, in the 2003 WSOP he finished 4th in Lowball, 2nd in Pot-Limit Hold'em and 6th in Omaha High.
In 2004, Ferguson helped launch the online poker site Full Tilt Poker. In 2005, he finished runner-up to Phil Hellmuth in the National Heads-Up Poker Championship. In 2006, he was at the finals and classified 2nd to Ted Forrest. In 2008 he appeared at the finals for the 3rd time, this time beating Andy Bloch, cashing $677,905 and winning the title.
To-date, Ferguson has the most wins in the four-year period of the tournament, with an overall match record of 16-3. As of 2008, his total live tournament winnings exceed $7,300,000. In addition to the WSOP bracelets, Ferguson is the only player to have won three World Series of Poker circuit events.
He is also known for the ability of throwing playing cards fast enough to cut through bananas, melons and claims that over a period of six months, he slowly but successfully turned $1 into more than $20,000 on an online poker site as his personal challenge.
Ferguson also turned $0 into $10,000 on the Full Tilt site by starting out winning free roll tournaments, and then playing with the prize money. The challenge went so well that he kept going over the $20k mark.
Chris works very hard to keep improving his game on the felt. When away from the tables, he can be found at his computer analyzing hands or looking at different possible scenarios and how to improve his strengths. Lately, Chris has been concentrating on the larger, bigger buy-in events.
Chris Ferguson's other achievements
• 5 WSOP bracelets and over $ 4000,000 in winnings
• Winner of the 2008 NBC National Heads-Up Poker Championship.
• 32 cashes and 7 first place finishes
• Only player to have won 3 WSOPC championship events
• Holds a Ph.D in computer science from UCLA
• Heads a software development company
• Former ballroom dancing instructor
• Classified 1st at the 2008 Special, NBC Heads-Up Championship
• Classified 4th at the WPT Season 3, WPT Invitational
• Classified 2nd at the 2008 WSOP, Event 33, World Championship 7-Card Stud Hi-Lo…
Chris Ferguson has a very particular trademark appearance in cowboy hats, long hair and beard, an eccentric appearance that has earned him the nickname "Jesus", even though he is an atheist. He is seen as a quiet player who plays through motionless poses in those situations where opponents are trying to read his behavior.
Chris has been known to say that being at the final table in a game gives him a burning desire to win. That combined with his mathematical skills have contributed to his great success. Chris' style of playing is getting into his opponent's head and getting them into uncomfortable situations giving them a hard time playing.
As with anything else in his life, Chris always holds an intellectual approach to poker. In his words, "Intelligence and the ability to reason well are the most important qualities that all poker players share. This reasoning comes into play when the player is faced with deciding which alternative to take in a hand—raise, call or fold." "If you're not sure whether to fold or call, fold. If you're not sure whether to call or raise, raise."