Chris Moneymaker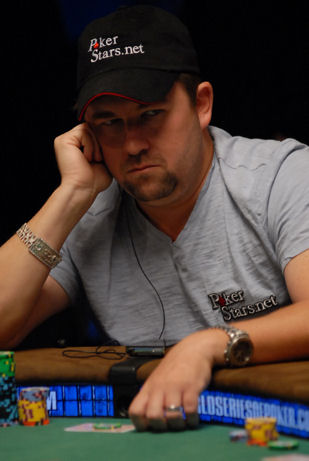 Name: Chris Moneymaker
Nickname: Money
Birth Date: November 21, 1975
Birth Place: Atlanta, Georgia, USA
Current Residence: Nashville, Tennesee
Poker Room: PokerStars
Chris Moneymaker graduated from the Tennesee state university with a master's degree in accounting and started working with online poker just as his hobby. Having grown up playing blackjack with his father, seeing Rounders and getting hooked on Texas Hold'em, little did he imagine that he'd become one of the most influential people in professional poker.
The story of Moneymaker is a fast rise to poker stardom that inspired many. In 2003, he entered a $39 satellite at PokerStars online poker card room and won which gave him a seat in a larger satellite, one with the WSOP Main Event as prize. Immediately into the tournament his skills were noticed by professional sports handicapper Lou Diamond, who called Moneymaker the dark horse who ended up winning the whole tournament.
Competeing and winning over other amateurs and then battling with the likes of Johnny Chan, Howard Lederer and Paul Darden, Moneymaker stepped up to the final table against veteran pro Sammy Farha. Amateur or not, Moneymaker performed well against the proand in a pivotal bluff he moved all-in on with nothing but king-high. Moneymaker went on to win the first prize of $2.5 million in Las Vegas, instantly achieving poker superstar status. It was his first live poker tournament.
This story to quick success ignited a lot of interest in the poker world, with many categorising this phenomenon as the 'Moneymaker Effect'. The tale of an amateur who won over hundreds of world-class players, earning a huge cash prize. Chris inspired millions of people to start playing online and in card rooms all over the world.
Soon after winning the WSOP, he quit his job and became a celebrity spokesman for PokerStars and Series owner Harrah's Entertainment. This involved him to travel and play in the larger buy-in tournaments. He played on the World Poker Tour, finishing second at the 2004 Shooting Stars event, earning $200,000. After that he finished 10th at the next WSOP in the $5,000 Pot Limit Omaha event. Chris is an icon at PokerStars.com, European Poker Tour events where he earned $24,480 for a 17th place finish at EPT London in 2007. In September 2008, Chris fought and made the final table of the $10,300 No Limit Hold'em event in the PokerStars World Championship of Online Poker, winning $139,635. He also did well in Event 16, the $215 Pot Limit Omaha with ReBuys, where he finished fifth, earning over $28,000.
As of 2008, his total live tournament winnings exceed $2,800,000, the majority of which, $2,532,041, have come at the WSOP.
Lately, he has focussed on being a spokesperson for PokerStars.com and playing poker as a member of Team PokerStars. In his freetime, Chris is a family-man balancing time with his wife, young daughter, playing a range of sports, especially golf, football and basketball and various business interests such as publishing his autobiography in 2005.
Unlike what many think, the name Moneymaker is not a pseudonym, it is in fact his real birth name and a very appropriate coincidence!
Chris Moneymaker's other achievements
• Placed 1st in the 2003 WSOP $10,000 Main Event
• Placed 2nd in the WPT Bay 101 Shooting Start $5,500 Main Event
• Spokesperson for PokerStars.com
• Member of Team PokerStars
• Author of the book 'Moneymaker: How an amateur Poker Player turned $40 into $2.5 Million at the WSOP
• Also started his own company, Moneymaker Gaming.
Moneymaker will always be remembered for his epic victory in 2003. Despite many successes, some still perceive Chris as a one-hit wonder, a lucky fish who took home the biggest tournament in the history of poker. But his other achievements prove otherwise, he came close to adding a World Poker Tour title to his list of accomplishments when he finished second to Phil Gordon at Bay 101 Shooting Stars and had another solid prize at the 2004 WSOP of $5,000 Pot-Limit Omaha event.
Still, that 2003 event has given him a kind of life all poker players dream of. Chris is a member of Team PokerStars Pro and plays online using the screen name 'Money800'. He is the man who can turn $39 into $2.5 million. Overnight, he went from a mundane accountant job to high rolling at the WSOP blowing $25,000 at strip clubs and another $25,000 donated to cancer research.
Moneymaker's win made a change in poker as he was the first to reach world championship by qualifying online. He made it possible for the many online players' fantasies to come true – to start out online at home one night and reach professional level. This is the kind of inspiration players have been yearning for.
As Chris stated; "If I can win it, anybody can." And these words keep inspiring us to sign up and try our luck at moneymaking too!