Evelyn Ng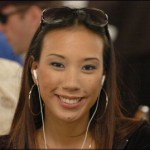 Name: Evelyn Ng
Nickname: Evybabee, Evy
Birth Date: September 14, 1975
Birth Place: Toronto, Ontario, Canada
Current Residence: Santa Monica, California, USA
Poker Room: Bodog Poker
Evelyn Ng was born in Toronto, Ontario, Canada and is now a professional poker player. Just like her predecessors and poker legends Puggy Pearson and Billy Baxter, she started out playing poker after she commenced playing pool. In fact, at the age of 14 she already started playing the game pool for money and this all led to her playing poker and dealing chips in the blackjack and poker back rooms of various establishments around Toronto by the age of just 17. This is when she met and started dating poker pro Daniel Negreanu who became her own mentor for the poker game. He helped Evelyn understand the logistics and structure of the game and started to slowly open her up to the world of professional poker playing.
By the time of her 21st birthday, Evelyn went with Negreanu to the hub of Las Vegas where he introduced her to a group of professional poker players as well helped her develop a style of play designed to face the more aggressive players. Evelyn was marvelled by these players who managed to make a living completely from just playing poker and deep down she hoped to turn out like them. Eventually her dreams started to materialise and she packed and things and moved to the bright attraction that is Las Vegas. She started off working as a poker and blackjack dealer. Like many other pros this proved like to be the best way to start as it gave her a chance to watch the players and thus learn more about the tricks of the game. This being the tells, bluffs and the individual playing styles whilst focusing on her own knowledge of the game.
Then in 2003 Evelyn was ready to improve her game in the right direction and finally encountered her break as poker pro. She signed up for a satellite tournament in the World Poker Tour Ladies Night event and succeeded in winning herself a seat. Evelyn achieved fame as she came in second place leaving established pros like Jennifer Harman, Kathy Liebert and Annie Duke way behind her. In December 2004, she came in 29th place at Bellagio Five Diamond Poker Classic. In 2005 she classified in 11th place at the Borgata Poker Open and then in May 2006 she arrived in 7th place at the Calvin Ayre Wild Card Poker Tournament. Since her breakthrough, she has participated in numerous tournaments like when she finished at 22nd place in the main event of World Poker Tour 2005.
Evelyn has a lot of media exposure as she featured as one of the characters in the 3D video game Stacked which also features Negreanu. She was also a participant in the King of Vegas television series on SpikeTV and featured as the poker croupier in the second series of British game show Casino Casino and also appeared on Criss Angel Mindfreak as a professional poker player.
Evelyn's favorite places to play cash games is at the Bellagio and the Mirage. She feels they are at the centre for poker action in LasVegas, and offer a relaxed and comfortable atmosphere. Her biggest strength at the poker table is her ability to play a very constant solid game, not letting reactions get in the way. Evelyn remains calm and cool during a game listening to her iPod as it allows her to relax and stay focused on the game without getting distracted. She is able to overcome any negative feelings resulting from a loss and still continue to play a steady, good quality game.
In April 2006, she signed on as part of the Bodog Poker Pro Team and has since participated in numerous events on and offline as a sponsored Bodog.com pro. Having been a representative of the online poker room PokerStars before, she is now part of Team Bodog partnership together with pros David Williams and Justin Bonomo. Besides playing poker, she also works as a sports commentator for NBC, commenting on the poker game.
In her free time, Evelyn enjoys playing video games and describes herself as a media-junkie, as she loves anything to do with pop culture, music and media. She enjoys spending time with her friends and is currently dating Lex Veldhuis, the Dutch professional poker player from Rotterdam.
Evelyn Ng's other achievements
7 cashes and over $67,000 in winnings
2nd in the WPT Specials, WPT Ladies Night
25th in the 2007 WSOP Event 28, No Limit Hold'em
37th in the 2008 WSOP Event 15, World Championship Ladies Event
48th in the 2008 WSOP Event 15, World Championship Ladies Event
Known for her hot looks and height at 5 foot 11 inches, Evelyn Ng is not just one of the most good looking women in the poker community but also one of the most talented. She is known to entangle her opponents with her smooth chips tricks. After her win in 2003 she kept going on strong, building a career as a pro cash game player and building success in tournament poker. As of 2008, her total live tournament winnings exceed $330,000 which might not be as high as other pros but she attracts a lot of media coverage and exposure. One of her personal challenges is to become the first female pro to win the WSOP Main Event.