Jennifer Harman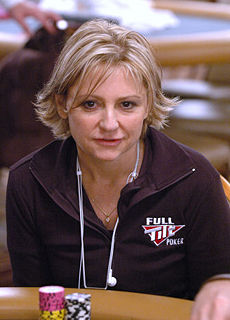 Name: Jennifer Harman
Nickname: Jennifer
Birth Date: November 29, 1964
Birth Place: Reno, Nevada, USA
Current Residence: Las Vegas, Nevada, USA
Poker Room: Full Tilt Poker
Jennifer Harman's journey to success was not easy and took several years. She was born in Reno, Nevada and experienced her first card game at 8 years of age helping out her dad during his home games. This is also when her health problems commenced with her already requiring a kidney transplant.
By the time she was 16, she already had a fake ID that she used for poker rooms and was already facing up to many tougher opponents and losing. After graduating high school, she moved to the local University of Nevada to study biology and worked part-time waitressing. After work she used to go to the poker room. By then, Jennifer had started loving poker game and was already showing signs of a promising player who observed competition and had a studied strategy.
After getting her degree, she moved to Los Angeles and started bartending at a hotel. It only took a couple of days or her to locate the Bicycle Casino in the area and she quit work her job almost immediately to dedicate her time fully to poker. Still Harman was viewing poker as a fun pastime rather than a real career. After two years she decided to quit the game and start her own business. She moved to Maryland, Wash, but the plan did not work out as she ran out of cash. To make up for lost money she borrowed some money and started playing poker again, this time in Las Vegas. Her father was not happy with Harman's decision to play poker professionally and refused to speak to her for a long time. After years of barely any contact, they reconciled their differences.
For the next years, she focused on middle-limit games, occasionally into higher-stakes. Gaining up confidence she moved up into the $75/$150 and to $200/$400 stake games but still lost during this time. By 1993 hit, she was completely broke and ended up taking a $50,000 loan from a friend just to get back into the game. This proved to be a good decision as Harman hit her luck from then on.
She started making her rounds in tournaments and achieved an impressive 6th place finish at the $2,500 Pot-Limit Hold'em event at the World Series of Poker in 1995 and placed 13th in 1999's $1,500 Limit Hold'em event. She also won the Commerce Casino No-Limit Hold'em championship and the Limit Hold'em event at the Orleans Open.
At the 2000 World Series Harman won her first gold bracelet when finishing first in the event for $146,250. She had never played that game before but with a quick five-minute tutoring session from Howard Lederer she succeeded. She followed to get her 2nd bracelet at the 2002 WSOP, where she won $212,440. Jennifer is the only woman in the world with two bracelets in the open events.
She also classified 4th in the 2004 WPT Championship for almost $300,000 and then had her biggest money tournament win of $384,000 at the 2005 WSOP Circuit main event.
She is a regular player at the Bellagio poker room, "Bobby's Room," for some of the highest stakes in the world, together with other pros such as Doyle Brunson, Chip Reese, Phil Ivey and Daniel Negreanu.
Harman was one of the original members of The Corporation group of top poker pros who pooled together their resources to compete in heads-up Hold'em against Andy Beal. Her biggest triumph was winning 9 million dollars off Beal.
During her experiences with Brunson in Bobby's Room and with The Corporation eventually led Doyle to choose Harman to help write Super/System 2, in a chapter on Limit Hold'em in 2004. Doyle's book is considered the Bible for any player getting serious about poker. Limit Hold'em is one of Harman's favourite forms of poker and her best game with constant wins.
During that time she could not play the WSOP due to a second kidney transplant. These health problems have plagued her since her childhood as well as her sister and mother, who died from the same illness when Harman was just 17. After taking time off she got back into the game and also started promoting organ donation. She founded CODA – Creating Organ Donation Awareness and works constantly to raise money for the cause.
Since then she has also finished fourth at the World Poker Tour Five-Diamond World Poker Classic, fifth in the inaugural Professional Poker Tour event, and second in the WSOP Circuit Championship Event at the Rio. Harman is the only woman who is a regular player in the "Big Game", the high-stakes cash game at the Bellagio.
Nowadays, Harman plays cash-game, tournaments and online exclusively at Full Tilt Poker. She is a member of "Team Full Tilt" and also took it on her to coach husband Marco Traniello into becoming a poker player. Harman has appeared on the GSN series High Stakes Poker and on the NBC series Poker After Dark, where she won Week 8's tournament at Full Tilt Poker.
When she's not playing in tournaments, you can find her at the highest limit cash games at Bellagio playing among the best players in the world. She is also very close friends with fellow player Daniel Negreanu. In her spare time Harman plays with her four dogs, spends time with friends, skiing, music, movies and doing Pilates.
Jennifer Harman's other achievements
• 14 cashes and 2 1st place finishes
• 2 WSOP Bracelets in No-Limit 2-7 Draw and Limit Hold'em
• Over $2.2 Million in Career Tournament Earnings
• Co-Author of Super System 2
• 3rd at the WPT Season 6 Shooting Star
• 2nd at the WSOPE Event 1
• 3rd at the 2005 WSOP Event 18
• 6th at the WPT Specials WPT Ladies Night
• The only woman to regularly play $ 1,000 – $2,000 Limit and higher
Jennifer came a long way from her waitressing past, as she developed into a female poker pro who strategizes cash games. She once said that she feels great players get their learning experience in Vegas, where the toughest competition is found.
During Harman's poker years she has seen it all, millions lost and million dollars coming her way with amazing staggering wins. Despite a reputation as a cash game player, she made her mark even in the tournament world
Going through near-bankruptcy, a health crisis and thousands of poker chips in the process, she did achieve what was due. The great Brunson wrote in book intro, "I'm convinced that she's not only the best all-around female player alive, but also ranks among the elite poker players in the world."