Ted Forrest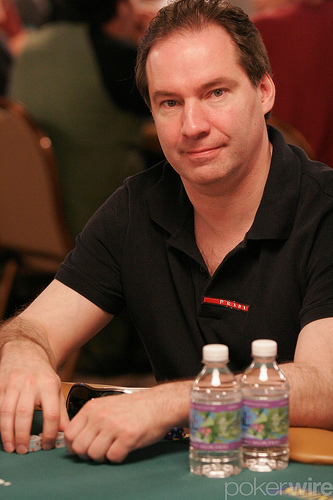 Name: Ted Forrest
Nickname: None
Birth Date: September 24, 1964
Birth Place: Syracuse, N.Y, United States
Current Residence: Las Vegas, Nevada, USA
Poker Room: None at the moment
Born in New York in 1964, Ted was an excellent athlete at a young age and competed in wrestling, track, football and basketball during high school. At the age of 16, he let home for a summer at the Grand Canyon, where he spent several weeks camping and hiking alone without telling his family. After being busted by Park Rangers for not submitting an itinerary and a camping pass, he escaped and caught a bus to St. Louis to stay with relatives. During this adventure, he got lost and even found himself robbed at knife point by a heroin addict. It was an unforgettable summer trip that helped solidify a mental toughness. He experienced a lot of difficult and stressful situations that required him to think fast and to make it on his own even at an early age.
After leaving LeMoyne College at the age of 20, Ted found a job in a hotel at the Grand Canyon and commuted to Las Vegas to play in modest poker games. He was keen on Seven-card Stud and worked as a prop player at Palace Station. He spent a good amount of time in the box as a dealer, where he learned to read people extremely well, which is one of his strengths now at the poker table. At one point he returned to school but then left again for good after his father's death. Eventually, he moved to Las Vegas, and in 1991 played at the Bicycle Casino in Los Angeles during a particular game of high stakes Razz game that featured plenty of wealthy but amateur Razz players. He was the underdog but survived to win over $20,000 in a long 25-hour session. That game pumped up his bankroll as well as his confidence and proved to be the turning point in his poker career.
Then in 1993, Forrest won an amazing three bracelets at the World Series of Poker. This record is also shared with legends such as Phil Ivey and Phil Hellmuth. He managed to win over $300,000 and bracelets in Razz, Omaha 8, and the $5,000 Seven-card Stud event. Through the final tables he played against big players like An Tran, Chip Reese, and Howard Lederer. Ted Forrest followed to make six more final tables at the WSOP with two 10th place finishes and two runner-up performances.
After that he left the tournament poker tables for a few years and he concentrated on his cash game skills. 2003 saw his comeback as he returned to the circuit and made a final table at the WPT Championship and took 4th at the WSOP Razz event that was won by his good friend Huck Seed. He then won two more bracelets in 2004 for Seven-card Stud and No Limit Hold'em and made it to two more final tables on the WPT /L.A. Poker Classic in 2004 and the Mirage Poker Showdown.
2005 saw a big loss of over $3.8 million to Texas billionaire Andy Beal. Forrest was part of the Corporation, the group of Las Vegas pros who took on Andy Beal in a series of super high stakes heads-up matches. But that loss followed with Ted's win at the U.S. Heads Up Poker Championship at Caesar's Palace beating out Chris "Jesus" Ferguson.
Most people view Forrest as a Stud specialist which is his best game, but he also boast a WSOP bracelet in No-Limit Hold'em up against a field of over 800 players. He is a tricky player and is known for making great reads but with a weakness of investing in losing players and failing businesses.
Forrest is very well liked amongst other poker players. During a lot of instances, he backed them up financially and is known for especially backing losing players. He has a disregard for money which might be the reason he's such a successful poker player, able to detach himself from the money. He knows the odds of playing each hand against all the different kinds of players.
Ted did a lot of unusual side and dare bets, such as in a bet against Mike Svobodny, where he bet to run a marathon in under 6 hrs on the outdoor hot rubber track in a temperature of 120 degrees. He suffered exhaustion through heat but won 7000$. In a bet against Howard Lederer and Huck Seed, Ted bet that Lederer wouldn't eigh less than Seed in less than a year – he won $50,000. In a bet against David Oppenheim, he bet to bench press a 225 pound weight 50 times in 24 hrs which cost him a loss of $ 10,000 and a permanent arm injury.
Nowadays, Ted Forrest lives in Las Vegas, NV and can be found in the card rooms of Southern California and Nevada. He's also on the tournament circuit and plays online. Ted continues to do very well in high stakes cash games.
Ted Forrest's other achievements
• 14 cashes and 2 1st place finishes
• 27 cashes and $3,477,647
• 5 WSOP bracelets and six 1st place finishes
• 2nd at the 2008 WSOP Event 16 Omaha Hi-Lo
• 5th at the 2008 SOP Event 34, Pot Limit Omaha
• 1st at the WPT Season 5, Bay 101
• 6th at the WPT Season 6, Foxwoods Poker Classic
• 2nd at the WPT Season 4, The Mirage Poker Showdown
• 4th at the WPT Season 3, LA Poker Classic
• 1st at the WPT Season 1, WPT Championship
• 5th at the WPT Season 1, WPT Championship
• 1st at the 1993 WSOP Event 12 and Event 13
Coming from very humble beginnings in poker, Ted Forrest has moved to the very top of the poker ranks. He holds a reputation for being a smash success in the worlds biggest cash games and has both won and lost over one million bucks in sessions of poker and other dare bets.
Forrest had many ups and downs early on in his career, something common with many professional poker players and is known as being extremely confident in his uncanny ability to read his opponents.
Known as being one of the quietest guys in poker, he is also one of the most dangerous. Ted comes across as an ordinary guy which is very deceptive. In the past 10 years, Forrest has come through as one of the best Seven-card Stud players and being one of the most successful high stakes games players. He has over $3.3 million in career tournament earnings and now leads the life of a true gambler.