Huck Seed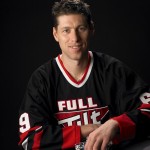 Name: Huckleberry Seed
Nickname: Huck
Birth Date: January 15, 1969
Birth Place: California, United States
Current Residence: Las Vegas, Nevada, USA
Poker Room: Full Tilt Poker
Born in Montana, at a young age Huckleberry's plans were to become an electrical engineer. With a height of 6 ft 7in, he started out with the high school basketball team, even reaching the All-State team of Montana. It was during this time in High School that he started playing poker games. At school, he focused on his natural math proficiency at the California Institute of Technology but that didn t last too long. Instead, he moved to the gambling halls of California and Nevada.
In 1989 he concentrated on a full time poker career, playing cash games and also entering in a few small tournaments in the smaller poker rooms of Nevada and California. He was immediately successful at his new profession and with his bankroll was growing day by day winning regularly.
On his first visit to the World Series of Poker in 1990, he placed fourth in two finishes (Limit Omaha and Seven Card Stud) with a successful debut on pokers biggest stage. He soon started making more money than an engineer wage would and he lived comfortably off his winnings. His first big notable win came in 1991, when he finished 2nd in the $5,000 NLH Queens Poker Classics, cashing in $118,750. In 1992 he came close to winning his first WSOP bracelet again after finishing 3rd in the $1,500 Pot Limit Hold'em Event and grabbing a 2nd place in the $5,000 Deuce-to-Seven Event.
Then in 1994 Huckleberry won his first World Series of Poker bracelet in a Pot-Limit Omaha tournament and more than $240,000 in tournament winnings. In the 1995 series' Main Event he only placed 265th overall but then he was back in action in 1996 where he won the WSOP Main Event, his second bracelet and $1 million dollars. He guaranteed himself a place in the history books after beating Bruce Van Horn heads-up to win the WSOP Main Event. The win made him World Poker Champion and $1 million richer. Just 27 at the time, Seed's picture already joined those of poker's legends on Binion's Wall of Champions.
During the 1998 Carnivale of Poker in Las Vegas championship event he cashed $306,000 and in 1999 he attended the WSOP at the final Main Event and came in 6th. In 1999 he made it to the final table, but in the end he finished 6th.
In 2000, he won his third WSOP bracelet and in 2002 Seed added another two WSOP final tables to his resume. In 2003 he proved his skill at the game again when he earned the fourth WSOP bracelet of his career. He cashed six times at the WSOP, finishing in the Top 10 in all six events, Seven Card Stud, No Limit Hold 'em, Seven Card Stud Hi/Lo, Pot Limit Omaha, S.H.O.E. and Razz. His cash in the $5,000 Razz Event also secured him his second Razz bracelet and his fourth bracelet overall. In 2004, Seed earned his most recent notable first-place finish on the tournament circuit, a $135,000 win at the Vegas Festa al Lago.
In 2008, Huck won the C$4,650 No-Limit Hold 'em Canadian Open Poker Championship. In the same year he also placed 7th in the WSOP $50K HORSE event, taking home more than $280K in prize money, bringing his total tournament winnings to about $4.5 million. In 2009, Seed became the NBC National Heads-Up Poker Champion and his victory made him the most successful player in the history of the event.
Beside an actual poker player, Seed does a lot of proposition betting, eccentric and well-documented bets with other poker players. One such bet was with Phil Hellmuth for a total of $50,000 at stake, with Seed betting he could stand in the ocean for 18 hours, but in the end he only lasted for 3 hours. Then he bet Hellmuth that he could remain floating on water in a wet suit for 24 hours, but this also failed. He bet he wouldn't shave his beard for a full year. He pulled it off for 9 months , but, when one of Seed's relatives died, he shaved the beard off to look respectable for the funeral.
He also won $10,000 from Howard Lederer after Lederer bet that Seed couldn't perform a standing back flip within a year but then he pulled it off. There is a current bet with Phil Hellmuth, the 'weight-bet'. The bet started at the beginning of the year and has a duration of 36 months that Seed has to stay under 89 kilograms for the entire 3 year period, and Hellmuth can ask for a weighing at any time. If Seed manages to stay under 89 kilograms, Hellmuth has to pay him $10,000 for every month. If Seed happens to exceed the weight in a certain month, he has to pay Hellmuth $10,000.
Nowadays, his presence at the poker tournament is not as dominating as it was earlier in his career. Seed is happy to make a comfortable living at the poker table and when not playing tournaments, he keeps his calendar full playing online and at local casinos in Vegas. He plays online at Full Tilt Poker and appears on TV programs like High Stakes Poker and Poker After Dark.
Huck Seed's other achievements
• 31 cashes and $2,861,881
• 4 first place finishes and 3 WSOP bracelets
• 1996 WSOP Main Event Winner
• 4th in the 1990 WSOP Event 5
• 6th in the 2003 WSOP Event 21
• 1st in the 2009 Special NBC National Heads up
• 4th in the 2008 Special NBC Heads up
• 3rd at the 2003 WSOP Event 15
• 1st in the 2003 WSOP Event 27
• 1st of the 1994 WSOP Event 3
• 2nd in the 1992 WSOP Event 18
• 2nd in the 1994 WSOP Event 20
• 4th in the 1990 WSOP Event 3 Seven card Stud
Seed has an edge to him and rises when under pressure with many of his opponents describing him as one of the toughest players to play against.
When he started out, the poker game was not popular and wins were not given such importance. Now the media changed everything around and poker players have become celebrities. Seed tries to keep a low profile through this but still maintaining a presence on the felt at the table. He believes it's always better to have your game do the talking for you. He holds a strategy of being very patient at the table and choosing the right spots to make a striking play until he reaches the final table.
Despite his quiet and unassuming reputation, he is one of the top No-Limit Hold'em players in the world. We will definitely be seeing more of Seed in the years to come