Barry Greenstein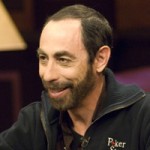 Name: Barry Greenstein
Nickname: The Robin Hood of Poker
Birth Date: December 30, 1954
Birth Place: Chicago, United States
Current Residence: Rancho Palos Verdes, California
Poker Room: Poker Stars
Barry Greenstein has been playing cards since his childhood. He was born and raised in a Chicago suburb and learned to play cards at a young age by his parents. They played gin rummy, hearts and poker and his parents encouraged him to develop a calm and concentrated game. He started playing home games in his teenage years making the rounds and cashing up to $50 a night.
But Barry had more career dreams and aspirations and at 15 he was already creating his own computer software Deep down he wanted to do more in life and his family felt the same way as they had a strong sense of integrity encouraging him to do something better. During his studies at Bogan High School he excelled in mathematics and computers, whilst playing poker in the evenings. Then he moved to the University of Illinois at Urbana-Champaign and graduated in computer science. By this time, he had already made thousands of dollars in poker winnings.
Barry decided to continue studying to get a Ph.D. program in mathematics which took 10 years. During this time he was still playing poker and building his bankroll. He got married to Donna, a woman who already had three kids from a previous relationship. They wanted full custody of the children, but in order for this to happen Barry was told he would need a full time job.
Hearing that, Barry gave up his studies, poker and moved with his new family to the Silicon Valley. They achieved custody and eventually had another 2 kids. Together with another 4 guys, he started up a software company 'Symantec', designing software programs. He and Donna subsequently gained custody of the kids and had two more in 1987 and 1988.
At the time Barry worked on a new software program, Q&A, which he completed and ended up being named product of the year in numerous industry magazines.This is still one of Barry's proudest accomplishments and Symantec started aiming to become one of the top computer software firms in the world.
During this time, Barry had been playing No-Limit Hold'em at the Cameo Club in Palo Alto California. This was an extra income and something that he enjoyed doing. Eventually, he played more frequently, back to his poker-playing schedule of his early years. In 1990, Barry left Symantec and started focusing full time on poker. He was attending the games at the Cameo Club 12 hours a day during most days of the week. He was getting good at it, improving his existing skills and his bankroll grew fast.
By 1991, Barry was making so much money from playing poker that he was able to 'retire' from his day job and become a fully fledged poker pro. In 1992 he entered his first tournament which was a $10,000 WSOP Main Event in Las Vegas, playing with the likes of Johnny Chan, Todd Brunson, Bobby Baldwin and Berry Johnston. He classified 22nd which was a good start in the right direction.
His wife and him got a divorce at this time with Barry getting full custody of their children. This followed by him meeting Mimi Tran, a Vietnamese player. They made a deal that Barry would teach her poker in exchange for Vietnamese lessons, which would be helpful for him when facing Vietnamese players on the felt. By now, Barry was focused on his No-Limit Hold'em game but also began playing Limit Hold'em as well. He built a reputation as one of the top players in the world through his games in California and Las Vegas.
2003 was a great year for him as he won Larry Flynt's $1 million Seven-Card Stud event at the Hustler Casino, part of which he donated to Children, a charity organisation. Having already worked with this organisation, he decided to donate a lot of his earnings to them. Through the years and his many tournament wins, he continued donating millions of dollars to a myriad of charity communities.
During the 2004 World Poker Open, he earned $1,278,370 in prize money. The second WPT victory was at an invitational event at the 2006 L.A. Poker Classic, worth another $100,000. Also in 2004 he got an WSOP bracelet, in the $5,000 No Limit 2-7 Draw event, then another bracelet for the $1,500 Pot Limit Omaha event in 2005 and finally in 2008's at the $1,500 Seven Card Razz event.
Barry is one of the most successful cash game players in the world, such as in High Stakes Poker or in the Big Game at Bobby's Room where he had a lot of successes. He is also a poker author, he wrote a chapter about poker strategy for Super/System 2, the sequel to Doyle Brunson's poker book, Super/System. Following that he started writing his own poker book, Ace on the River, which is more about the lifestyle of a poker professional. He usually gives away signed copies to those who knock him out of a major tournament.
Nowadays, he is a regular player in the highest-stakes cash games in Vegas and California, including the Big Game at the Bellagio, and has appeared in several major televised poker tournaments and TV shows, such as High Stakes Poker, the NBC Heads-Up Championship and Poker Superstars Invitational. Online, he is a member of Team PokerStars Pro and uses the screen name 'barryg1', playing tournaments and consulting in the design of the room's software. He also works with Joe Sebok, his poker pro son on poker-related projects.
Barry spends his free time with his children, plays golf and bridge and enjoys his house and family in California.
Barry Greenstein's other achievements
• 38 cashes and $3,678,752 in total winnings
• Four 1st place finishes and 3 WSOP bracelets
• 6th in the 2008 WSOP Event 45
• 1st at the 2008 WSOP event 26
• 4th at the WPT Season 6 North American Poker Championship
• 3rd at the 2008 WSOP Event 18 No Limit
• 4th at the 2007 WSOP Event 14 7-Card Stud
• 1st at the 2005 WSOP Event 19
• 4th at the 1997 WSOP Event 16
• 5th at the WPT Season 2 PartyPoker Million
• 1st at the WPT Season 2, Jack Binion World Poker Open
After so many tournament wins, Barry's poker game is still one of the best in the world. He is a humble man also honest about his weaknesses. Just in 2007, he had 15 tournament cashes in 2007 and a 7th-place finish in the WSOP H.O.R.S.E. event.
During the WSOP events, he has been present at thirteen final tables and made over thirty significant cashes and achieved 3 bracelets wins. At the WPT, Barry has made six final table appearances and won two titles. His many WPT cashes have helped add over $2,000,000 to his total career tournament earnings of almost $6,000,000.
Barry deserves being named a legend as he has made it big but was also able to give it back through his charity work and donations… a great in the world of poker.