Gus Hansen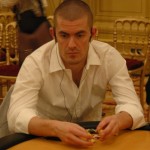 Name: Gustav Hansen
Nickname: The Great Dane, Gus
Birth Date: February 13, 1974
Birth Place: Copenhagen, Denmark
Current Residence: Monaco
Poker Room: Full Tilt Poker
Gustav Hansen was born in 1974, in a town outside Copenhagen and had a childhood filled with competitive sports like tennis. He used to attend summer camp and this is where he first picked up a deck of cards, playing with other campers for nickels and dimes. During high school he was introduced to backgammon and he was fascinated by numbers and the poker's mathematical component involved. He practiced a lot and ended up in New York, touring the backgammon and gin rummy clubs. During this time he was introduced to various types of poker, including Stud games.
In 1993, Hansen moved to Santa Cruz, California. It is here that he picked up poker play at a local casino and observed other players' personal styles. He started following his competitors who always seemed to be doing something unconventional at the poker table. He picked up a strategy, used it and moved on to the Ocean View Card Room also in Santa Cruz. In 1995, he returned to Denmark to face the country's civil mandatory military service. He spent nine months training in first aid and emergency rescue. After that he went back to the U.S., to the East Coast to play professional backgammon. He started meeting players like Huckleberry Seed and Phil Laak and through them, Hansen developed a knowledge and practice that gave him the confidence to try out his first WSOP event in 1996. However, he found himself too short of experience when facing the No-Limit Hold'em event. He had no chance of winning as it was his first time playing No-Limit Hold 'em. He got knocked out on the first day and continued practicing, testing new plays and experimenting mixing-up styles to determine his personal style. Mixed-up play turned out to be Hansen's permanent style. By 1998, he was playing more poker than backgammon and making more frequent trips to Las Vegas to gamble, and developed a real presence at the table.
At the time when the World Poker Tour premiered in 2002, Gus Hansen took first place in the $10,000 No-Limit Hold'em event at the Five Diamond World Poker Classic in Las Vegas with more than half a million dollars won. This win was what set him apart from the rest. In 2003, he won his second WPT title at the L.A. Poker Classic with a $532,490 first-place prize. He was also invited to play at the Bad Boys of Poker event in Las Vegas and won that event. Furthur to that, he also finished third in the WPT Championship event. He won the WPT's inaugural event, the $10,000 No-Limit Hold 'em tournament at the Five Diamond World Poker Classic and the $10,000 No-Limit Hold' em Championship at the WPT's L.A. Poker Classic. During the WPT's second season, he won the invitation-only Bad Boys of Poker tournament.
At the beginning of 2004 he achieved his 4th WPT title at the Caribbean Adventure tournament and paid out nearly $500,000. During the WPT's third season he ended in a third-place finish in the Bay 101 Shooting Stars tournament. The four WPT wins and five final table appearances earned him introduction into the WPT's Walk of Fame.
Gus Hansen acted as founding partner and house pro of the online poker site pokerchamps.com launched in 2003 but in 2005 the company and game software technology was sold to the British company Betfair, for over 100 million Danish kroner (approximately15,000,000 USD). He won the Poker Superstars Invitational and a hefty $1 million pay in the process. That year, he played fewer tournaments and focused on his cash game. He made it to the final table at the FullTiltPoker.Net Poker Invitational from Monaco and won the Grand Final of the inaugural Poker Superstars Invitational. Also in 2005, Hansen appeared in Texas Hold'Em Poker Advanced Strategies With Gus Hansen, which is part of the Going All In instructional series of DVDs.
In 2006, Gus made it to the World Series of Poker final table, but then lost on the very first hand with Ace King. During the same year, he was a member of the winning Danish team in the PartyPoker.com Football & Poker Legends Cup tournament. He was in Singapore in November 2006 to participate in the Betfair Asian Poker Tour. He made television history in the second season of High Stakes Poker taking the show's biggest pot ever ($575,700) by defeating Daniel Negreanu. In September, he took first place at the FullTiltPoker.com London All Star Challenge, winning $100,000.
Hansen was the first winner on NBC's Poker After Dark earning him $120,000, when he won over a set of six pro's including Phil Hellmuth and Huck Seed. In January 2007, he won the $10,500 main event at the Aussie Millions in Melbourne, Australia, beating a field of 747 players and winning the AUD $1,500,000 first prize. In 2007 Hansen cashed in the money in the $10,000 no limit Texas hold 'em championship, coming in 61st place out of a field of 6,358 players, winning $154,194. In 2007 and he launched a poker forum and strategy website, ThePlayr.com.
In 2008, Hansen joined the commentary team on World Series of Backgammon, a high stakes televised backgammon tour broadcasting on Eurosport across Europe and came in 160th place out of a field of 6,844 players to win a prize of $41,816. He also got his book published "Every Hand Revealed", a hand-by-hand account of his triumph in the 2007 Aussie Millions. In February 2009, Hansen launched GusHansenTV branded as a free poker channel broadcast over the internet.
Hansen is now a regular in the The Big Game normally held in "Bobby's Room" at the Bellagio Casino in Las Vegas up against the biggest and most respected names in poker such as Phil Ivey, Chip Reese, Doyle Brunson, Barry Greenstein, and David Benyamine. Online, he plays high-limit Pot-Limit Omaha games or Omaha 8/B Limit games on FullTiltPoker.com. He is currently featured in the Professional Poker Tour and the second season of High Stakes Poker, where he won the 5th biggest pot in the show's history. At the moment, he acts as a spokesmodel for Frank Q, a Danish men's fashion line.
Outside of poker, he delves into sports such as golf and soccer and works out at the gym with fellow pro Howard Lederer. He believes that playing sports and working out help him maintain the physical stamina needed to be a successful poker player. He also provides poker commentary for both Danish and American television shows. In 2004, he was voted one of the 50 sexiest men alive by People magazine and is a confirmed bachelor who enjoys the jet-setting single life, travelling around the world and at his home base in Monaco.
Gus Hansen's other achievements
• 18 cashes and $5,974,851
• 5 first place finishes
• One of the 3 players inducted into the WPT Poker Walk of Fame
• Voted one of People's magazine's sexiest men alive in 2004
• 2nd at the WPT Season 6
• 1st at the 2007 Aussie Millions Specials
• 3rd WPT Season 3 Bay 101
• 1st at the WPT season 3 PokerStars Caribbean Adventure
• 3rd at the WPT Season 2, Five Diamond World Poker Classic
• 1st at the WPT Specials, WPT Bad Boys
Besides being a professional poker player having done well in so many tournaments, Hansen also achieved a number of business related ventures, in and outside of the poker world including PokerChamps.com, ThePlayr.com, GusHansenTV and a minority stake in Full Tilt Poker.
Despite this ongoing success, Hansen did struggle through money problems with losses during live cash games. Rumour has it that Doyle Brunson lent Hansen $4 million, which he paid back almost immediately and also admitted to losing a million at a couple of games.
As of 2008, his total live tournament winnings exceed $7,200,000 with his Best Game being Triple-Draw Lowball and No-Limit Hold'em tournaments.
In his poker career Hansen has won a record three World Poker Tour open titles and although he may be one of the world's most skilled players at the poker table, he is also definitely a lucky guy. He comes across mistakenly as a hyper-aggressive player when in reality he is an active player with a lot of pots and a success combination of volatile style and good decision making. Still nowadays, Hansen says he s still ready to play a high-stakes backgammon match against anybody who would like to challenge him!