Majority thinks Phil Ivey will win the 2009 WSOP Main Event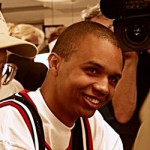 Even though it is still a couple of months until the final table of the 2009 WSOP is going to start there is one player who is already a huge favorite to win the main event. In many recent surveys he has been the number one pick amongst most people and even the online sportsbooks are giving him a good chance to win.
At the moment the 2009 WSOPE is being played and the 2009 WSOP Main Event final table is still in the distant future. But according to a survey made on WSOP.com there is already a big favorite to win this years WSOP Main event.
At the time of writing this poker news post 78.56% of all the people who voted had chosen Phil Ivey as the winner. We find this very interesting since Phil Ivey is going to start out the final table in 7th place and only $9.765.000 in chips compared to the chipleader Darvin Moon who is sitting on $58.930.000 in chips.
If you look at the odds offered by Sportsbook.com you will see that they have Phil Iveys odds as the third lowest of any player in the tournament. This shows that either the online sportsbooks have a lot of faith in Phil Ivey or they are just getting an insane amount of bets on Ivey to win and had to adjust the odds accordingly.
This is what the visitors of WSOP.com think the outcome of the final table will be:
Odds from Sportsbook.com:
Antoine Saout – 15/1
Darvin Moon – 5/2
Eric Buchman – 4/1
James Akenhead – 12/1
Jeff shulman – 6/1
Joseph Cada – 12/1
Kevin Schaffel – 12/1
Phil Ivey – 5/1
Steven Begleiter – 11/2
Final Table chip counts:
Phil Ivey 9.765.000
Darvin Moon 58.930.000
Jeff Shulman 19.580.000
Eric Buchman 34.800.000
Joseph Cada 13.215.000
James Akenhead 6.800.000
Antoine Saout 9.500.000
Steven Begleiter 29.885.000
Kevin Schaffel 12.390.000
Comments