Phil Ivey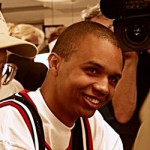 Phil Ivey, 33-year-old professional poker player, seven-time WSOP bracelet winner—seat seven in the 2009 November Nine WSOP Main Event.
"You have no idea; I can taste it now," said Ivey, who has already landed two WSOP bracelets this year. The golden boy of poker, who may very well be the best in this generation of poker players, has come out alive, earning his place at the final table.
"You have no idea how bad I want this," he said. Of all the contenders for the championship title, Ivey has the most well developed strategy planned for his game. He says that after playing with the other eight opponents, he's learned to read them so well that he doesn't want to forget what he's learned come November. To combat this, he says he will "replay some of the hands" in his mind, and it is likely that he really will, over and over for the next few months.
"I may watch a few of the hands on TV and actually watch poker on TV," Ivey says. "I'm a little short, and I don't want to get in to exactly what I'm going to do, but I have some plans."
It's unfortunate that Ivey is stacked so short in the final table lineup, but he's probably the only player at the table who would be capable of moving up to chip leader from that position, as he's had his fair share of practice exchanging high-stakes pots back and forth online with some of the toughest competition in poker.
He says he'll also be changing is cell phone number in order to avoid the media cloud that will inevitably crowd him between now and then. The truth is that Ivey is in a league of his own. He's one of those poker players that is a true celebrity, right up there with Phil Hellmuth and Doyle Brunson. People recognize him in public, and while other November Nine players like Darvin Moon will ultimately fade out of the limelight, Ivey will return again and again.
Ivey is favored within the poker community, both online and off, and he'll be well supported by his fans. Anyone who calls himself a poker fan would be happy for this guy should he win his 8th bracelet at the Main Event in November. If anyone deserves it, Ivey does.