2009 WSOP November Nine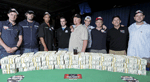 The November Nine this year includes a lively bunch of players that couldn't be a more random mix of personalities. These nine guys have a long road ahead of them, as they plan, wait, and anticipate the final table showdown in November that will divvy up a $27 million prize pool amongst them. The biggest name of the bunch is unquestionably Phil Ivey. While his 9.765 million chip stack is merely the 7th largest, he's still Phil Ivey.
Other players include only two non-US players, Antoine Saout from France (8th stack with 9.5 million chips) and James Akenhead from London (9th stack with 6.8 million chips), both in their twenties. Then we have a couple of business men turned poker players, Steven Begleiter (3rd stack with 29.885 million chips), age 47, and Kevin Schaffel (6th stack at 12.39 million chips), age 51. Also, meet Jeff Shulman (4th stack with 19.58 million chips), the troublemaker, who has declared that he doesn't even want the WSOP "if" he wins, and 21-year-old Joseph Cada (5th stacked with 13.215 million chips), who threatens to take the title of youngest player to ever win the WSOP Main Event from last year's champion, Peter Eastgate.
And then there's the long shot, Darvin Moon, logger from Maryland with not much potential to win, save the fact that he holds an overwhelming chip lead over the rest of the table with 58.93 million chips. And finally, with just over half the chips that Moon holds is Eric Buchman, who just may want to win as badly as Ivey does.
The final table showdown will take place on November 7, 2009 and run through the 10th at the Rio Hotel & Casino in Las Vegas, Nevada. The tournament will play out until only two players remain; the last two standing will go head to head on November 10th. You can catch the event on television when it airs on ESPN on November 11th.