Steven Begleiter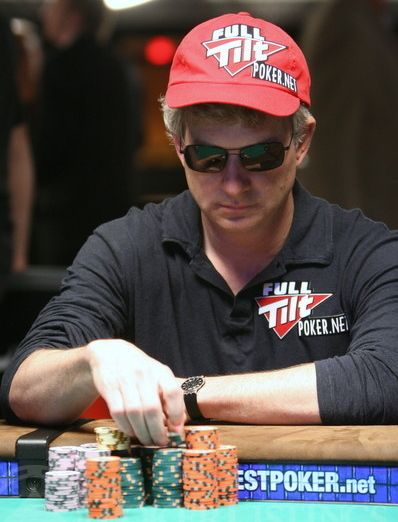 Steven Begleiter—47-year-old investment banker from New York, father of two—third largest chip stack at the 2009 WSOP Main Event final table.
Begleiter is the second of two 2009 November Nine players who won his seat in the Main Event at a live poker tournament (Darvin Moon being the first). As a member of the Newcastle Poker Tour, a 20-person poker league based out of New York, Begleiter is part of a very close traveling poker team. In fact, these guys are so close that he's promised 20% of his WSOP winnings to them. He says, "These guys have a piece of me. They've all been supporting… me. Doing it with a shared experience with these guys is really unbelievable. They all show up at these games convinced they can beat me."
When the final table plays out in November, Begleiter says he's expecting at least 200 people to join him from the rail, which is likely to be more personal support than any other player.
While Begleiter thoroughly enjoys poker, it's not his profession. He's actually an investment broker for a private equity firm, which he calls his dream job. His previous job was a 24-year gig with former investment firm Bear Stearns, which went under last year only to be bought out by JP Morgan. Begleiter saw the rise and fall of his company as the head of corporate strategy.
He explains, "If you look through the old Bears Stearns annual reports, you'll see my picture in them. And if you read some of the books that come out about the demise of Bear Stearns, you'll see my name in them." He adds, "I was there the day we were sold to JP Morgan last year. I did well there, but obviously it didn't end well." But he did leave the company with positive feelings toward everyone involved.
What all this means for a poker player, though, is that he's obviously been under the gun and knows how to channel stress in a tense situation, like sitting at the final table of the WSOP Main Event. And it doesn't hurt that he truly enjoys poker on a social level rather than a competitive one. He'll be the first to admit he's not as serious about poker as some of his opponents, but he'll also admit that he not nearly as experienced as many of them either.
He played in the WSOP last year, but outside the money bubble. He's made it remarkably far already, and it will be fun to watch this guy play poker in November.