Antoine Saout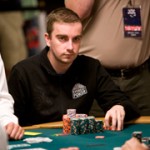 Antoine Saout, 25-year-old Frenchman and professional poker player—seated 8th at the 2009 WSOP Main Event final table.
After only playing in live poker tournaments for 10 months now, Saout has quickly made a career for himself in the field of professional poker, despite his mother's wishes. "My mother was against it, but she sees the results, and she has to be happy now. My friends and family back home are really proud and happy for me," he said cheerfully after making the cut.
Saout is the only French player this year at the final table, but that doesn't mean he doesn't have some big shoes to fill, coming after such French WSOP legends as Bertrand Grospellier and Ludovic Lacay. He's not, however, the only European at the table. The UK's James Akenhead will sit beside him, 9th in chips. Together, they will have a lot of fans rooting for them, especially considering the overwhelming rise of interest in poker throughout Europe in just the past year alone.
It was just last October, in fact, that Saout left college, where he studied engineering, to be a professional player. He's now quite popular online at Everest Poker, where he goes by "Tonio292," best known for his mastery of multi-tabling. In fact, his Main Event seat was acquired at a $50 satellite tournament at Everest Poker. He will undoubtedly become even more popular on Everest Poker, in France, and all over the world as he advances to the final table of the 2009 WSOP Main Event.
Despite the fact that he's only credited with one 6th place Spanish Poker Tour cash, he's quite the Tasmanian devil, barreling through the game of poker at such a high speed from a $50 satellite, a 6,300-player field, and now the final table. He will have to prove what he's made of though and make a very large comeback very quickly if he wants to stick around for any worthwhile amount of time come November.