James Akenhead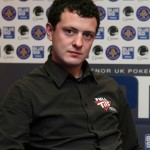 James Akenhead, 27-year-old professional poker player out of London—short-stacked at the 2009 WSOP Main Event.
As a member of England's young gun poker pro troop, the Hit Squad, and known online as "Mokka," Akenhead is at the top of his game, even though he sits at the bottom of the table. He came so close to winning a WSOP bracelet last year, placing 2nd in a $1,500 event that paid him $250,000, but no bracelet.
This once railroad conductor quit his job to go pro and since has earned more than $2 million in tournament winnings. It's the experience in live tournaments that may make it possible for him to fatten up his bankroll in November, although he doesn't seem to be letting his short stack bother him. He said of the challenges that lie ahead, "I really, in my mind, have two goals, and they're both the same thing—to get the big prize and to win the tournament. To win, you have to be focused on coming first. The fame that comes with all this is obviously big, but I haven't thought too much about it. I'm just going to take it as it comes and focus on the poker."
He continued, ""It's like a dream. I told a friend in January, I just have a feeling that I'll run badly in the other events, but pull something out for the main. And it's happened!"
During the Main Event preliminaries, Akenhead had an extraordinary following on the rail to support him, all of whom were quite vociferous when it came time to cheer him on, but he appreciates the backing all the same. "The support's been amazing. I feel sorry for some of the guys out there; they would win a hand and not even get a clap. The great support I got really helped," he said humbly. Will the moral support be enough though? He's got his work cut out for him but deserves a chance at the bracelet just as much as anyone else.