Joe Cada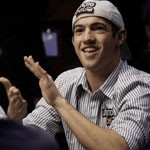 Joe Cada, 21-year-old professional poker player from Michigan—seat five and youngest player in the 2009 November Nine.
Cada has been a poker player for six years (since he was 17) and playing professionally for four. Somewhat of a Michael Phelps of poker, Cada could take the title not only the title of the world champion of poker, but also become the youngest player to ever win. Last year Eastgate broke that record, taking the title from Phil Hellmuth.
Known as "jcada99" online, Cada has already made a name for himself both on and offline, cashing two other events in this year's WSOP alone. At Event #34 $1,500 No-Limit Hold 'em, he placed 17th, winning $21,533 and then Event #13 $2,500 No-Limit Hold 'em, he finished in 64th place, which cashed $6,681 with a 1,352 rank in the Player of the Year race.
Cada is one of the young guns of poker who admits that he first played poker online as a minor. At only 15, he and his brother played online at Party Poker. Cada made it to college, but didn't last long. After two semesters, he changed his focus to a career in professional poker.
Unlike some of the Main Event final table players, who have declared a break from poker until November, Cada plans on training hard over the next couple months to prepare. He plans to play in the WSOP Europe, European Poker Tour Barcelona, and the WPT Legends of Poker in LA. He also has no immediate plans to jump into a sponsorship deal with any particular poker site, though he did have a one-day contract deal with Ultimate Bet during the Main Event. This kid is getting buzz online and could very well be the next poker super star. His performance in November will be interesting, if not just to see how he fits in at such a colorful table of poker players.