Eric Buchman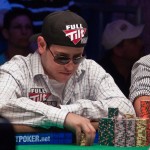 Eric Buchman, 30 years old, professional poker player from New York—second in chips at the 2009 WSOP Main Event final table.
If Darvin Moon is here to play poker, Eric Buchman's agenda is the polar opposite. Buchman's here to cash and cash only and isn't afraid to let that be known. Buchman will sit at the final table with a little more than half as many chips as Moon and only 5,000 more than the November Nine's 3rd largest chip leader, Steve Begleiter.
"I don't really care about getting recognition. That doesn't really matter. I'm just here to win money," a confident Buchman said after the 2009 WSOP Main Event preliminaries were over. Buchman has poker swagger alright, but at least he comes by it honestly. When it comes to live poker tournaments, he's paid his dues and won some too. After 22 cash finishes, this guy has earned his right to be in the 2009 November Nine. Buchman also holds 600th place in the Bluff Power Ranking for 2009 and is 1,089th in the 2009 POY listings, down quite a bit from his 123rd spot in 2007.
Among Buchman's shining moments were nine WSOP cashes and four World Poker Tour cashes in just the past five years, and while he's determined to win the biggest stack of cash, his poker track may foretell of something different. Though he's finished many tournaments in the money, he's never actually won first place in a big poker tournament (always a bridesmaid, never a bride). That being said, of course there's no reason he can't take home the bracelet, but if history repeats itself, he'll be doing good to place in 2nd at the end of the final table showdown in November. While Buchman's confidence may seem intimidating, the best will be the one who truly possesses the skill to outthink the other eight.