Jeff Shulman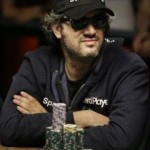 Jeff Shulman, 34-year-old COO of CardPlayer Magazine/professional poker player—seat number four at the 2009 WSOP Main Event final table.
Shulman is the one player in the 2009 November Nine that is most likely to bring the drama. He's got a bee in his bonnet towards the management of the WSOP and has declared that if he does win the WSOP, he doesn't want the bracelet.
"It's about my lack of respect for the WSOP and the management here and what they've done to the players. That said, I still wouldn't wear it if I was best friends with them. When I had a chance to win years ago, I said I wouldn't wear it. I'm shocked that people wear those ugly things," said Shulman.
According to Shulman, the WSOP doesn't treat poker players fairly and ended up shutting out a number of players at the last minute, who may or may not have just been late for the deadline. His near hatred for the series apparently has nothing to do with the fact that the magazine he works for was shut out of media rights and denied coverage of the event due to a contract Harrah's has with another media outlet. For whatever reason he has for disliking the whole tournament in general, he still managed to show up, play, and make it to the final table.
If he does win, he plans on auctioning the bracelet off for charity or hosting his own tournament and giving the bracelet as a prize. He has not mentioned yet what he plans on doing with his cash winnings, but he has declared that if he wins, he'll never play poker again—he won't need to, though, with all that money. He does admit, however, that he's there for his own reasons, stating, "It'll be great for my business, great exposure for CardPlayer and Spade Club…"
From an outsider's perspective, it seems as though Shulman may be somewhat of a hypocrite, who's not sure exactly what he stands for. He claims that the WSOP is disrespectful to players and favors some while snubbing others, but at the same time, he said of his fellow players, "There were a lot of amateurs in this tournament who don't really understand how to play a deep stacked poker." He added, "It was the easiest field I've ever seen in my life. I feel like everyone in the tournament was on Adderall while I was on Xanax."
While Shulman may be a challenge due to his live tournament experience that has won him more than $1.3 million already, it's tough to see how such a bitter person could reign champion of such a beloved sport.