Victor Ramdin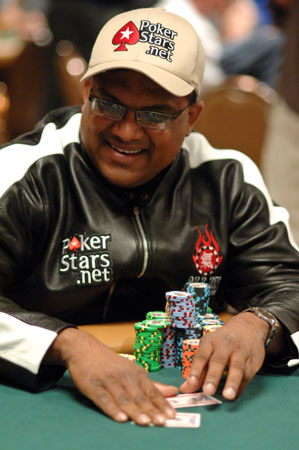 Name: Annand 'Victor' Ramdin
Nickname: Victor / Computer Man
Birth Date: May 28, 1968
Birth Place: Georgetown, Guyan, USA
Current Residence: Bronx, N.Y, USA
Poker Room: PokerStars
Annand Ramdin is a professional poker player, nicknamed as 'Victor' and originally from Guyana, in the South American country. Before discovering poker, fame and fortune, he was just a poor taxi driver who barely had money for daily food and keeping his taxi vehicle up to standard. That was when he immigrated to the U.S., settled in the Bronx, New York and opened his own business purchasing real estate. He successfully ran several shops in New York, investing in real estate and enjoying life as a family man.
Ramdin entered the poker world after hanging out with some of his friends at a bar. He noticed that some of them were playing poker and then asked if they would teach him to play. He was instantly marvelled by the game and it did not take long for him to see poker for more than a hobby.
He found success from the moment he started playing in live tournaments and proved to be a talent. In a very short period, he improved tremendously to the point where he began entering major poker tournaments. He also started exploring variations beyond the Texas Hold'em game. He started focusing on the game in 2002, and later was also mentored by the pro Phil Ivey.
In 2003, he entered his first World Series of Poker Main Event, cashed in the $10,000 no limit hold 'em main event that year and finished in 29th place besides other wins. The total cash of $35,000 was little but a good starting point. It opened doors for Victor to prove to himself and others that he had what it takes to play poker full time. Later that year, he entered the main event of the Showdown at the Sands festival event and finished in 3rd place, taking away over $200,000. The event was later won by John Myung.
Victor continued to cash in several events, before finally securing his first major victory in 2004. He finished highly in the main event of the 2004 United States Poker Championship and also finished in the money of the World Poker Tour (WPT) season 3 championship. In 2005, he made the final table of the PartyPoker Million V Cruise.
2006 was Ramdin's best year for achievements when he won the WPT Foxwoods Poker Classic. He outweighed a field of 431 players to win a massive $1,331,889. In the summer of 2006 he signed on as a full member of Team PokerStars. Before that he was formerly a "friend" of Full Tilt Poker. Also, in the same year, he went to Vegas, came very close to the final table at the WPT $25,000 Championship, but got kicked out at eleventh place, taking home a further $146,460.
2007 was the year when he made it to his first WSOP final table, when he came in 9th in the $1,500 Limit Hold'em Shootout event.
In 2008, Ramdin cashed four times at the 2008 World Series of Poker including one final table arriving 7th in the $ 1,500 H.O.R.S.E event and finishing in 64th place out of 6,844 entries in the $10,000 buy-in Main Event, earning $96,500. He also made a good run at the 2008 PokerStars Caribbean Adventure, where he cashed $40,000 when eliminated in 25th place.
Being selected to be part of the Poker Stars team meant Victor became more exposed and popular in the poker rooms. He was being given the chance to learn from the knowledge possessed by the team, in general which includes some major pros such as Daniel Negreanu and Vanessa Rousso. On the other hand, the PokerStars Team, was pleased to welcome him after seeing his felt skills and his major commitment to philanthropy.
In fact, Victor is fully committed to making use of his money fortunes in order to make a difference for the people living in his native Guyana. Having been a long-time member of Guyana Watch, he was then elected asvice-president. Guyana Watch is a group which provides medical care to those who would are less lucky acting as a medical outreach program for children. Ramdin constantly donates both his time and his money to help the less privileged communities, something which is seen as admirable in the gambling world, since many other poker players prefer spending their money on the luxurious lifestyles and other forms of betting.
Victor reportedly once gave $100,000 to the Guyanan First Lady Varshnie Jagdeo to enable her to take 13 children and four adults to India to receive special medical treatment. He also collaborated with fellow poker philanthropist Barry Greenstein as they make donations to the other's charity in an effort to raise awareness on these important causes. His philanthropic pursuits outside of poker push him into travelling to Guyana with a team of doctors to do charity work.
Nowadays, Victor lives with his wife and two kids in The Bronx, New York. He still owns and works on his chain of New York-based stores and continues to invest in the real estate business. During his free time, he enjoys playing 4-ball billiards, 8-ball pool, darts and cricket. As a member of Team PokerStars Pro, he plays online using the screen name 'VictorRamdin'.
Victor Ramdin's other achievements
16 cashes and $ 1,711,000
1 First place finish
1st at the WPT Season 4, Foxwoods Poker Classic
5th at the 2007 Special, United States Poker Champioship
7th at the 2008 WSOP, Event 51, H.O.R.S.E
2007 WSOP, Event 53, Limit Hold'em Shootout
This poker pro has an impressive repertoire of game accomplishments, especially considering the fact that he only learned to play the game in 2002. One can only wonder what he will have achieved in the next 5-10 years. Victor Ramdin is a great ambassador for the game of poker as he holds an impressive list of achievements at the poker tables and due to his vast charity work.
He is a modest (describes himself as semi-pro) and giving family man, one who is proving to the outside world that gambling and poker can also translate to charity work and positive values. He has won almost $3 million in tournament earnings to date and reportedly already donated one-fourth of his earnings.