Vanessa Rousso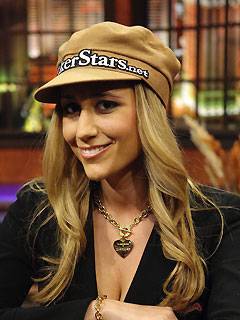 Name: Vanessa Rousso
Nickname: The Lady Maverick
Birth Date: February 5, 1983
Birth Place: White Plains, N.York
Current Residence: Hobe Sound, Fla & Las Vegas, Nevada
Poker Room: PokerStars
Vanessa Rousso is the daughter of a French businessman and an American school psychologist, born in N.Y. but having spent most of her first ten years in Paris. She started showing signs of above-average intelligence at an early age, speaking at age one, reading by age three and playing poker by age five and then fluent in French and Spanish. She studied at Duke University and graduated with honours in economics and a list of extracurricular activities on a full scholarship. She continued on to law school in Miami as a recipient of the Chaplin Scholarship planning to become a securities litigator. In the meantime she discovered poker and Game Theory in the application of complex math-based decision making strategies into everyday life. This mathematical knowledge and her interest in card games transported Vanessa where she is today.
While at Duke and Miami, she started playing backgammon and chess, later drawn to poker and online poker due to the human element of the game. Soon Vanessa was driving to the Seminole Hard Rock Casino in nearby Hollywood where she built up her bankroll and her tournament experience playing No-Limit Hold'em in $65 single-table sit-and-gos.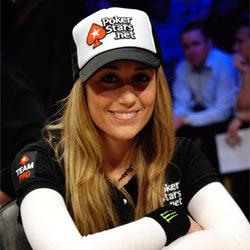 Vanessa made her first appearance at the live tournament circuit back in May 2005, when together with her then-boyfriend Ross they travelled to New Orleans for the Harrah's New Orleans Poker Challenge WSOP Circuit event. Rousso and Romash made the final table playing in the $200 No-Limit Hold'em tournament and then got eliminated on the same hand. Vanessa ended up taking $6,465 at this first major tournament.
After that, she continued to develop her skills with several impressive results, following up her initial success with a 1st place finish at the Palms Summer Series' $300 No-Limit Hold'em tournament, taking $2,330 in first prize. Then she got into 45th-place finish at the Ladies' Event at the 2005 World Series of Poker and again at the final-table of a WSOPC event, in February 2006, finishing 5th out of 195 in the $1,500 No-Limit Hold'em event at Harrah's Atlantic City while playing in her bathrobe. That $17,550 cash marked the beginning of a great year for Vanessa.
After some minor cashes at the beginning of 2006, Rousso headed to Las Vegas, straight to the Bellagio room for the $25,000 main event of the WPT Five Star World Poker Classic. She won over Liz Lieu in the first hand and immediately caused a stir that night on everyone's lips. She made the final table of the WPT Championship event, finishing 7th and taking home over $250,000.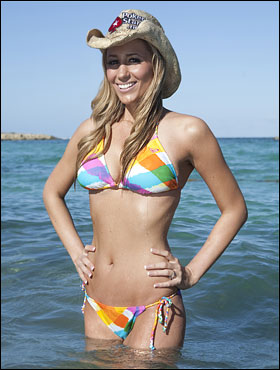 That same year, Vanessa also ended up being the youngest woman ever to make the final table in a WSOP Circuit event with an 8th place finish in the $5,000 Shorthanded Hold'em event. Then she won the preliminary event at the WPT Borgata Poker Open, where she beat a field of 173 to win first place prize money of $285,450. Continuing to stack up her chips throughout the event, she made it to the final seven until James Van Alstyne beat her. Vanessa was $263,625 richer, and finally established herself firmly as one of poker's rising stars. Following that, she was placed on the poker map and signed a sponsorship deal with PokerStars.com. She then went on to represent the online poker site at the WPT Grand Prix de Paris and at the 2006 WSOP, where she won almost $70,000 in tournament earnings and a $285,450 haul for her first-place finish in the $5,000 No-Limit Hold'em event at the Borgata Poker Open in September 2006.
Funnily enough, Vanessa's highest cash win has been online in October 2007. She finished 2nd in the main event of the PokerStars World Championship of Online Poker and walked away with over $700,000. This is one of the biggest cash prizes in the history of online poker. In March 2009 Vanessa played through a field of 64 of the world's best players, reached the final and placed 2nd for $250,000 at the NBC National Heads-Up Poker Championship. She also appeared on the poker reality show Wild Card Poker, and contributed strategy articles to numerous publications and appearances on a number of television shows.
She is definitely an adrenaline junkie, with hobbies such as skydiving and bungee jumping. Vanessa announced she is in a relationship with fellow poker pro Chad Brown, 15 years Vanessa's senior. The two have so far managed to balance their relationship with their extremely busy poker lives.
Vanessa Rousso's other achievements
• 13 cashes and over $500,000 in winnings
• Is attending the Maimi School of Law Uni on a full scholarship
• Won the $5,000 NLHE Event at the Borgata Poker Open 2006
• Classified 7th at the WPT 5star World Poker Classic 2006
• At 22, she was the youngest woman to reach the final table at the WSOP circuit level
• 2nd at the 2009 Special, NBC National Heads-Up Championship
• 8th at the 2006 WSOP No Limit Event 30
• 7th at the WPT Season 7, Southern Poker Championship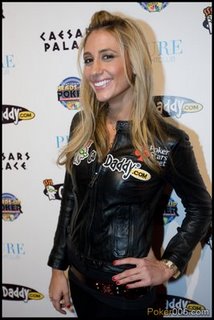 Vanessa's resume is remarkable; she is stylish, with an articulate and animated demeanour, chatty poker image and smart play. After playing one of her first tournaments in a bathrobe, Ruosso has turned heads at later events by consistently showing up dressed up in class earning her the nickname "Vanessa the Dresser."
On the felt, she is better known by her PokerStars.com, LadyMaverick, which stems from her alias as "The Lady Maverick of Poker." With over $650,000 in total tournament earnings, Rousso doesn't have a worry in sight.
Initially, Vanessa had been judged by critics who wondered whether her fame was due to her poker skills or due to her looks in such a male-dominated field. With considerable winnings in both live and online poker, Vanessa is definitely a rising star who through her tournament wins found validation as a genuine poker player, silencing the critics.
Balance is key in Vanessa's life. Between law school, poker and a serious relationship, her schedules are full. As a high-profile poker-world star, Rousso divides her time between Las Vegas, Florida, and wherever the future might take her!