Dan Harrington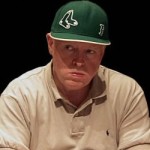 Name: Dan Harrington
Nickname: Action Dan
Birth Date: December 6th, 1945
Birth Place: Cambridge, Mass. USA
Current Residence: Santa Monica, California
Poker Room: None
Dan Harrington was born in Cambridge, Massachusetts and started showing exceptional chess skill at an early age as he was an excellent board game player. In fact, he went as far as to win the state chess championships in Massachusetts and New Jersey later on. Growing up, he attended Suffolk Law School in Boston and during that time, he played chess, backgammon and poker. His poker buddies were Microsoft founders-to-be Bill Gates and Paul Allen. During his time at University, Dan was a member of an MIT team that gained an advantage over casinos at roulette and was also a part of a different team that specialized in blackjack. Harrington realised playing backgammon could be profitable and developed his skills in the game, tutored out by two-time world backgammon champion Bill Robertie.
In 1981, Harrington won the World Cup of Backgammon but then quit the game due to an organizer failing to pay out his $27,000 championship prize. This is when Harrington started shifting his attention to the game of poker, whilst playing at the prestigious Mayfair Club in New York City together with the likes of Erik Seidel, Howard Lederer and Steve Zolotow. Afterwards, the young players would be found at the local pub discussing their play and exchanging strategy ideas about poker.
Dan entered his first WSOP in 1988 playing in his first Main Event. That day turned out to be a great first for Dan when he finished sixth and won $43,750. Later on, in 1995 he won his first bracelet in $2,500 No Limit-Hold'em against pro players like Chip Reese and Canadian Howard Goldfarb winning the Main Event of 273 entries winning the World Champion title of $1 million. Harrington had suggested a nine-way deal when he got to the final table but his tablemates declined so Dan kept all the money. When asked how he won the final, Dan said he blanked out everything around him and focused on solving the problem that was right in front of him until he had won the whole tournament.
Unfortunately Harrington was not so lucky at the 1996 WSOP when he was eliminated in 17th place. After that Harrington maintained a low key profile, just winning several minor tournaments and cashing in the 1997 WSOP.
He was back in glory during 2003 and 2004 when he performed one of the most surprising feats in today's poker. In fact, at the 2003 WSOP Main Event, Harrington outlasted an incredibly skilled field that included players like Phil Ivey, David Singer, Scotty Nguyen and Howard Lederer and came third after Farha and Chris Moneymaker winning $650,000. Then, during the 2004 WSOP Main Event, Harrington finished fourth for $1.5 million. He managed to make back-to-back final tables at the Main Event which is not a common feat due to the enormous amount of participants nowadays. The 2003 consisted of 838 opponents and a colossal 2,576 in 2004.
In 2005, Dan came close to winning a WPT event at the second annual Doyle Brunson North American Poker Championship as he outlasted 418 players and came in 2nd after cash game player Minh Ly. Then in 2007, he made it to the final table of the WPT Legends of Poker, against Tom Schneider, Thu Nguyen and David "The Dragon" Pham, and managed to win $1.6 million.
Harrington has co-written three of the best books ever written on the subject of poker strategy, Volumes one to three of Harrington on Hold'em: Expert Strategy for No Limit Tournaments with countless poker players listing them as the best way to begin to learn poker. In the books, he concentrates on how to play at the beginning and in the middle of tournaments and stresses the importance of pot odds and mixing up the style of your play in No Limit tournaments.
Despite his nickname, 'Action Dan' does not come across as an animated player as he is very humble, quiet and not too full of himself. This is not encountered often in the poker world as many players are aggressive and some overly confident. Harrington holds a consistent and crafty game which is not predictable. His only weakness is being careful with money and not taking bigger money risks during the game.
Despite all his poker success, Harrington still sees poker as his second profession following his role as CEO of a big investment company called Anchor Loans in South California, which has been extremely successful. However good his poker results, this is still a part-time endeavour for Harrington and he dedicates more time to the real estate business, maybe due to his private nature.
Dan Harrington's other achievements
13 Cashes and over $6,000,000 in total winnings
3 First place finished and 2 WSOP bracelets
1st at the WPT Season 6, Legends of Poker
1st at the 1995 WSOP, Event 21, No-Limit-Hold'em
2nd at the WPT Season 4
3rd at the 2003 WSOP, World Series of Poker Main Event
4th at the 2004 WSOP, Event 33
Dan Harrington is known to be a shy man, avoiding the cameras and media but is one of the players who has achieved one of the most impressive resumes in poker till today and is one of the few players to have success at the WPT and WSOP. He says he built up his game confidence playing backgammon and this gave him a rock-solid foundation in strategic play.
His tournament winnings exceed $6.5 million but he has mentioned recently that playing in marathon poker tournaments was becoming increasingly difficult because of his age.
Nevertheless, Dan Harrington is one of the most consistent players in the world today with three final table appearances in the last decade, which is an odd triumph in poker and he still proves that he is one of the toughest competitors on the poker field.