Chip Reese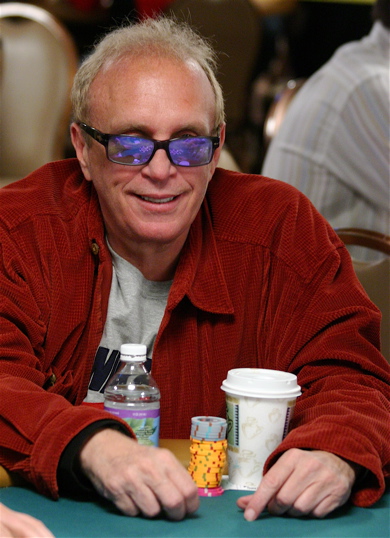 Name: David E 'Chip' Reese
Nickname: Chip
Living Date: March 28, 1951 – December, 1997
Birth Place: Dayton, Ohio, U.S.A
Chip Reese is a poker legend. He grew up in Dayton, Ohio and quickly developed a reputation as a rounder at an early age. When he was young, he often schooled older kids on his street in the game of poker, thus winning their baseball cards. When he was young he developed rheumatic fever in the early years of elementary school and had to be home schooled for a year. During this time, his mother took care of him and taught him to play all sorts of board and card games. Chip also played some football and was a member of the debate team, winning the Ohio State Championship before moving on to the National Finals. He was a talented gin-rummy player and also excelled at backgammon.
In his teenage years, he was a regular on the green felt and befriended pros like Mike Sexton who was hosting the World Poker Tour. After high school, he chose to study economics at Dartmouth where he continued to play poker and often competed against professors and members of his fraternity. Initially he had planned to study law at Stanford University after Dartmouth but a summer trip to Las Vegas when he was 23 changed his plans.
He stopped by at Vegas with $400 in his pocket and immediately lost them whilst playing blackjack. He stayed there for the summer, got a job and practiced low-limit Seven-Card Stud. He then bought-in to a $500 event at the Sahara Casino and ended up with a $50,000 prize for first place. Seeing what kind of money could be made, he decided to stay in Vegas and by September he had amassed a bankroll of over $100,000. He joined forces with Danny Robeson, also from Dayton and together they decided to play against the pros in a three day straight play against pros such as Doyle Brunson and Johnny Moss. Reese won a $300,000 profit that day and he started experimenting with different games such as Hold'em and Razz.
Chip started gathering up quite a reputation as the best Seven-Card Stud player in the world in the 1970's. By then he had become good friends with Doyle Brunson and the latter asked him to write the chapter on Seven-Card Stud for his bestselling poker tome, Super/System.
Chip then went on to win bracelets in two different Seven-Card Stud events, in 1978, and again in 1982. Besides poker play, he also started working as the cardroom manager at the Dunes Casino (nowadays the Bellagio) at the age of 28. He did that for five years and then took a break from tournament play and settled down to raise a family, playing cash in major tournaments occasionally.
In 1991, Reese was honoured as the youngest player to be inducted into the Poker Hall of Fame whilst continuing to focus on the Big Game at the Bellagio and on sports betting earning income to support his family which he loved dearly.
Chip was a devoted family man and father, who always put family first. In fact it was his children who asked him to go back to tournament play in 2004 as they wanted to see him compete on TV with the rest of his friends.
2004 till 2007 were very successful for Reese as he cashed in 11 major tournaments – including five WPT and four WSOP events. His best and most memorable win was first place in the inaugural H.O.R.S.E. event at the 2006 WSOP. The final-table players included Doyle Brunson, Phil Ivey, Dewey Tomko, T.J. Cloutier, Patrik Antonius and David Singer and final runner-up Andy Bloch. Chip went on to win the event, fighting off all those pros in a legendary game. He faced Andy in the longest heads-up battle of seven hours and 286 hands and won his $1.78 million and achieving his third gold bracelet.
When not with his family or at the poker table, Chip spent hours playing big-money golf with his poker buddies Doyle and Barry Greenstein. The poker legend trio would participate in tournaments and play against the younger pros such as Daniel Negreanu, Erick Lindgren and Phil Ivey. Doyle and Chip also teamed up in multiple business ventures, investing in oil, racehorses and TV with little success.
Chip was also involved in an invitation-only, made-for-TV poker series that aimed to bring 64 pro players together to face off in teams of eight which never got finalised due to the recent passage of the Unlawful Internet Gambling Enforcement Act in the United States. This new law disappointed Reese but continued playing cash game tables. Chip was always known for his gentleman-like manners, generosity and the fact that he never went on tilt.
Chip Reese unfortunately passed away in his sleep on December 4, 2007, which was shocking news for the poker community who deeply miss him. Many turned up at his funeral held in Vegas, including Daniel Negreanu, Doyle Brunson and Bobby Baldwin, with Brunson and Baldwin delivering heartfelt eulogies and sharing humorous memories. At the time of passing, he left behind his son Casey, daughter Taylor, stepdaughter Britney and newly ex-wife.
Chip's university fraternity later named their cardroom the "David E. Reese Memorial Card Room" in his honour, while WSOP Commissioner Jeffrey Pollack announced that future winners of the $50,000 H.O.R.S.E. event would receive the "David 'Chip' Reese Award. This was done in honour of Reese's lifetime undertakings and the professional and personal traits which made him so popular amongst his peers. Unfortunately, his son Casey passed away earlier on this year due to a prescription drug overdose.
Chip Reese's other achievements
22 Cashes and over $2, 600,000 in total winnings
4 First Place Finishes and 4 WSOP bracelets
1st at the 2006 WSOP, Event 20, H.O.R.S.E
1st at the 1982 WSOP, Event 10, Limit Seven-Card Stud
1st at the 1978 WSOP, Event 9, Seven Card Stud
1st at the 1978 WSOP, Event 9, Seven Card Stud
2nd at the 1985 WSOP, Event 4, No Limit Deuce
2nd at the 1985 WSOP, Event 8, Pot Limit Omaha
2nd at the 1988 WSOP, Event 9, Deuce to Seven Lowball
3rd at the 1989 WSOP, Event 13, No-Limit Deuce
Chip became a member of the "Computer Group" and earned millions by using a computer program designed to handicap sporting events.
Reese is the best high stakes cash game player in the world, and this is something that is backed up by the top pros of the poker circuit. Chip began playing Stud and managed to become one of the most successful all-around players in the history of poker, even becoming the youngest person to ever be elected to the Poker Hall of Fame.
The 2006 WSOP win was his best and ingrained Chip's reputation as the best all-around player in the world, this because many of poker's top pros consider the $50,000 mixed-game event to be the true test of a player's knowledge and skills. Unfortunately having passed away at just 56 years of age, Reese is greatly missed as he was truly a legend in his own time.
He left a legacy that will be carried into the future by those who loved him, and have had the honour of playing against him. Many remember and respect him as the skilful player that he was, a man who embodied the greatest aspects of poker.