Mike Sexton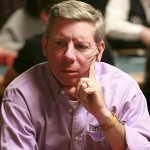 Name: Michael Richard Sexton
Nickname: The Ambassador of Poker
Birth Date: September 22nd, 1947
Birth Place: Shelbyville, Indiana, USA
Current Residence: Las Vegas, Nevada, USA
Poker Room: PartyPoker
Mike Sexton is an American professional poker player and commentator. Mike was a gymnast at a young age and attended The Ohio State University. He went on to graduate a degree in public recreations and it was during this time that he started playing a lot of poker and contract bridge. In 1970, he joined the U.S. Army as a paratrooper in the 82nd Airborne Division who had just gotten back from Vietnam, During his years in the army, he taught ballroom dancing. By 1977, he took up poker as a means to get by thinking it would make more money than a normal day job and he was right.
He started to take part in tournaments, but could not make it to the WSOP due to a clash in schedules with a Little League baseball team he was coaching at the time. In 1985 he moved to Nevada to fulfil his poker past-time into a full time profession. He also came across and be-friended peer poker pro Stu Ungar, who unfortunately passed away later on.
Sexton became serious about tournament play during the 80's and within 4 short years, he achieved his first gold bracelet during the 1989 World Series of Poker. Mike believes that he played his best game that day and followed that big win with five other major wins No-Limit Hold'em championship events.
During the preliminary event at the 2005 World Series of Poker he placed fifth and then in the final 16 of Poker Superstars II. In January, 2005, he placed first in a No-Limit Speed Poker event in Melbourne, Australia, winning a total $93,293. In February, 2006, Mike was recognized a high achievement, as the top poker ambassador at the Card Player Magazine Player of the Year Awards Gala.
Following that he won the third annual World Series of Poker Tournament of Champions event in June 2006 for a major $1,000,000 first prize and defeating Daniel Negreanu. After that, Sexton went on to donate half of his post-tax winnings to five charities and has pledged to do this again with all his winnings in the future. Sexton is also famous for having come up with the popular and repeated phrase about No-Limit Hold'em: "It takes five minutes to learn but a lifetime to master."
In March 2008, Sexton announced a new partnership with National League of Poker, saying he was to become their official spokesman for the free to play online poker site. Sexton is keen on promoting various poker events and services, such as hosting the World Poker Tour and being a spokesman for the online poker room PartyPoker.com. He has also written for Card Player Magazine and the Gambling Times and founded the now defunct Tournament of Champions of Poker. He wrote the poker book Shuffle Up and Deal and is also a consultant for PartyPoker.com.
His many business affiliations do however restrict Sexton from playing in some poker events and he is playing less than before. As of earlier 2009, Sexton created PokerGives.org together with Linda Johnson, Jan Fisher and Lisa Tenner as a nonprofit organization that offers poker players a direct way to give more towards charity organisations. Nowadays, Mike is mostly involved in the promotional and broadcasting factors of poker, rather than tournament play.
Mike Sexton's other achievements
44 Cashes and over $900,000 in total winnings
1st Place Finish and 1 WSOP bracelet
1st at the 1989 WSOP, Event 11, Seven Card Stud
2nd at the 2002 WSOP, Event 33
4th at the 1992 WSOP, Event 13, Pot Limit Omaha
4th at the 1995 WSOP, Event 3
4th at the 1996 WSOP, Event 11, Limit Seven-Card Stud
4th at the 2008 WSOP, Event 1, World Championship
5th at the 1984 WSOP, Event 3, Pot Limit Omaha with Rebuys
5th at the 1994 WSOP, Event 5, Limit Omaha Hi-Lo
5th at the 1995 WSOP, Event 5, Limit Omaha Hi-Lo
As of 2008, Sexton has made more than $3,700,000 in total tournament winnings. This is also taking into account his 45 cashes at the WSOP. He won several tournaments and is now focusing on his work promoting poker, thus his nickname the "ambassador of poker".
Sexton believes that endorsements and sponsorships of poker tournaments could act as a means of introducing poker into the mainstream, thus poker becoming a hobby to be enjoyed by everybody. He spent many years spreading this idea and the success of the World Poker Tour is also due and thanks to him.
Mike is known by his peers as a hard-working man with a passion for poker as he holds an embedded talent for on-air commentary; despite having no previous broadcasting experience. He has made himself famous by being able to converse and give explanations about poker in a way that non-players understand.