Stu Ungar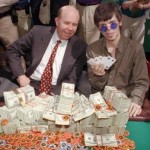 Name: Stu Ungar
Nickname: The Kid / The Comeback Kid
Living Date: September 8, 1953 – November 22, 1998
Birth Place: New York, USA
Stuart Errol Ungar was born in New York City; a professional poker and gin rummy player turned gambling legend. Already at an early age he showed a strong interest in the games of cards and also a fantastic photographic memory. At just 10 years of age he had already won his first gin rummy tournament and just five years later, he was well known for being the best gin rummy player in New York City.
At a young age, he also started showing signs of extreme behaviour as when he won $10,000 in a local tournament in 1968 and then blew almost all his winnings during the week after betting on horses at Aqueduct Racetrack. He always craved more action than he could get and that pushed him into more reckless gambling. This was just the start of Stu's many horrible vices, a problem he experienced throughout his whole life.
Stu Ungar arrived in Las Vegas in 1976 and played high-stakes gin rummy against any other competition he found. He was immediately successful and his record in gin rummy was unsurpassed. Then he started counting cards during blackjack and was immediately banned from most of the casinos. His photogenic memory baffled people at the table and was a starting point of more to come.
After blackjack came poker and the WSOP. He entered the 1980 World Series of Poker the $10,000 buy-in World Championship event at Binion's Horseshoe for the first time and won it all. Impressively enough, that was also the first time he played a No Limit Hold'em game. That first win, his young age and success earned him the nickname Stu "the Kid" Ungar. At the age of 24, he became the youngest WSOP champion. To this day, only Phil Hellmuth has won a championship at a younger age.
The next year, in1981 he played in the No-Limit Texas Hold'em championship for the second time and won the Championship again. He repeated his amazing feat with another first place finish and by age of 25, he had two World Series of Poker championships.
By this time, Stu's card counting skills were so renowned that no casino in Vegas would allow him to play blackjack at their venues. He also developed a reputation as a big spender and a high roller, winning millions of dollars countless times and going completely broke soon after during which he lost many friends, ran up massive debts, and alienated himself from his wife and daughter.
Many say Ungar was hyper-energetic, always wanting more, constantly on the move, looking for more gambling action. He entered the world of drugs and abusive dealers, showing little remorse for his actions. He was a terrible gambler who would bet on anything. He beat Larry Flynt out of almost $5 million playing heads up poker and won but also lost several millions of dollars playing golf on various proposition bets such as when he played golf for the first time and immediately lost $80,000.
During his career, Stu won five WSOP bracelets during his career, collected over $2 million in prize money, and become the only other person in history, together with Johnny Moss to win three WSOP championships. Ungar only entered 30 high stakes poker tournaments in his short life and won ten of them, earning the name "the best no limit player of all time" by Mike Sexton .
His last WSOP event was in 1997, when he participated and won again. This came up when his close friend, Billy Baxter, offered to stake him in the World Series of Poker and even though Stu had not played in years he succeeded in this major comebacks in poker history which was also his last win. His daughter inspired him to a win that day and he took home first place and $1 million, which he split with Baxter. Holding a picture of his daughter in his wallet the entire time, he succeeded in winning over a field of successful pros.
In 1998 Stu was broke again and was meant to defend his winning title, but decided not to play in the end. Ungar struggled with these addictions through his whole life and just a few months later, on November 22, 1998 at the very young age of 42, he passed away after a heart failure in a motel room. His inner demons destroyed all his talent and ability and after years of drug abuse, his life ended tragically in Las Vegas.
Stu was a force of nature, always jumping through extremes. He was a hard player to bluff, always figuring out what his opponent held and was either the big winner or downright broke by the end of every game he played. He was regarded as the best in the world at gin rummy with no one ever doubting the talent he possessed. His best game was the Gin rummy and poker tournaments but his weakness for substance abuse and lack of self-control. Unfortunately, towards the end, Ungar was too messed up as a result of drug use with his compulsive gambling becoming as legendary as his wins. He lived an extraordinary life, filled with extravagant highs and shocking lows.
Nowadays, his memory, unprecedented ability, style and legacy lives on in remembrance of his amazing talent and energy which awed many.
Stu Ungar 's other achievements
18 Cashes and over $3, 000, 000 in Winnings
8 First place finishes and 5 WSOP bracelets
1st at the 1981 WSOP Main Event and the Event 18, No Limit Deuce-to-seven
1st at the 1983 WSOP Event 13, Seven card Stud
2nd at the 1980 WSOP Event 5 Seven Card Stud and at the 1983 (same event)
7th at the 1986 WSOP Event 11
8th at the 1986 WSOP Event 10
Was the only player to have ever won both the WSOP and Amarillo Slim's Super Bowl of Poker, the second biggest poker tournament on the pro circuit at the time of Ungar's time, winning a record three titles in each tournament.
One of only two people to have won the World Series of Poker Main Event three times, together with Johnny Moss
Ungar is widely considered to have been the greatest Texas hold 'em and gin rummy player of all time and famous for his intelligence. He was a notoriously aggressive player who could instill fear into his opponents and take over the game at any point.
He had an energy and a relentless determination, fearlessness, grace and intense focus which made him a legend in his own time. Unfortunately he got caught up in a lifestyle of drugs and addictions, and we can only wonder how good he would have become if he hadn't been ravaged by these addictions. Besides his many character flaws and lifestyle mistakes, his wins were not overlooked by his shortcomings and failures. He is and will always be considered one of the preeminent poker players of all time.
Having died at the young age of 42, we believe he could have easily won more WSOP championships and become the all-time bracelet holder and poker money winner. Hands down, Stu Ungar, three-time World Series of Poker champion was the best card player of all times.