Gavin Smith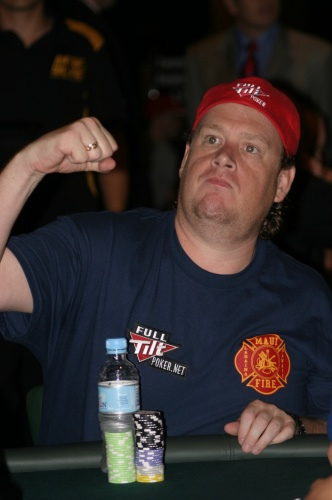 Name: Gavin Smith
Nickname: Birdguts
Birth Date: 4th September, 1968
Birth Place: Guelph, Ontario, Canada
Current Residence: Las Vegas, Nevada, USA
Poker Room: Full Tilt Poker
Gavin Smith is a Canadian poker player who started out playing cards as a youngster. His father had taught him cribbage and rummy during his childhood at home in Guelph, Ontario. Gavin has a keen understanding of mathematics and graduated in economics. Later on, in 1994, he was introduced to poker, when he worked at a gold course and a travelling charity tournament stopped by.
He was intrigued and began playing home games with friends and co-workers. He got a job as a poker dealer in 1996 till 98 and also opened and ran his own poker club in Kitchener, Ontario during that time. The shift from free time player to poker pro came in 1998 as he moved to the Foxwoods Resort Casino in Mashantucket, Conn to compete in the World Poker Tour World Poker Finals. That year he succeeded to make two final tables and this encouraged him to continue. In 1999, Gavin went back to Foxwoods and won his first major tournament this time, during the No-Limit Hold'em event at the WPT World Poker Finals.
In 2000, he won the Seven-Card Stud Hi-Lo Eight-or-Better tournament at the same annual series. During these early years in the poker circuit, he became acquainted with fellow poker peer Erick Lindgren, who took him under his wing helping his bankroll him and also tutoring him in towards a strategy of analytical play. That same year, in 2000, Gavin placed fourth in the Seven-Card Stud Hi-Lo Split tournament at the United States Poker Championship in Atlantic City, N.J.
In 2003 he placed second after John Cernuto in the WPT World Poker Finals at Foxwoods and before poker pro Kenna James, who took third, for a total win of $33,630. This was his largest tournament win at that time. Later on, came bigger wins such as the first place in the Mirage Poker Showdown Championship in 2004, third place in the Second Annual Doyle Brunson North American Poker Championship in 2005, and first place in the World Pro-Am Challenge in 2006.
Additionally, Gavin cashed in four Ultimate Poker Challenge tournaments and four World Series of Poker tournaments. Most recently, he finished third at the Doyle Brunson North American Poker Championship, where he collected more than $327,000. In May 2006, Gavin's poker skills were acknowledged as he was named WPT Season IV Player of the Year. This media exposure promoted his wins and gathered up more poker-related opportunities, including a spokesperson position with Black Velvet Canadian Whiskey and a deal to film an instructional poker DVD. But Smith is also a giver, as he proved in 2006, when he started out a charitable campaign in the poker community to help raise funds for the young daughter and surviving family of a woman who passed away from terminal cancer in Richmond Hill, Ontario. Other top pros, such as Scott Fischman, Phil Gordon, Joseph Hachem, Phil Hellmuth, Phil Ivey, Isabelle Mercier, Michael Mizrachi, Daniel Negreanu, and Mark Seif all followed Gavin's set example and donated money and autographed merchandise and photographs for an auction on eBay in aid for Peyton Novoa and her grandparents. Gavin also gathered more media exposure through the ESPN channel and through articles published to help generate funds and awareness on selected poker media.
Nowadays, Gavin enjoys playing golf, rollerblade, and pool with his friends. He can be found, together with long-time friend Erick Lindgren, as representative of Full Tilt Poker under the alias "birdguts". He can also be seen regularly on RawVegas.tv in his new show Prop Bets, with fellow poker pro Joe Sebok when they go heads-up every week in a series of stunts or competitions. They have gone through Chinese water torture showdown, an eating contest, and a "who can last longer in a tournament" bet, with the loser having the winner's initials tattooed on the backside. Smith resides in Las Vegas and he spends most of his time travelling the poker circuit working on improving and achieving more media exposure.
Gavin Smith's other achievements
11 Cashes and over $700,000 in total winnings
26 cashes and over $3,000,000 in winnings
1st place finish at the WPR, Season4, The Mirage Poker Showdown
3rd at the WPT Season 4, Doyle Brunson Championship
2nd at the 2007 WSOP, Event 4, Pot Limit Hold'em
4th at the 2007 Special, NBC Championship
6th at the 2007 WSOPC, Harrah's Rincon San Diego
Despite being known for his charity work, Gavin is best known on the poker felt as one of the most aggressive players on the tournament circuit and a natural poker player. He puts everything aside when playing poker and shows an instinctual style of play which gives him an edge over his opponents.
Lately, he has shifted his focus from cash games to tournament play, and the results have been fantastic as he has placed in the top ten in 14 different events, four of which were first-place finishes.
Lucrative sponsorship deals such as Full Tilt and a blossoming poker career followed but Gavin remains grounded to his roots and gives back to those less fortunate. He has reached the ranks of the poker pro world and continues laying down the work for an even brighter poker future among the world's best.