David Sklansky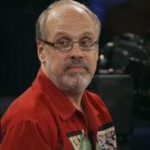 Name: David Sklansky
Nickname: None
Birth Date: 1947
Birth Place: Hackensack, New Jersey, USA
Current Residence: Las Vegas, Nevada, USA
Poker Room: None
David Sklansky was born in New Jersey and grew up in Teaneck, N.J. His father was a mathematics professor and David followed his footsteps in having high mathematical abilities and being a young math and logic prodigy. He attended the University of Pennsylvania and that s where he encountered his first poker games. He started playing and analyzing the game of poker, often even missing his classes in order to play. He would analyze each hand and discuss how it could be improved. Eventually Uni took a secondary role and gave up the academic life. He got a job as an actuary and even approached his boss with new mathematical concepts they could use.
When it came to poker, David realised that if he could improve in poker, he could easily beat the other players. He quit his day job, moved to Las Vegas and started a process of learning and improving his skills. He wanted to make it as a pro and find a way to be rewarded for his abilities.
His first win came during the 1979 $1,000 Razz event at Amarillo Slim's Superbowl of Poker and later on with three World Series of Poker bracelet wins. The bracelets were for the 1982 WSOP when Sklansky won the $1,000 Draw High and $800 Mixed Doubles events and then another bracelet with a win in the 1983 WSOP $1,000 Limit Omaha event.
The following years were also successful with several final-table finishes at the WSOP, as well as cashes and final tables in other tournaments up until 1991. In fact it was in 1991 that Sklansky moved away from the media and poker felt exposure when he continued to play in cash games instead of tournaments.
He also started working on his poker and gambling books. Back in 1983 he co-wrote his first book, Winning Poker with Roger Dionne and has since written 12 more books on various forms of poker and gambling. The Theory of Poker, his most popular till today was first released in 1987 and his other bestseller and most recent book released in 2006 is No-Limit Hold'em: Theory and Practice, co-written by Ed Miller.
Sklansky has also produced two instructional videos for poker players since then and writes regular articles for poker magazines and other publications. He also acted as a consultant for some members of the gambling industry and his services are sought out by casinos, Internet gaming sites and gaming device companies. One of these companies asked for his help when developing the new casino game World Poker Tour All-In Hold'em by Lakes Entertainment.
By 2001 David was back in the poker media radar when he made the final table of the $1,500 Omaha event of the WSOP. That year he placed fifth and in 2002, he even cashed in the WSOP Main Event.
The World Poker Tour organised a By the Book Invitational in 2004, which was a special tournament headlining today's players, poker authors and professionals such as Sklansky, Phil Hellmuth, Mike Caro, T.J. Cloutier, Mike Sexton and Doyle Brunson. Sklansky is keen to support the World Poker Tour as he believes the latter gave the needed push for poker to gain its popularity nowadays so he accepted the invitation. By the end of the tournament it was Sklansky who faced Brunson in a heads-up final play with Sklansky winning.
In 2006, David cashed in three WSOP events and made his biggest cash so far in the WPT Doyle Brunson North American Poker Classic when he classified third and won $419,040 in earnings as well as finishing third at the 2006 Borgata Poker Open WPT Championship.
Nowadays, David Sklansky prefers to play in cash games, but he will also play in tournaments. His home is in Henderson, Nevada.
David Sklansky's other achievements
25 Cashes and over $825,000 in total winnings
Four 1st place finishes and 3 WSOP bracelets
1st at the 1982 WSOP, Event 7, Seven-Card Stud
1st at the 1982 WSOP, Event 12, Limit Draw
1st at the 1983 WSOP, Event 11, Lmit Omaha
1st at the WPT Specials, WPT Poker by the Book
2nd at the 1984 WSOP, Event 3, Pot Limit Omaha
2nd at the 1989 WSOP, Event 5, Seven–Card Stud
3rd at the WPT Season 5, Borgata Poker Open
4th at the 1983 WSOP, Event 13 and 1987 WSOP, Event 9
Sklansky has a wealth of poker knowledge and a keen interest in cash and tournament play as well as being an accomplished poker author/casino consultant.
Becoming a professional poker player meant he could determine his knowledge and earnings which proved out to be great for him. Bookshelves worldwide have David Sklansky's books and we definitely recommend them to any poker game lover. Pros such as 2004 World Series of Poker Main Event champion Greg Raymer, have even said that books such as Sklansky's The Theory of Poker were a great influence on his game. These books contain poker teachings, important basic concepts to apply in order to improve their game.
David Sklansky is the first name that comes to mind when mentioning poker authors. He is a poker expert and he gets enough praise to prove it again and again.