Phil Laak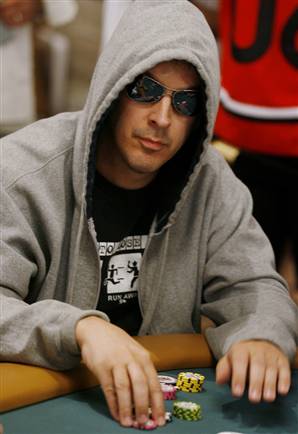 Name: Philp Laak
Nickname: The Unabomber
Birth Date: September 8th, 1972
Birth Place: Dublin, Ireland
Current Residence: Los Angeles & San Francisco, California, USA
Poker Room: None
Phil Laak was born 1972, in Dublin, Ireland and is a professional poker player. He was raised on the East Coast and then graduated from the University of Massachusetts at Amherst with a degree in mechanical engineering. He learned to play poker as a child and then got involved in the games taking place in California. Phil was brought up in a family who enjoyed card games and this triggered him to observe the game and a "card logic" which he used later on in his poker career.
After graduation, he worked as an engineer, a stock day trader, a gardener and also as real estate investor. He first became familiar with high stakes poker at an underground club in New York City in 1999 and immediately liked the game played there. He describes that moment as his baptism into poker and this progressed into him signing up for tournaments and future success.
Laak's first major poker tournament victory was at the World Poker Tour Celebrity Invitational in February 2004 were he won $100,000. Then during the season two Battle of Champions and the 2005 Five Diamond World Poker he classified sixth and second during the 2005 World Series of Poker Event 25 winning the $150,000 runner up first prize.
Laak won the NBC's Poker After Dark, for a total prize of $120,000, together with the likes of pros Phil Hellmuth, Doyle Brunson, Antonio Esfandiari, Jennifer Harman, and Erik Seidel. Since then, he has been seen playing the biggest cash games at the World Series of Poker at the Bellagio and the The Venetian in Vegas.
Laak has been seen competing in numerous Poker Royale series, as well as on the show High Stakes Poker on GSN. He has also made more appearances as the dealer on the television series E! Hollywood Hold'em. Since 2005, he has also written a monthly column called "Being Phil Laak" in the poker-themed Bluff Magazine and has co-hosted a show called "I Bet You" with his friend Antonio Esfandiari on the MOJO network.
During the 2007 conference of the Association for the Advancement of Artificial Intelligence in Vancouver, British Columbia, Phil and pro player Ali Eslami competed against, and beat, Polaris, a poker playing computer program developed at the University of Alberta, in two of the four rounds with the remaining rounds being a loss and a draw. Phil Laak played the first day of the Main Event of the 2008 World Series of Poker incognito.
In 2009, Laak competed in the 2009 Aussie Millions cash game Invitational. Phil's technique is something he likes to call "higher order thinking" which helps him establish a psychic connection with other players at the table. He uses mechanisms such as "lucid dreaming," whereby he plays hands over and over enabling himself to distinguish other players' subconscious, conscious tells in a non visual and non verbal manner. The competition level found in poker as well as the patience and need for varying strategies keep Laak mesmerised in the game and he used the higher order thinking technique to gain an advantage in tournaments.
Phil was the one who came up with the poker term "felted" which means to have lost all of one's chips, and being just left with the green poker felt. He is an adventurous person, enjoys motorcycling, scuba diving, skydiving and judo. He also enjoys playing Xbox 360 games such as Call of Duty 4: Modern Warfare, as well as Halo 3.
Phil is currently dating poker pro and actress Jennifer Tilly, who won a WSOP bracelet in 2005 in the $1,000 buy-in Ladies no limit Texas hold 'em championship. He currently lives in Las Vegas and enjoys a close friendship with fellow professional poker player Antonio Esfandiari.
Phil Laak's other achievements
11 Cashes and over $700,000 in total winnings
1st place finish at the WPT Invitational, Season 2
2nd at the 2005 WSOP, Event 25
4th at the WPT Bad Boys Special
6th at the WPT Season 2, Legends of Poker
6th at the WPT, Season 4, Bellagio Five Diamond
Phil has the reputation of a loose cannon in the poker community but also as being organised and in order when it comes to playing. He plays for fun, success and personal achievement. Laak is nicknamed the "Unabomber" due to his appearance – always wearing sunglasses together with a hooded sweatshirt resembling the forensic sketch of Theodore Kaczynski who was known as the Unabomber. Laak is also known for his unusual and inventive manner of speech.
Phil Laak will do more great things. As of 2008, his total live tournament winnings already exceed the $1,750,000 mark.