Allen Cunningham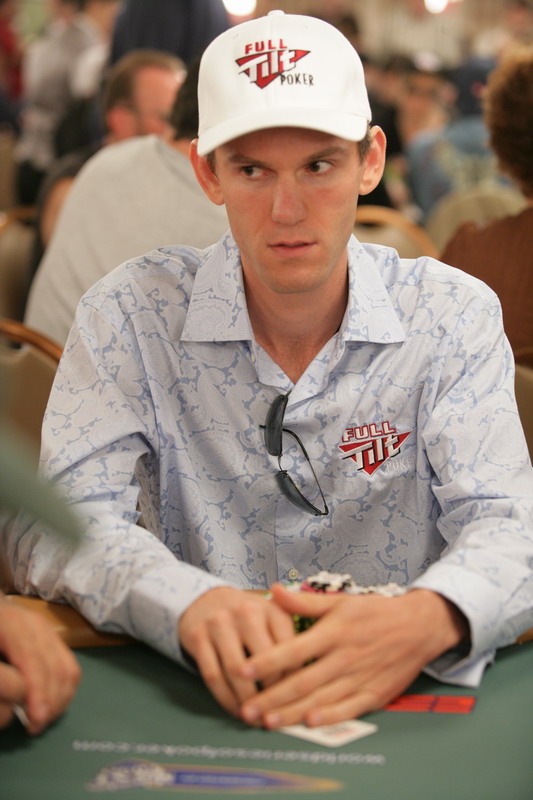 Name: Allen Cunningham
Nickname: None
Birth Date: March 28th, 1977
Birth Place: Riverside, California, USA
Current Residence: Ventura, California, U.S.A
Poker Room: Full Tilt Poker
Allen was born in 1977 in Riverside, California and was already introduced to poker at a young age when he played cards with his parents at the dinner table. Back then, he was looking forward to growing up and being able to play the real game with competitors at a real casino. He attended the UCLA high school and graduated in civil engineering whilst spending time at the poker tables too. The engineering background eventually gave Allen an analytical approach to the game, where he remains quiet, controlled, and focused no matter what happens around him. Back then, he spent his spare time at a local tribal casino and built up his bankroll playing low-limit cash games and free roll tournaments, enjoying poker as a hobby. Allen also discovered that playing poker in some of the local casinos was an enjoyable and profitable past time.
By the second year of college Cunningham was winning many small tournaments and cash games starting off with $10-$20 per game. At the age of 19 years, he abandoned his degree program mid-way to play cards full-time believing the road to success would be easy, but it was not.
Since he was under 21, he wasn't allowed to play the real tournament action at the casinos so he focused on improving his game until he reached 21. Soon after the much awaited birthday, he went straight on a tournament trail, which although slow at first, did give way to some winnings.
Cunningham started playing out in a decade when poker was making a 360 degree change with new pros appearing and poker really starting to find its place in society. At the time he hung out with pros such as Phil Ivey, John Juanda, Layne Flack and Daniel Negreanu and together they learned, competed and improved into the pros they are today.
During the Legends of Poker at the Bicycle Casino in Los Angeles in 1999, he achieved six top ten finishes in remarkable tournaments. This included two wins, 300 7-Card Stud Hi/Lo tournament and the $1,000 No-Limit Hold 'em tournament and a status of "Best All-Around Player". He them made an impressive showing at the U.S. Poker Championships, when he won the Seven-Card Stud event and taking second in the $1,000 No-Limit Hold'em tourney.
Then, during the 2000 World Series of Poker, Cunningham even though young compared to the others, managed to make it into the top twenty in five separate tournaments including a second-place finish in the $5,000 Omaha Hi-Lo event which earned him $113,850. After that he placed consistently in smaller tournaments across the U.S. with a win at the L.A. Poker Classic being the highlight. The next summer he played the 2001 WSOP and he cashed in four separate tournaments, winning his first World Series bracelet. He achieved this after knocking out a field of 104 players in the $5,000 Seven-Card Stud event, thus winning the $200,000 cash prize title. Allen got a lot of attention after making this fantastic win, with the entire poker world now noticing him and all his cashes. And they did not need to wait long, as Allen got his 2nd bracelet in the 2002 World Series in the $5,000 Deuce-to-Seven No-Limit category and four other decent cashes.
By 2003, Cunningham was in full force and came close to his third WSOP bracelet in the $5,000 No-Limit Deuce-to-Seven Draw event. This time however he only made it to runner up status as O'Neil Longson won in a heads-up play. The third bracelet did arrive just two years later at the 2005 $1,500 No-Limit Hold'em tournament where he battled against 2,305 entrants. Amongst these competitors, he faced pros such as Liz Lieu, Scott Fischman, Dave "Devilfish" Ulliott and Can Kim Hua. That year he managed to be at the final table of four events, thus winning more than a million dollars before the Main Event had even commenced. He was also awarded a new pick-up truck and the title of ESPN/Toyota WSOP Player of the Year after that win.
Then in 2006, during the $1,000 No-Limit Hold'em event, he played off the752 entrants for a win of $625,000. He went through an astounding 1,670 re-buys and achieved his fourth bracelet. He was also sixth in the $5,000 No-Limit Deuce-to-Seven Draw Lowball tourney and also went through another 9,000 players to then faced Jamie Gold for the $26.6 million final. Gold won that day but at the 2007 WSOP, Allen did get his fifth bracelet in $5,000 Pot-Limit Hold'em for almost half a million dollars. After that came more victories in the Ultimate Poker Challenge's $3,000 No-Limit Hold 'em tournament and at the $5,000 No-Limit Hold 'em event at the Bellagio Five-Star World Poker Classic.
Allen is currently dating fellow poker pro Melissa Hayden and plays on the tournament circuit, whilst living together in Las Vegas. Nowadays, he plays a variety of cash games, including Pot-Limit Omaha and mixed games like HORSE. He also plays online regularly at FullTiltPoker.com
Allen Cunningham's other achievements
46 cashes and 6 first place finishes
Over $ 8,000,000 in winnings and 5 WSOP bracelets
2005 WSOP Player of the Year
1st at the 2007 WSOPC, Caesars Palace, Las Vegas
1st at the 2007 WSOP Event 13, World Championship Pot Limit Hold'em
1st at the 2006 WSOP, Event 14, No Limit Hold'em
1st at the 2005 WSOP, Event 2 No Limit Hold'em
1st at the 2002, Event 32, No Limit Duece
2nd at the 2000 WSOP, Event 21, Limit Omaha
1st at the 2001 WSOP, Event 21, Seven Card Stud
2nd at the 2003 WSOP, Event 14, No Limit Deuce
3rd at the WPT Season 1, Euro Finals of Poker
4th at the 2005, Event 20, Pot Limit Hold'em
Allen Cunningham, is one of the most well-known members of Team Full Tilt and definitely one of their most consistent ones. He is respected and feared by his peers and competitors as he uses a disciplined and analytic approach to the poker game which is unique about him. Cunningham remains committed to improving himself as a player as the game of poker progresses further. Unlike many other big name players, he shows perseverance and discipline without showing emotion.
We are sure we will hear more of him and his consistent wins, as he was also recently voted the best player under the age of 35 by his peers.