Harrah's Poker Hall of Fame list released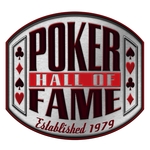 The list of poker players that are up for consideration for the 2009 Poker Hall of Fame class have been announced this week. The Harrah's list includes 10 big players such as Mike Sexton, Tom McEvoy and Phil Ivey. These 3 pros were pushed by the promotion of Party Poker while other pros such as Dan Harrington, Scotty Nguyen, Erik Seidel, Tom "durrrr" Dwan, Barry Greenstein, Men Nguyen and Daniel Negreanu are also featuring on the list.
This list is made up of ten players to include the top ten players voted in by the public. At the moment the classification of actual positions is still unknown, so that the public will not be influenced and vote accordingly. Eventually those who receive enough votes from the voting panel, i.e. of the current members of the Hall of Fame and certain members of the Poker media will make it to the Hall of Fame.
The panel members can vote as many players as they want into the Hall of Fame but these must include only those who receive 75 percent or more of the entire panel's approval list. The panel also holds the right to vote for a person who is not on the public list so we some new names may be added on by the council. We are all interested and curious to know more about which players will be voted in by the public and if any players are added to the Hall of Fame that were not on the original list.
Harrah's has also released a press statement commenting on this:
"After a five week process that saw hundreds of votes cast weekly on WSOP.com, the public has made clear who they think should be inducted into the Poker Hall of Fame. It will now be up to the current Hall of Famers and a panel of media members to determine who actually does join this exclusive club."
Finally, those selected players who are chosen to be added to the Poker Hall of Fame will go through an induction ceremony. This ceremony will take place at the Main event final table this November.
Comments