Lacey Jones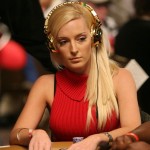 Name: Lacey Jones
Nickname: The Poker Barbie
Birth Date: April 9th, 1979
Birth Place: San Antonio, Texas, USA
Current Residence: Las Vegas, Nevada, USA
Poker Room: Absolute Poker
Lacey Jones is definitely an all rounder, being a professional poker player, model, actress and hostess. Born in 1979 in San Antonio, Texas, she lived out her childhood out there even after her parents divorced and her father moved to Las Vegas. She lived with her mother, who suffered from breast cancer at the time, and her sister. Lacey, first met the camera at just 10 years of age when she tried modelling, due to her height and looks. During this period, she also encountered the game of poker for the first time, playing card games well into the night during the long hot summer nights at a family beach house in North Carolina. Lacey kept on modelling and playing poker through her teen years and achieving better results as she grew up.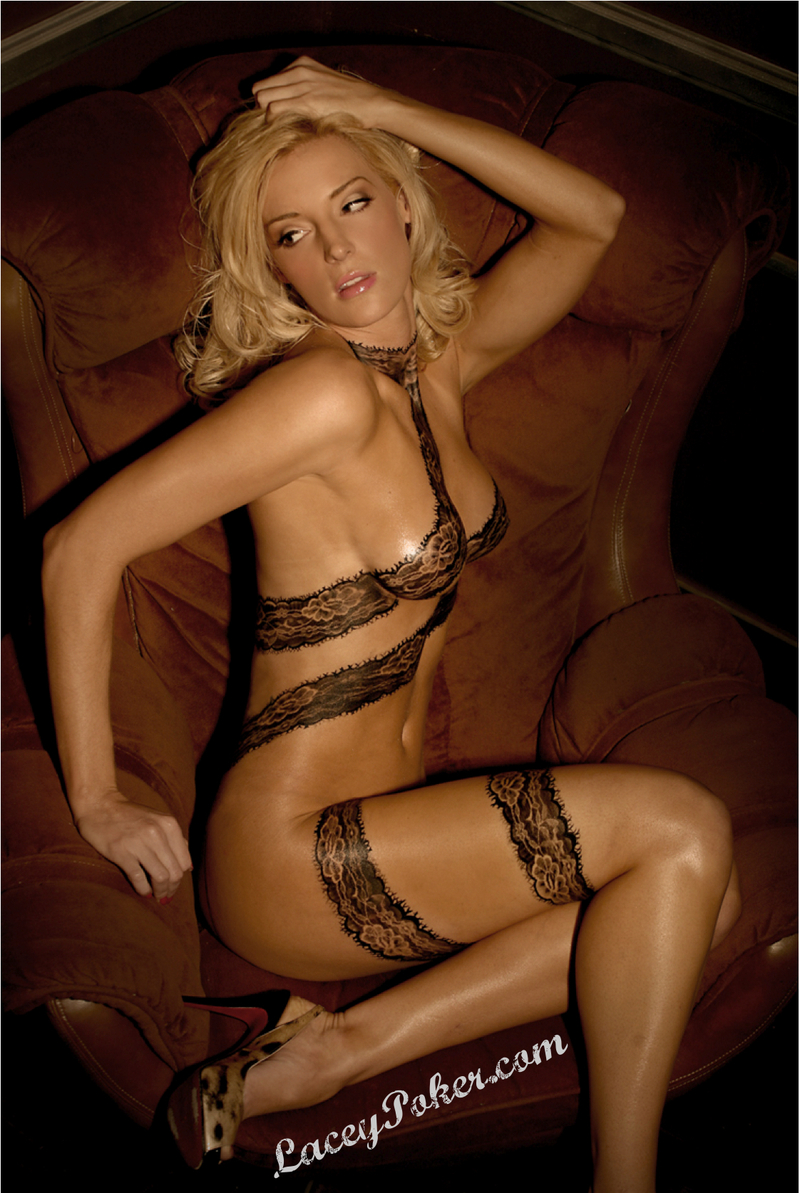 At the young age of 16, she was offered a modelling job opportunity in Japan and Hong Kong but did not go due to her father wanting her to study further rather than her chasing a modelling career. Lacey was disappointed with his but followed her father's wishes and continued her studies. That meant that after high school, she followed a Uni degree in political science and French at the University of Arizona in Tucson. She also improved her French while living in Paris for a while.
During that period at Uni, she started bartending for some extra cash and started attending home games at the local fraternity houses to boost her income. This polished her poker skills and made her develop a love for the game. After her graduation, she moved to Los Angeles to refocus on her modelling career and quickly began to get jobs with a remarkable list of clients. She walked the runways and posed for various catalogues of many top fashion brands such as Carolina Herrera, Nike Golf and St. John. She also featured in advertising campaigns for corporate giants Sony, Panasonic and Daimler Chrysler and appeared in commercials and TV shows, such as The O.C. and Entourage.
During this time, she also continued playing home games around Los Angeles and even taught the game to some wealthy directors she encountered who were interested in poker. These same directors got her a job at an ESPN poker tournament in 2005 together with other models. These girls were meant to add some glamour and beauty walk through during the event by participating in the re-buy event as well as chatting on ESPN radio. Through the re-buy, Lacey, unlike the other girls, kept on playing and ended up making an impression and surprising all with her poker skills. That day she placed 32nd in the 360-player field, without re-buying. This surprising turn of events convinced some Absolute Poker representatives to offer her a sponsorship opportunity and more coaching sessions with poker pro Mark Seif. This geared Lacey to focus on poker to maybe one day gain a professional level.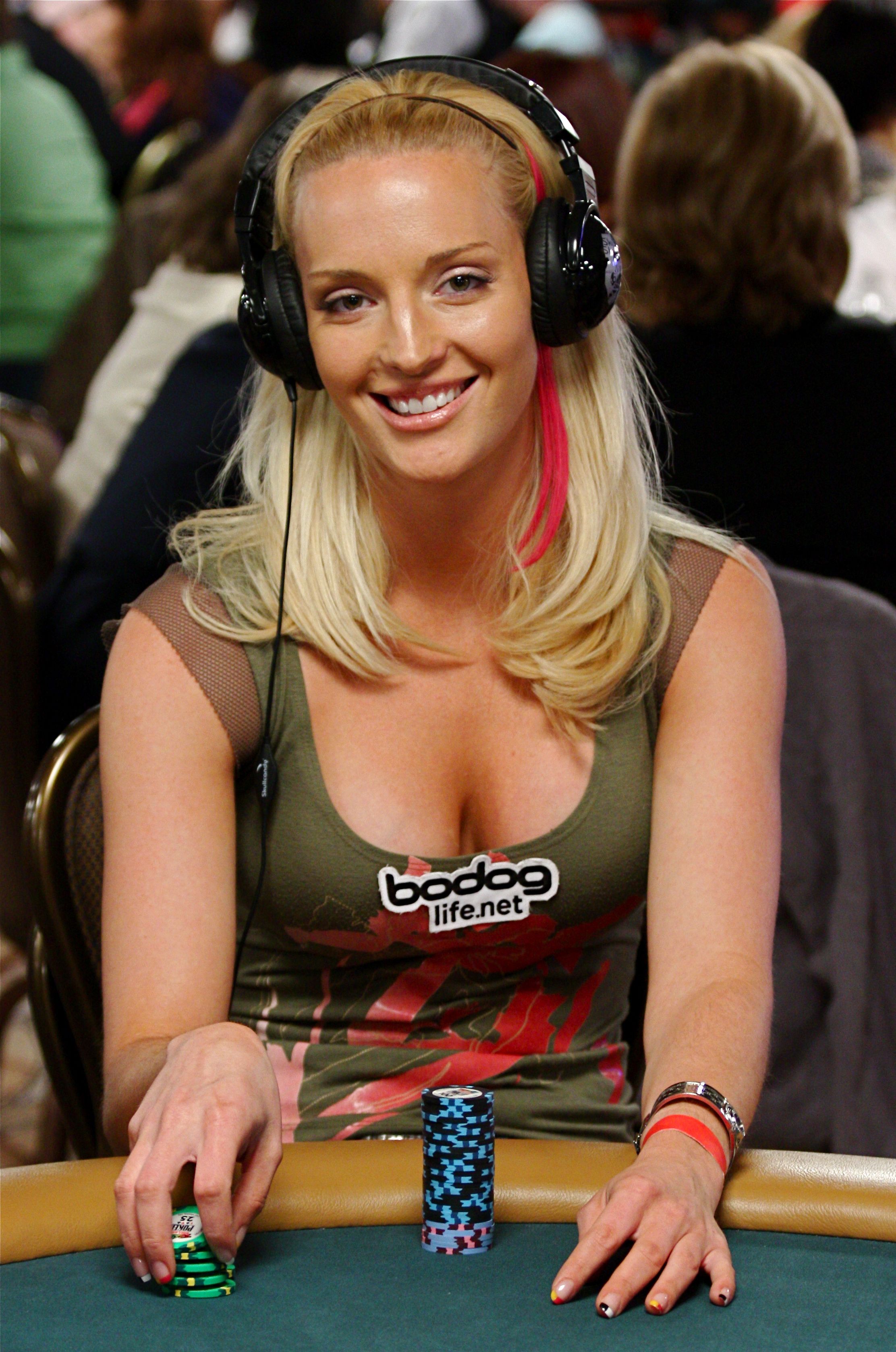 Seif coached Lacey and encouraged her all the way to mix up her game, find her own playing style and achieve an aggressive approach on the felt. Through those months, pros like Johnny Chan and Nam Le also chipped in and gave her invaluable poker lessons. At the end of this, reading strategy books and watching other play, Lacey had acquired a priceless knowledge.
Her aim was to become a No-Limit Hold'em and Seven-Card Stud specialist. Being a woman at an all men poker table is never easy and Jones had a hard time adapting to the comments and sexist treatment she got at events but eventually she did realise her looks could work to her advantage. In 2005, she participated at the WSOP and cashed in three major events tournaments in 2006. In 2006 she moved from her apartment in Manhattan Beach, California to a condo in Las Vegas as this would mean her taking her career to the next level by being closer to the poker hub. She also started developing from tournament to cash-game player trying her luck at the Bellagio and then at the Caesars Palace and the Venetian.
In March 2007, after the UIGEA, Absolute Poker released Lacey and other players and she was hired as the official hostess and bracelet presenter of the WSOP interviewing event winners as they rolled off the final tables at the Rio. She also hosted the U.S. Poker Bowl for Fox Sports at the Palms Casino in Las Vegas and appeared at the Borgata Poker Open in Atlantic City and on Raw Vegas TV's Add It Up and hosted their 2007 Prop This! series. Lacey featured in many poker publications and Web sites such as Woman Poker Player, Poker Player Magazine and Wicked Chops Poker.
Lately, Jones has re-joined the Absolute Poker team and still models, for biggies like Daimler-Chrysler, Carolina Herrera, Max and Co, and Playboy Leather Collection. In her free time, she enjoys time with family and friends, reading and playing mah-jong. She is engaged to Martial Arts fighter Heath Herring. The two met during a celebrity poker tournament in March 2007 and after just six months of dating Heath popped the question.
Lacey Jones' other achievements
4 cashes and $ 12,069
22nd at the WPT Season 5, Legends of Poker, Ladies Poker Night
24th at the WPT Season 6, Borgata Poker Open, No Limit Hold'em
48th at the WPT Season 6, Borgata Winter Open, No Limit Hold'em
75th at the WSOP, Event 15, Ladies Event No-Limit Hold'em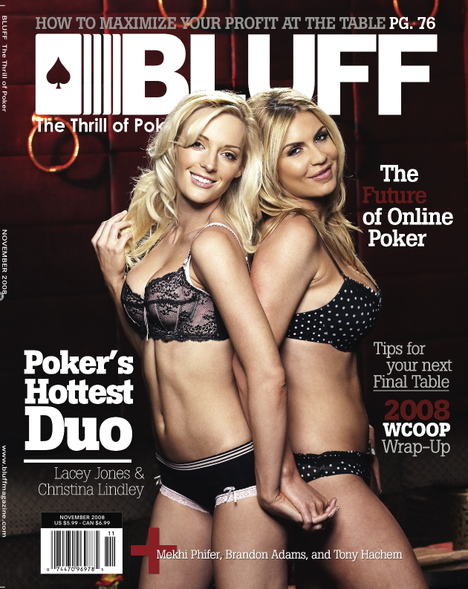 All rounder and multi –talented woman, Lacey Jones has crowds of poker enthusiasts following her every move. To them she is the poker goddess, a mix of good looks, a sense of humour and intelligence.
A proud and genuine Texan girl who is utterly feminine and now finding her place in a men's world. She was nicknamed the Poker Barbie but in reality she is a family girl at heart with a degree and great poker skills. Her goals for the future are to maybe become a U.S. ambassador to for France and to become an even better poker player.