Absolute Poker signs up Lacey Jones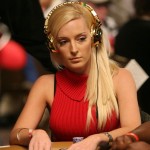 Lacey Jones, already known as one of the most popular female poker players out there nowadays has now signed the contract to join the Absolute Poker Team. Before Jones, there was talented online pro Matt Vengrin who signed up with Absolute Poker, a mere 2 weeks ago.
Jones' poker career includes a 32nd-place finish out of a field of 360-players at an invitational celebrity tournament. That was her poker debut and since then she has cashed at various events, such as a 75th-place finish in the WSOP Ladies Championship in 2006 and a great 2nd-place finish at the 2004 San Diego Super Bowl of Poker. Besides the world of poker, Jones is involved as a known model, TV hostess and now poker poster girl. She was also voted as the sexiest girl in poker, co-hosted The Real Deal at the Venetian and posed for the cover of Bluff magazine last year. And now, finally, we can play against her at the tables on Absolute Poker.
Lacey Jones was very pleased with her new contract, when interviewed stating "I'm so excited about this amazing new chapter of my career with Absolute Poker. Our fit couldn't be more perfect and I can't wait to share all of the amazing stuff that's in store with the AP community."
Comments