Truck Driver Wins $200.000 in the first episode of "Face the Ace"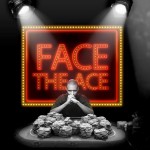 The first episode of the new poker show "Face the Ace" was broadcasted last week and one of the two contestants knocked out Howard Lederer and Erick Lindgren in the same episode.
If he manages to win his third and final match this week he is going to leave the show with one million dollars in cold hard cash.
Each contestant has the chance to win $1.000.000 in prize money, but to get there is no walk in the park. If the contestant knocks out one player he will have won $40.000, for two wins he will get $200.000 and for three wins the maximum payout of $1 million is awarded to the contestant. All of the professional poker players that the contestants are up against are members of Team FullTilt Poker which means that they can at any point find themselves facing players like Phil Ivey or Patrick Antonius.
After every match the contestant has the option to leave the competition and take the money that has been won, this might be a good move for some players as they will walk away empty handed should they lose one of their matches.
Dan Tropel, the truck driver who beat both Howard Lederer and Erick Lindgren in the premiere episode will be back to play for the million dollar first prize this coming Saturday. It will be very interesting to see which one of the Team FullTilt members he will face in the final match.
Comments