Phil Hellmuth Poses Naked?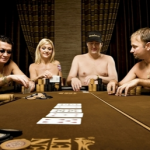 Yes! Or maybe the response should be No! In ESPN the Magazine's latest issue, Phil Hellmuth appears with about 80 other male and female athletes from different sport genres, who agreed to pose nude for the magazine.
This special edition "Body Issue" showcases such hot bodies posing tastefully nude as baseball's Ivan Rodriguez and Joba Chamberlain, football's Torry holt and Adrian Peterson, basketball's Dwight Howard, hockey's Zdeno Chara, race car drivers, Carl Edwards and Mark Martin, boxer Many Pacquiao, MMA fighter Randy Couture, tennis player Serena Williams, golfer Christina Kim, and many others.
"We've always been committed to showing fans a different side of the sports and athletes they love," said Gary Belsky, editor of ESPN the Magazine. "This issue, from the amazing photos to the innovative journalism, is just our latest effort to do that. We're very happy with the results."
Hellmuth isn't the only poker player in the shot that pays tribute to the beloved sport of poker. Alongside him are fellow professional poker players, Scotty Nguyen, Jennifer Harman, and Daniel Negreanu, who only agreed to the shoot after he learned that his co-workers would be there to support him.
"I can fit in with this group," Negreanu said. "It's not like they were going to have Patrik Antonius or Gus Hansen in there. I worked out. I had a nice tan going. I sucked my belly in and I was good to go."
The four seemingly naked players are posed seated around a poker table, private parts hidden, unless you count Hellmuth's man boobs, which are clearly visible.
ESPN the Magazine is owned by the Walt Disney Company, so all shots are done in a classy pose and a tasteful and artistic way. It's good for poker though, to be represented as a sport by the official authority on sports in the US, ESPN, especially with all the negativity that is shed on the game by online legalization critics.
Comments