Everyone is gearing up for the 2011 Poker in the Park to take place next weekend in London. This event is one of Europe's premier poker festivals, and now CalvinAyre.com is confirmed as the official media sponsor of the festival. Running September 2nd through 3rd, there is a lot of poker action packed into these two days at Hanover Square, around the corner from Oxford Circus. And best of all the festival is free to all who wish to attend.
This will be the fifth annual installment of Poker in the Park and coordinators expect at least 20,000 poker people to attend to see what's new and experience the "new set up."
Covering the festival will be CalvinAyre.com's newest poker correspondent, Tatjana Pasalic, part of the tablog team.
One new feature for this year's Poker in the Park is the Main Stage where live music, magicians, and lots of other entertainment will perform. The British Poker Awards will also take place at the festival and tons of celebrity poker players will be playing poker, fraternizing with fans, and even signing autographs.
Free poker tourneys will start every hour, and sit and gos will be held within poker domes in the area all weekend. Perhaps the most talked about attraction is the Poker Pro Lecture where poker pros will tell some of their secrets to winning at the felt. Find more info at Pokerinthepark.com.
Titan Poker has long been a leader in online poker promotions and they've done it again with a slew of promotions being offered throughout the month of September in celebration of their 6th anniversary. First off is the first of its kind Heads-Up Championship. Titan Poker players will compete in races lasting 24 hours scheduled all month long to win a spot in the elimination bracket. Only 32 players will make it this far. In total, $25,000 will be awarded in prizes, $7,500 of that being reserved for the top eight finishers.
In addition, any Titan Poker player who racks up more than 60 Titan Poker Points throughout the month of September will earn a chance to play in the Titan Poker $6,000 6th Anniversary Freeroll. The freeroll will be on Thursday, October 6th at 20:00 GMT+1.
Additional promos and surprises will also be announced throughout the month including the Mystery Week Giveaway Poker Promotion in which a mystery gift will be revealed weekly to players. For this and other promos, Titan Poker players must opt-in to take part in the promotions.
Titan Poker has been the number one poker site in Europe for quite some time, as well as the number one iPoker Network online poker room. Titan Poker runs on the smooth and cutting edge Playtech poker application. Tens of thousands of players flock to Titan during peak hours and every month millions of dollars are awarded to players, guaranteed.
After many online poker pros who otherwise made their living playing online poker have been stripped of their income following Black Friday, many have had no other choice but to flee the country in search of a new home where they can base their business and once again make a living.
Now we can add the following names to the list of US citizens who had to leave the country to find work: Phil Galfond, Mike Brooks, Vanessa Selbst, and Jon Agular. Now Dan "jungleman12" Cates and Haseeb Qureshi have also left the country since the recent cheating scandal they've been involved in. Perhaps they will get new identities, new screen names, and maybe even some plastic surgery, so that they can play poker again.
Meanwhile, Justin Bonomo has recently announced via Facebook that he too will be leaving the country, though unlike others who have fled to the UK or Canada, Bonomo will be going to the Meditteranean, about 70 miles south of Italy to a tiny island called Malta, which you may have heard of, as there are quite a few online poker rooms based out of this nation. With a population of not even 370,000 and a land area of only about 300 square kilometers, this is one of the most densely populated countries in the world, so it is rather bizarre that this is where Bonomo has chosen to relocate to.
His reasoning for choosing Malta is its accessibility to a variety of European tournaments and the convenience of setting up new residency. He may have also chosen Malta because of the low taxes.
Bonomo hopes to be in his new Maltan home by September 20th, just in time for the WPT event that will take place there. In the meantime, he'll be getting rid of his apartment and furniture in Las Vegas, and possibly his 2009 Infiniti G37, which Eric Mizrachi has already expressed interest in purchasing.
Daniel Negreanu confirmed in a Quadjacks interview recently that KidPoker has a new girlfriend, who just happens to be "Miss Earth Hungary 2008," which squashes rumors that were jokingly made by Matt Savage and Mike Matusow that Negreanu was gay.
In the interview, Negreanu stated (without leaving any of her credentials out), "I met my new girlfriend at the World Series. She plays poker too. She just came up; she was just saying 'Hi' cause she knew some friends and stuff. So, we just started, you know, hitting it off, and she's super cool. She lives in Budapest, Hungary. She was Miss Earth Hungary in 2008. She's there now, but I'm gonna go visit in a bit."
Her name is Krisztina Polgár. Her ex-boyfriend actually introduced her to poker, Hungarian PokerStars pro Richard Toth, but it is likely that her current boyfriend will really show her how to play.
Negreanu is apparently no longer with Amanda Leatherman, his former girlfriend, who he couldn't seem to get enough nor could he refrain from dropping her name every time he had the opportunity. Perhaps there's a sort of pattern here and maybe poker isn't the only game Negreanu plays. Her pic below…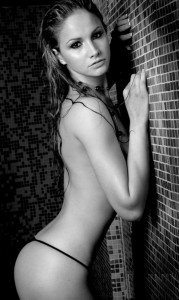 PokerStars has announced the schedule for the upcoming European Poker Tour (EPT) London "Festival of Poker." The event will feature 31 events and thousands of players are expected to participate in the eight-day live poeker festival.
The London Festival of Poker will be the third stop for the EPT Season 8 that began last week with the first stop taking place in Tallinn, Estonia. EPT London will commence on September 29th and run through October 6th and will feature a range of tournament formats and buy-ins to accommodate all players.
The Main Event will cost 5,250 to buy in and will from September 30th through October 6th. It is expected to be one of the largest poker tourneys of the year. Other notable events include the £2,150 European 8 Game Championships, the £20,500 High Roller event, and the £5,000 Heads Up event. In addition, the PokerStars £550 Womens Live tourney will take place on October 2nd. Satellites are running now at PokerStars for packages worth £1,500.
Some new tourney formats added to the agenda this year include the £550 Five-Card Pot Limit Omaha Hi/Lo event, £330 No Limit Turbo "Rivers" event (each player is dealt their own river card), and the £330 No Limit Turbo "Win the Button!" tournament. In addition, EPT London will host a £120 No Limit Hyper Turbo with a starting 10,000 chip stack and 10-minute levels.
Liv Boeree, Team PokerStars Pro, says, "I'm so excited that the EPT London Festival of Poker is just around the corner. It will mark a year since I joined Team PokerStars Pro and it was one of the best series of poker tournaments I've played in."
The EPT London will take place at the Hilton London Metropole, the same venue as the past two years. Cash games will run at the nearby Grosvenor Victoria Casino. Players are able to buy in directly online at PokerStars for all events or in person at the casino.
Vic Casino General Manager, Martin Ramskill, says, "We are all looking forward to another fabulous EPT London in conjunction with the Grosvenor Victoria Casino. As always we welcome all players to the 24/7 cash games in the Vic Poker Room. Courtesy cars will run between venues continuously for players' convenience."
To qualify, go to PokerStars and join the online satellites running now for the £5,250 Main Event, which is expected to be the richest poker tournament the UK has ever seen. Last year's prize pool was worth £4,112,800 thanks to 848 contributing players, one of which, David Vamplew, a student from Scotland, won first place and £900,000.
The Festival of Poker will also feature the €10,000 EPT Country of the Year Freeroll. In Season 7, Ireland won the award for gaining the highest percentage of cashes. Thus, all 38 players from Ireland who competed in the Main Event of Season 7 will be invited to return for Season 8.
The EPT London Main Event will be televised.
One of the Team Titan members from the distinguished players sponsored by Titan Poker, Sam Trickett, has been honored with not one but three nominations for the British Poker Awards.
Trickett has been nominated for "Best Tournament Player," "Best Cash Player," and "Best Social Media User." Online voters will select the winners for these categories and will then be announced at a special ceremony at Hanover Square, London during the Poker in the Park on September 3rd.
This is the second year for the British Poker Awards, and last year at the first ceremony, Trickett won the title for "Best New Player."
Since his last year win, he has demonstrated what a skillful tournament player he is, particularly for winning the Aussie Millions $100K Challenge and then for landing second place in the Aussie Millions $250K Super High Roller event. At the World Poker Tour National Series Paris, Trickett cashed in 6th place and had two cashes at the WSOP. In 2011 alone, he's earned just under $3 million, an impressive number for any player.
He also experienced a very profitable cash game session in Macau at the high stakes, which was highly publicized. And since he's a very avid user of both Twitter and Facebook, he's earned the social media user nomination. He is up against some tough competition though in all categories for which he's been nominated.
Trickett is 25 years old and has been playing poker since 2005 when he suffered a knee injury that ended his semi-pro soccer career.
FairPlayUSA is an organization that was established to inform policymakers as well as the public on laws regarding Internet gambling and now has added Mike Sexton, pro poker player, to its advisory board. In what is already an authenticated group of influential members, the FairPlayUSA advisory welcomes poker ambassador Sexton to join Perry Aftab, Internet safety expert; Tom Ridge, former Secretary of Homeland Security and Governor of Pennsylvania, and Greg Ramer, pro poker player.
Sexton says, "Americans should be able to play poker online in the privacy of their homes knowing that the games are safe and fair." He continues, "FairPlayUSA is committed to ensuring a strict regulatory framework for online poker, and I am pleased to be part of its advisory board."
Marisa McNee, executive director of FairPlayUSA, says,  "We're honored that Mike has agreed to join our Board of Advisors and help carry our message of the importance of bringing integrity and safety to online poker."  McNee adds, "As FairPlayUSA grows as an organization, our message of strict regulation, child and consumer protection, and support of law enforcement will continue to resonate with key policymakers."
One of the missions of FairPlayUSA coalition is to help policymakers and the public better understand the currently ambiguous US laws pertaining to online poker and online betting. They support Congressional action to define clearly illegal online gambling, create a strict regulatory framework for Internet poker, and provide strong law enforcement resources to prevent illegal activity. FairPlayUSA is based in Washington, D.C.
PartyPoker will be giving away 16 prize packages for Oktoberfest that will include a two-night stay and $600 for spending money. What is better than poker and all the beer you could every want in Europe?
The packages also include dinner and poker tournament at the Olympic Tower restaurant, the two-night accommodations at the 5-star Le Meridien hotel in Munich, your choice of various daytime activities, dinner and drinks at the exclusive bot at the Hippodrom Oktoberfest tent, drinks in a reserved area at P1 nightclub, transportation all weekend, and VIP hospitality.
If all of this sounds like something of interest to you, then head over to PartyPoker to qualify. Just opt in to one or both of the VIP Oktoberfest Races. The first will begin at midnight on August 12th and run through midnight on August 21st. The second will take place beginning midnight on August 22nd and run through midnight on August 31st. Then collect PartyPoints by playing during these periods. Prizes will be awarded to players with the most recorded PartyPoints. Prizes for first through 7th places include the Oktoberfest VIP package for two, places 8 through 25 will receive $200 in cash, places 26 through 75 will get $100, and places 76 through 400 will get an entry into the VIP Oktoberfest and Super Gadget Freeroll entry.
The top 25 places on both leader boards will win a 16-Gb iPad2 by Apple, and through the top 75 places in both races will win a 64-Gb iPod Touch.
iPad and iPhone users have a multitude of apps to choose from when it comes to poker and casino gaming. In fact, some of the first iPhone apps were developed for poker players, including Apple's Texas Hold 'em app. People across the world play casino games and poker games online, so it makes sense for iOS app developers to cater to this market.
Unfortunately, despite the growing popularity of iOS systems, there has not been the capability available to gamble with real money over these devices. Apple has resisted the demand to allow real money bets to be placed via the iPhone, the iTouch, or the iPad.
The good news is that there will be some apps released by online betting institutions including poker sites, online casinos, sportsbetting sites, and more to non-US players. While US bettors will not be able to partake in online betting via their iOS devices, players outside of the US and across the world will soon be able to make bets using their iPhones and iPads.
Poker pro Barry Greenstein had his car stolen Saturday. He kept his Twitter followers up to speed on the situation throughout the day. A little before 4:00 in the afternoon Pacific Time, he Tweeted, "I don't think twitter can help with this but you never know: my Aston Martin DB9 was stolen from valet parking!"
Following tweets explained that his car had been taken from the Marriott in Mission Hills San Diego. He described his car, so that maybe his followers would be able to help him out. He asked them to be on the lookout for his olive green Aston Martin with plates that read "BG3."
Over the next few tweets, he explained, "Guy came up to valet and said his name was Greenstein. Didn't have a valet ticket. Flashed a california ID. The mariott manager said that valet parking is outsourced to a third party. I'm hope they're still liable."
This was all before Greenstein lost big in the mixed game at the Palomar Card Club later that night.
Later though, the car was returned by the driver and apparently there was an explanation for everything. The poser, who apparently knew what was written on the license plate, reportedly asked the valet for the car, and the valet gave it to him. After realizing he'd made a mistake, the valet made up the story about the man showing him an ID, etc. in efforts to keep from getting fired, but he was fired anyway. The driver had taken the car to have it detailed before returning it to the valet parking, trying to park it himself. Hotel security saw him and then called police. The perp was then arrested.
Greenstein tweeted, "The perp's mother claimed he has mental issues and somewhat believes it's his car. He is now in the hospital."
Greenstein's car was returned with no damage and was in fact cleaned.