Daniel Negreanu's New Girlfriend: Miss Earth Hungary
Daniel Negreanu confirmed in a Quadjacks interview recently that KidPoker has a new girlfriend, who just happens to be "Miss Earth Hungary 2008," which squashes rumors that were jokingly made by Matt Savage and Mike Matusow that Negreanu was gay.
In the interview, Negreanu stated (without leaving any of her credentials out), "I met my new girlfriend at the World Series. She plays poker too. She just came up; she was just saying 'Hi' cause she knew some friends and stuff. So, we just started, you know, hitting it off, and she's super cool. She lives in Budapest, Hungary. She was Miss Earth Hungary in 2008. She's there now, but I'm gonna go visit in a bit."
Her name is Krisztina Polgár. Her ex-boyfriend actually introduced her to poker, Hungarian PokerStars pro Richard Toth, but it is likely that her current boyfriend will really show her how to play.
Negreanu is apparently no longer with Amanda Leatherman, his former girlfriend, who he couldn't seem to get enough nor could he refrain from dropping her name every time he had the opportunity. Perhaps there's a sort of pattern here and maybe poker isn't the only game Negreanu plays. Her pic below…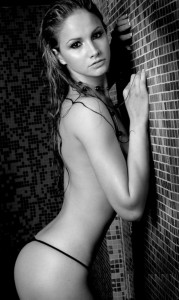 Comments