Jerry Yang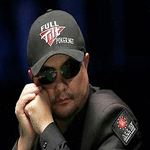 Name: Jerry Yang
Nickname: The Shadow
Birth Date: 1968
Birth Place: Laos
Current Residence: Temecula, California, U.S.A
Poker Room: Full Tilt Poker
Xao ' Jerry' Yang was originally born in Southeast Asia, in Laos and is a professional poker player. His family escaped to Thailand after the communists invaded the country back in the seventies and they then spent four years and major losses in a refugee camp. At the age of 13, he moved to the United States in 1979, and then grew up in Temecula, California. The language barrier was tough for him and proved to be a hard hurdle when growing up.
He said the biggest obstacle for him to overcome when arriving in this country was learning the language. But things got easier eventually and Yang managed to graduate from high school, college and even grad school, making his family proud. His profession was of a psychologist and social worker which motivated him to do voluntary work as a missionary for a couple of years after the bad experience he had during the refugee camp. After that he excelled his education further and achieved his Master's degree in health psychology.
In 2005, he started playing poker as an amateur player but still achieved four cashes in local California events. During the 2007 WSOP, he went through a field of sands of 6,357 poker players and won the prestigious title and gold bracelet. He entered the tournament after winning a $225 satellite at the Pechanga Resort and Casino in Temecula. Yang started out the final table at number eight in chips held but managed to knock out the other finalists. That day he won in a heads-up match against second-place winner Tuan Lam and won a total US$8,250,000 after a 12-hour final table.
Yang made a very appreciative victory speech, which included thanks to the WSOP series organisers, God and his family. He then donated 10% percent of his winnings to three charities of his choice, the Make-a-Wish Foundation, Feed The Children, and the Ronald McDonald House as well as his home Loma Linda University.
His strategy is aggressive, attacking when he senses weakness in his opponents. Many criticise this unusual playing style but one has to admit that this approach is also a key factor when it comes to winning large events with so many participants.
Yang bears similarities with Chris Moneymaker who was also completely unknown, entered the tournament through a satellite and ended up winning the whole event. Yang did however win his seat at his local card room and paid $225 as entry. Yang says his health psychology degree helped him make take very important decisions while playing the Main Event. When studying his opponents very carefully during play, this inner knowledge helped him act. He observed carefully and created mental pictures for each opponent to then use it as a weapon.
In the 2008 Main Event, he participated but was eliminated during Day 2b.
Jerry is a man who places great emphasis on family values, seen kissing the picture of his children and saying a prayer during tournaments. He makes it a point to spend family time everyday especially for meals together. He has a string believe and respect for charity organisations and communities. When asked if notoriety or money is the best achievement, he replied that money is as this can be used to do a lot of good and help people in need.
Yang lives in Madera, California with his wife and six kids. Unless he s playing on Full Tilt Poker., he will be found working as a psychologist and social worker.
Jerry Yang's other achievements
1 cash win and 1 first place finishes
1 WSOP bracelet
$8,250,000 in total winnings
1st at the 207 WSOP Event 55, World Championship No Limit Texas Hold 'em
Jerry Yang was unknown in the poker world but came out to be the 2007 World Series of Poker Main Event champion. That was one of the biggest happiest moments in his life as he achieved the dream many fantasise about.
Yang is seen as World Champion, inspiration and also as an ambassador to poker.