Humberto Brenes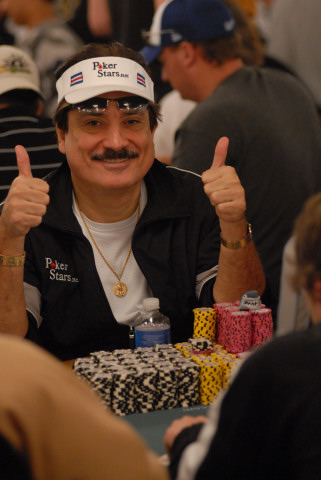 Name: Humberto Brenes
Nickname: The Shark
Birth Date: May 8th, 1951
Birth Place: San Jose, Costa Rica
Current Residence: Miami Lakes, Fla, USA & San Jose, Costa Rica
Poker Room: PokerStars
Brenes was born in May of 1951 in Costa Rica and by early age, he had already learned how to play cards. He used to observe his father and friends playing socially, not knowing back then he would eventually become such a skilled card player. He then attended the University of Costa Rica, and graduated in industrial engineering. By then he had developed a hobby of playing at the local casinos but still wanted a career of building businesses in his beloved Costa Rica. He started his business, which included a television station, a construction business, a nut company, a number of restaurants and a chocolate and biscuit business.
Still, although he owned all those businesses and had a strong entrepreneurial spirit, he still made the most money at the casino! He went to gambling resorts in the Bahamas and made some easy money playing baccarat and craps, winning even up to $377,000 in a craps tournament. By then, poker was fast becoming the biggest card game and it was then that Brenes decided to take a risky challenge, to try out playing cards as a full-time profession. His brothers, Alex and Erick also tried their luck eventually getting World Poker Tour titles.
It was in May 1987 that he entered the $10,000 No-Limit Hold'em World Championship; his first WSOP event. He classified in 14th place but it gave him the confidence to try the WSOP events again and again. His first decent success was in 1988 when he finished 4th in the Main Event and won $77,000.
By 1993, he won two gold bracelets in the $2,500 Limit Hold'em and the $2,500 Omaha Pot-Limit events, winning a combined total of $277,000. After that he achieved other final table seats and a handful of tournament wins such as at the WPT events, making four final table appearances and cash finishes amounting to a phenomenal $1,735,780.
In 2002, he attended the Jack Binion World Poker Open in Tunica and won $500,000 in prize money at the No-Limit Texas Hold'em Championship event. That was his biggest win so far. At the 2006 WSOP, he placed 36th in the $10,000 No-Limit Texas Hold'em Championship event and made $330,000 in winnings. In 2007, he placed 83rd out of a field of 6,358 players, winning $82,476 at the $10,000 No Limit Texas Hold'em Main Event Championship.
Despite the bright clothes, sun visor, two pairs of glasses, a music headset, table antics and shark card protector, Brenes is hugely respected by his peers and loved by the fans. He is a respected talented player with a list of poker achievements over the past 20 years to back this up.
In fact, Humberto is one of the top ten players with the most World Series cash finishes. His total live tournament winnings at the moment exceed $5,500,000 with 55 cashes in the WSOP account for $2,096,005 of those winnings.
Brenes is a spokesman for PokerStars.com, where he plays online. In his spare time, he is known to help out his native community in Costa Rica. He still holds his business enterprises and helps in a cause to protect the local shark population. Brenes lives in San José, Costa Rica with his wife and three children and also owns a home in Florida.
Humberto Brenes' other achievements
62 cashes and 2 first place finishes
Over $3,000,000 in winnings and 2 WSOP bracelets
Over forty WSOP cashes
3rd at the 2007 WSOP, event 13, World Championship Pot-Limit Omaha
3rd at the 2004 WPT Poker Finals
2nd at the 2004 WPT Five Diamond World Poker Classic
2nd at the 1995 WSOP, Event 22 Limit Hold'em
2nd at the 1999 WSOP, Event 10, Limit Hold'em
4th at the 1988 WSOP, Main Event
3rd at the 1989 WSOP, Event 5, Seven Card Stud
2nd at the 1992 WSOP $2,500, No Limit Hold'em
1st at the 1993 WSOP $2,500 Pot Limit Omaha
Brenes is the chatty Costa Rican fellow who is a well-liked professional poker player. He holds two World Series of Poker bracelets and millions of dollars in career tournament winnings till now. After his major and biggest win in 2002, he still wins consistently earns final table seats on the tournament trail and has many second- and third-place finishes.
Brenes is very respected and popular with his poker peers as he loves to chat but when it comes to the game he is extremely focused. In his career, he has collected two World Series of Poker bracelets, cashed over 40 times at the WSOP, and made three World Poker Tour final tables. Together with Phil Hellmuth he holds eight money finishes, the highest number of money finishes in the 2006 WSOP.